"Hold on to your butts!"
This year's San Diego Comic-Con exclusive Jurassic Park toy set is bringing to life a never-before-seen moment from the original Jurassic Park film: Ray Arnold's untimely demise.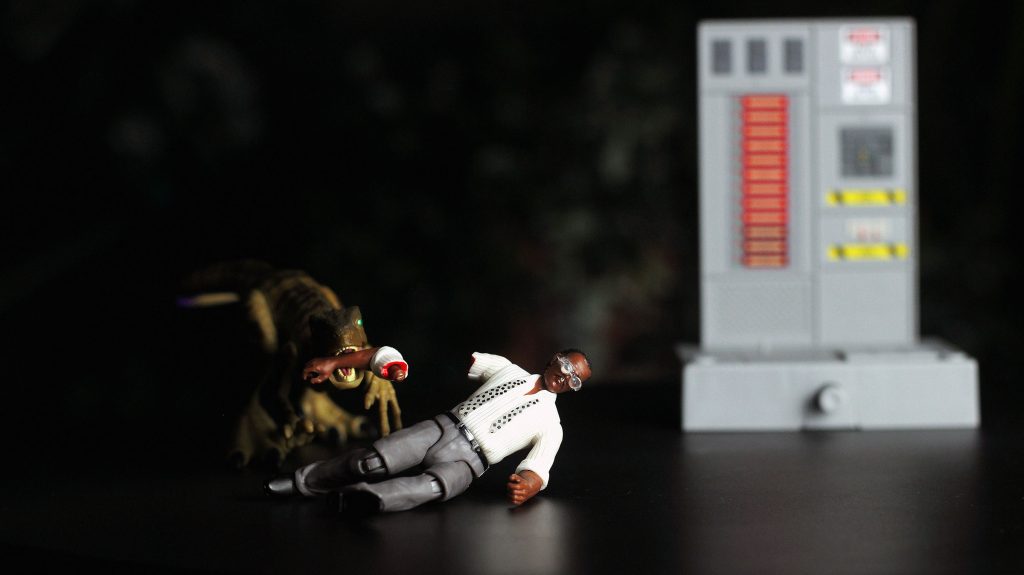 In the climax of Jurassic Park, Ray Arnold volunteers to journey to the maintenance shed to reset and restore power to the park. We never fully witness his unfortunate fate, but Dr. Ellie Sattler discovers what has happened to him all the same.
"Theoretically, yes, but we've never shut down the entire system before. It may not come back on at all."
The folks at Mattel Creations have done a fantastic job – this set truly spares no expense. It features a highly posable, 3.75-inch version of Ray Arnold himself (complete with detachable arm) and a 2.4-inch tall, 7-inch long vicious velociraptor so that fans can imagine and play out Ray's final moments. Completing the set is the full control panel from the film, which serves as a stand for Ray and the raptor and also plays audio of his best quotes from the film. And we would be remiss if we didn't mention his bloody, dismembered arm – an absolute highlight, marking the return of human "dino-damage" from the Kenner Days. All of this is contained in the gorgeous packaging seen below, complete with numerous lights and sounds.
"White Rabbit Object. Whatever it did… it did it all."
This set is very exciting and truly a treat for fans of Jurassic Park. It will be on sale on Mattel Creations (Mattel's collaboration and direct-to-consumer platform) on Thursday, July 22 at 9am PST / 12pm EST. Additionally this year, Mattel Creations is celebrating collectors during Comic-Con with their first-ever Mattel Creations: 12 Days of Fandom activation! Be sure and head to Mattel Creations on July 22nd and order this set before it's extinct!
For an in-depth look behind the scenes of the 'Final Scene Ray Arnold' toy and packaging construction & design, check out the official Mattel Creations reveal trailer, exclusively in HD on our YouTube channel below!