The 'Jurassic' film franchise has received several fantastic behind-the-scenes books over the years. The original 'Making Of' books from the 1990s for 'Jurassic Park' and 'The Lost World: Jurassic Park' are regarded as some of the best ever made. In 2021, Insight Editions produced 'Jurassic Park: The Ultimate Visual History,' featuring stories and never-before-seen imagery from the original trilogy, including 'Jurassic Park 3' for the first time. Their fantastic chronicle was followed by 'Jurassic World: The Ultimate Visual History,' wonderfully detailing the making of all three 'Jurassic World' films.
All these books discussed the various scripts that were written: a vital part in creating a strong skeleton to support the body of each film. It's a process that can take a lot of time, and a lot of drafts, to get just right. Their creation is more interesting and complicated than people may realize, making a whole book dedicated to the subject something 'Jurassic' fans have wanted for some time. Each of the six films in the franchise (so far) undoubtedly has fascinating stories behind their screenplays. However, the original film, adapted from the bestselling novel by Michael Crichton, had perhaps the biggest challenges.
Thanks once again to Insight Editions, a documented history of this process, with the final screenplay by David Koepp, is finally told in 'Jurassic Park: The Official Script Book.'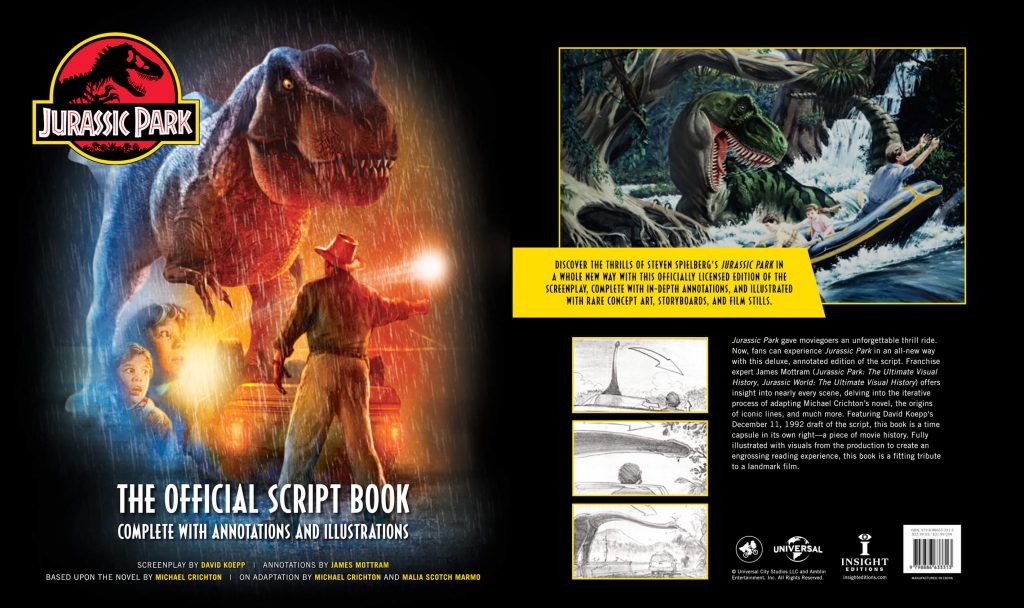 Jurassic Park gave moviegoers an unforgettable thrill ride. Now, on the film's 30th anniversary, fans can experience Jurassic Park in an all-new way with this deluxe, annotated edition of Michael Crichton and David Koepp's script. This script book is annotated by franchise expert James Mottram (Jurassic Park: The Ultimate Visual History, Jurassic World: The Ultimate Visual History), offering commentary and insight into the behind-the-scenes story of the film. Fully illustrated with film stills, concept art, and other key visuals, this is a must-have collectible for Jurassic Park fans and a fitting tribute to a landmark film.
There is a lot more to this book than simply David Koepp's script. To discover what's beyond the cover, join me on a grand adventure at Isla Nublar via the video below! For an even more detailed look, continue reading this article!
WHAT'S INSIDE?
DAVID KOEPP'S 12-11-1992 FINAL CONTINUITY DRAFT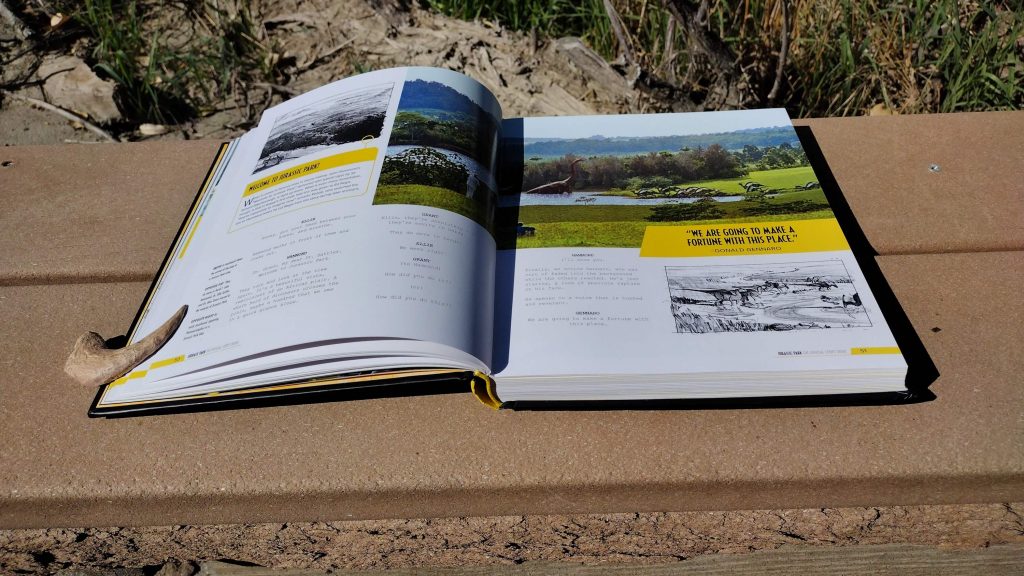 The book features the 12-11-1992 draft by David Koepp, known as the final "Continuity Script." What sets it apart from a more polished final draft are some beefier descriptions and the inclusion of some alternate dialogue for sequences that director Steven Spielberg would have to choose from. This gives the reader an additional "alternate universe" for certain scenes. The script also includes some moments that were filmed but cut, such as the reveal of why the Triceratops was only sick "every six weeks" and not all the time.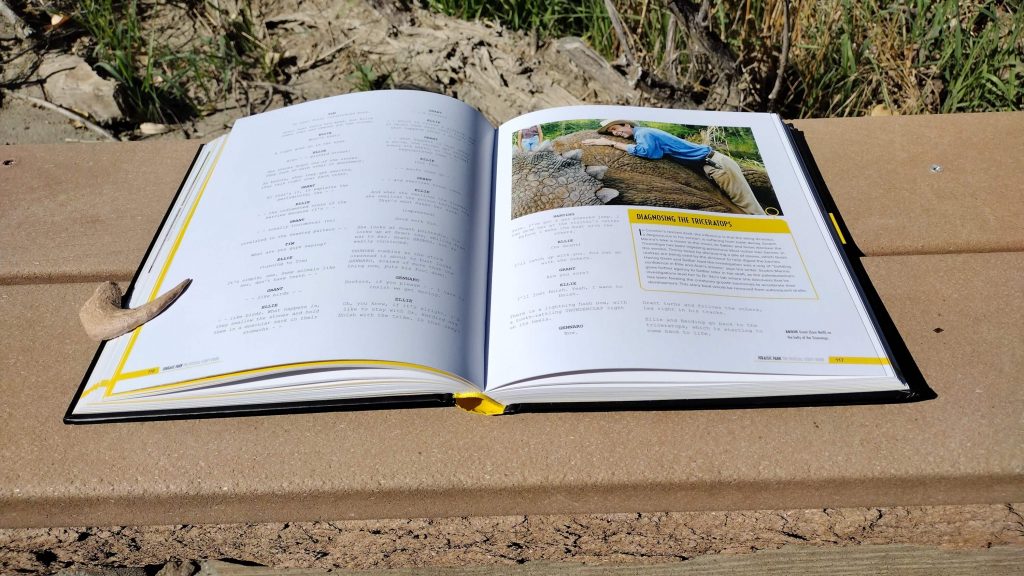 The only part of the script not included are the "Appendices." These were two pages at the end of the script that had John Hammond's dialogue heard during the lunch scene as a slide show played behind the characters. Most copies of the script didn't include these pages, so their absence isn't exactly inaccurate to what the majority of cast and crew members had. Thankfully, they do at least get mentioned in one of the book's many annotations, featuring a summary of what they consisted of.
INTRODUCTION & ANNOTATIONS BY JAMES MOTTRAM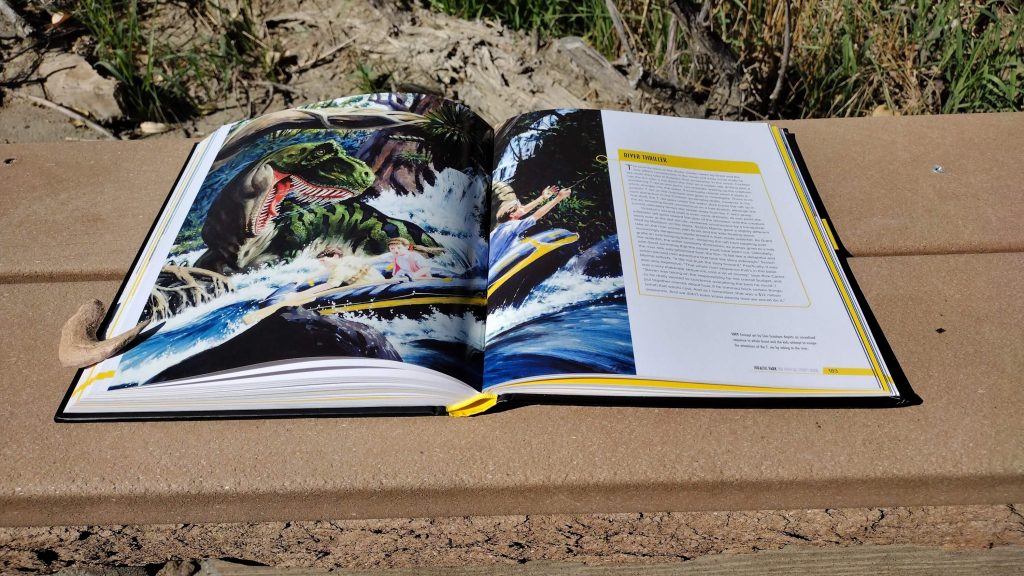 The author of both Insight Editions 'Jurassic' Visual History books returns to provide additional content alongside the script. A lengthy introduction details the overall history of the film's screenplays, before unveiling Koepp's draft itself. Nearly every spread features an annotated section on the side, containing information that ranges from details exclusively revealed by David Koepp himself, comparisons to earlier drafts, alternate ideas from the previous screenwriters, and other behind-the-scenes intel. The added material James Mottram provides is written in a clear and engaging way that greatly stirs the excitement of the reader as they delve into the film's script. One of the many exclusive quotes from Koepp explains why his original draft did not include Ian Malcolm; the mathematician who constantly is at odds with what 'Jurassic Park' is trying to accomplish.
"Honestly, it was because it was too hard," he admits. "If you read the book, he talks a lot. He talks about math a lot, and he talks and abstracts a lot. And I just couldn't figure out how to make it visual. I couldn't figure out how to. And I thought about all sorts of things."
INSIGHT ABOUT THE PREVIOUS SCREENWRITERS AND THEIR DRAFTS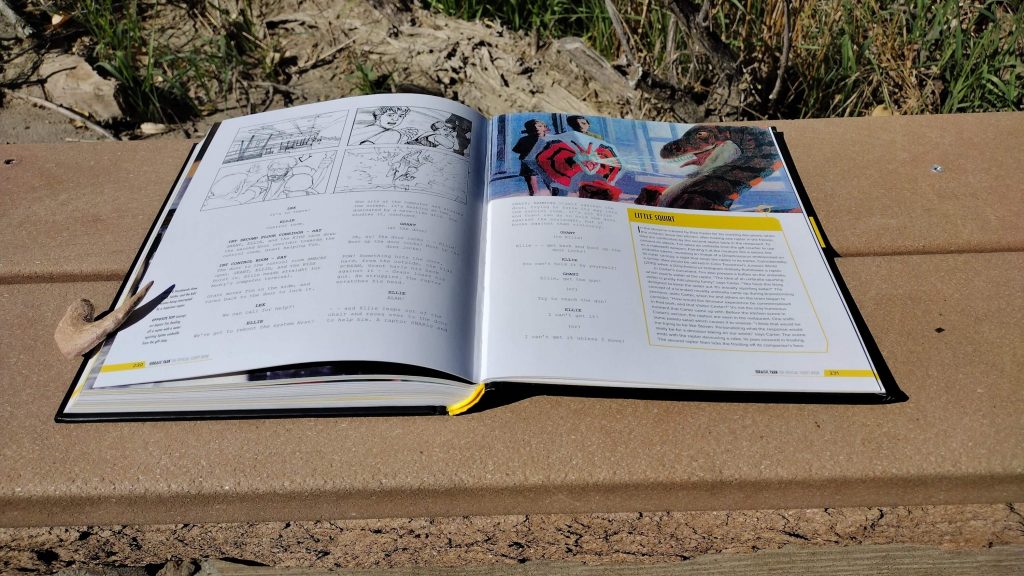 As mentioned, the annotations not only cover Koepp and his various drafts but also the screenwriters who tackled the film before him. Michael Crichton was the first to adapt his own novel into a screenplay, producing a pair of completed drafts. One detail James conjures is how a Crichton draft opened with a scene that would later front Spielberg's film adaptation of 'The Lost World: Jurassic Park.'
In his revised draft, Crichton opened with a variation on the novel's second major sequence, where a young vacationer, Tina, is attacked on a deserted Costa Rican beach by a Compy. He also includes another early scene from the novel, set at New York's Tropical Disease Lab, in which one Dr. Richard Stone and his technician Alice examine Tina's sketch of the Compy, with Stone reaching the conclusion it's a lizard.
This book is the first official publication to reveal that Rick Carter, the production designer of 'Jurassic Park,' also created his own unique "working document" draft. He wrote and assembled it during the production's downtime when Steven Spielberg left to film 'Hook.' Jurassic Time created an epic "illustrated audio drama" version of his take on the film, which includes a unique item most fans would certainly love: a Spitter umbrella that squirts water from its "mouth." Rick details the inclusion of this gag, among many other new notes.
"The idea of an umbrella squirting water is pretty ridiculously funny," says Carter. "You have this thing designed to keep the water out. It's actually squirting water!" The concept of a branded novelty umbrella came up during brainstorming sessions, adds Carter, when he and others on the team began to consider, "How would the dinosaur experience be commercialized in that park, and that Visitor Center?"
James also had an exclusive conversation with Malia Scotch Marmo, the penultimate screenwriter brought on board. While she only penned a single draft as well, her ideas were still an important part of the screenwriting process until Spielberg ultimately chose another direction. Scotch Marmo even contributed to a vital casting recommendation that became a reality!
Described in the book as "twenty-four and darkly tanned," with her blonde hair tied back, Dr. Ellie Sattler proved to be a difficult role to cast. "Steven sent me clips of young actresses to play Ellie," recalls Scotch Marmo. "The clips showcased the actresses in previous film roles. I noticed they were all ingénues. They had youth and a certain naïveté and freshness. I kept thinking they were missing the mark. Ellie is a scientist. Perhaps because my father was an astrophysicist, I couldn't buy the actors he was showing me as realistic in any way . . . in a science fiction movie like Jurassic Park believability was essential. Steven is very open to push back, and he asked, 'Who would you like?'" The writer made a case for Laura Dern, who coincidentally had impressed Spielberg in the 1985 film Smooth Talk.
LOADS OF CONCEPT ARTWORK, STORYBOARDS, & OTHER IMAGES
While both 'Jurassic' Visual History books were filled with production artwork and other images from the entire franchise, this book is only focused on the first film. Despite the included script being essentially the film that made it to the screen, the pages are filled with seemingly endless concept art, storyboards, and blueprints that cover many iterations. These materials transport the reader into the film's art department during the creative process that helped shape the story just as much as the scripts did. This includes early designs by John Bell for lead characters before the actors were cast, never-before-seen storyboards of the famous Main Road attack sequence by David Lowery, a pair of slides from the lunch room scene by Caroline Quinn, and numerous artwork showcasing the omitted river and helicopter attack sequences. Peppered throughout are wonderful stills and other photographs from the film itself. Overall, much of the amazing artwork is not present in the other Insight Editions volumes, or any book.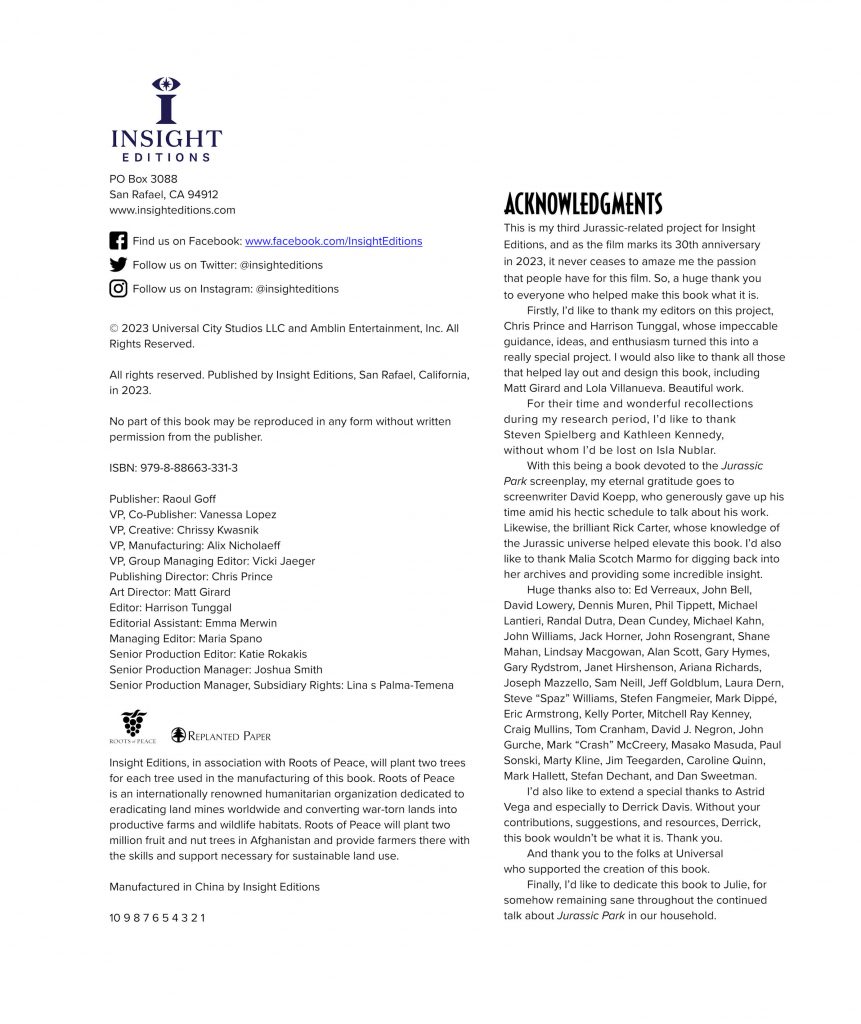 Countless artists worked on the film, for a much longer period than most get these days. All the concept artwork is credited to each artist; however, the storyboards were tricky to identify given several artists often worked on just a single sequence. The final page of the book credits those artists who were able to be identified, but the entire art department should be forever applauded for their immense contributions to this film.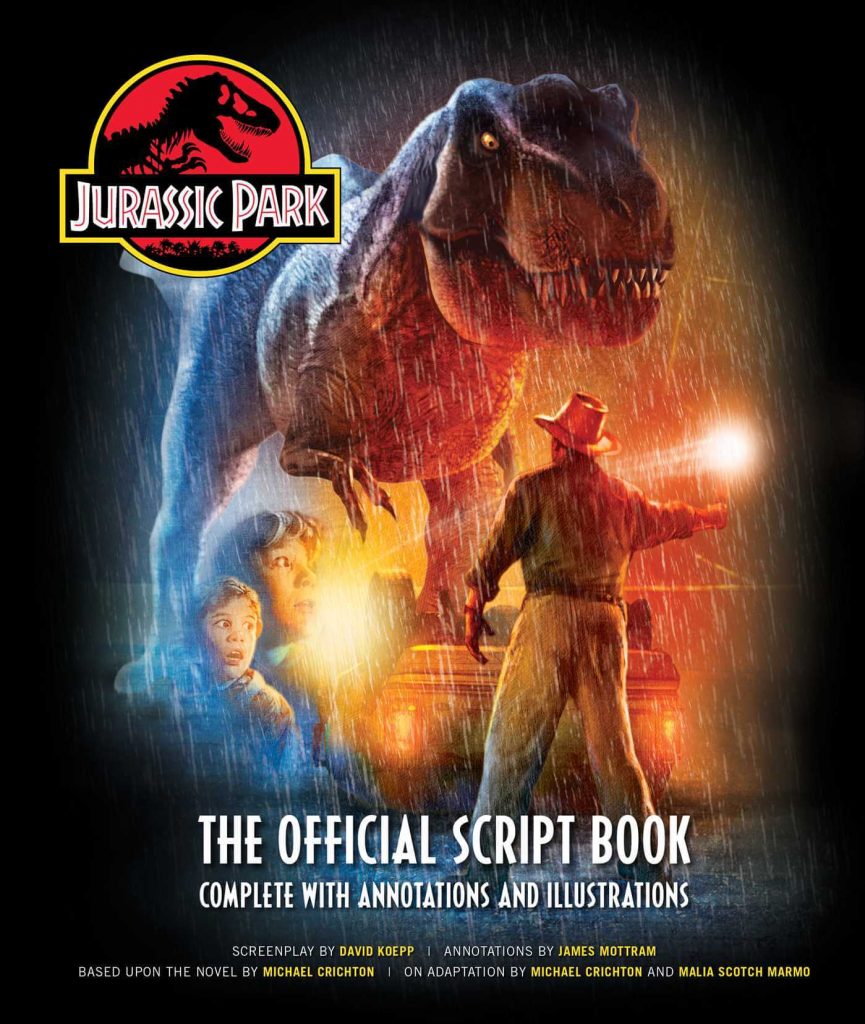 It wouldn't be an honest article without referring to the "dinosaur in the room": the front cover of this book. The artwork used was not made during the production of the film, but a recent selection of "key art" provided by Universal. To put it nicely, it's definitely not the cover I would have chosen. It doesn't appear inside the book itself, although a small selection of other recent artwork to celebrate the film's 30th anniversary is present. They are, thankfully, quite a bit more appealing.
FAN CONSULTATION

To be completely transparent, I (Derrick Davis) consulted on this book! I've been a massive fan of 'Jurassic Park' ever since I saw it at my local drive-in when I was 6 years old (which featured a sign that looks suspiciously familiar to those who have seen the extended cut of 'Jurassic World: Dominion.'). I went on to create Jurassic Time, producing various programs and conducting interviews with people who worked on the films. I've also written many articles for Jurassic Outpost since 2021. I was also a consultant for Criterion's release of Karel Zeman's classic prehistoric film 'Journey To The Beginning Of Time' and the re-release of the 'Jurassic Park' soundtrack from La-La Land Records.
However, being asked by James Mottram to join him in the production of this book was a dream come true. I have always been entranced by the many scripts of 'Jurassic Park,' as well as the thousands of artwork that was created before cameras ever rolled. After I read the original 'Making Of Jurassic Park' book, I was obsessed with peeking further behind the curtain to see the creative process of how it was all done. Over the years, I collected hard to find documents and artwork that would have otherwise been lost in time. Several of these materials, along with my own insights, enhanced this book's content. To be associated with a book like this, for my favorite film, is something I will be eternally thankful for.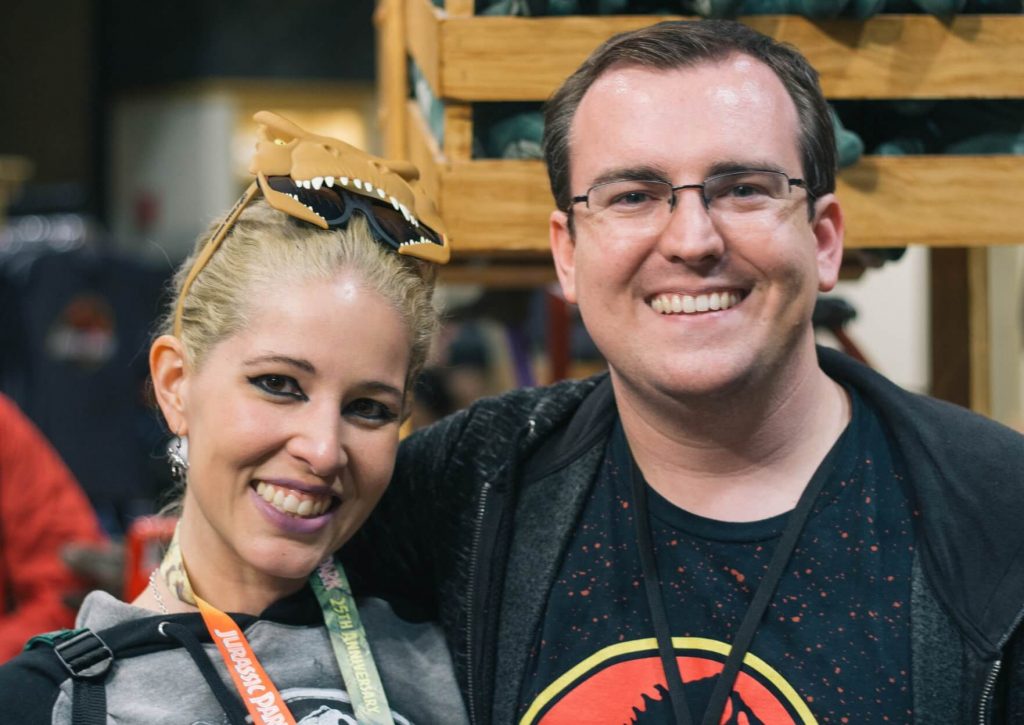 Another fan is given special mention for helping with this book: Astrid Vega (pictured with me, above, in 2018). She once ran The Jurassic Park Collection, until she sadly passed away in 2019. Astrid was a collector of many production materials that she shared with fans for years, and thanks to her, some of those are now showcased in this book.
DIGITAL E-BOOK EDITION ALSO AVAILABLE
While the physical hardcover edition is my preferred way to possess this unique book, there is also a digital e-book version available separately. This is a departure from both "Visual History" books, since those featured additional inserts that were referenced in the text that couldn't be adapted in this format. Some may prefer a digital version for the cheaper price point and to avoid high shipping costs in certain areas of the world. E-books are also handy for quicker research, with the ability to find text in seconds. The way I see it, having a digital edition also available ensures all 'Jurassic Park' fans have a fair chance to seek a copy of this book!
THE PERFECT WAY TO CONCLUDE THE 30TH ANNIVERSARY!
This year's 30th anniversary of 'Jurassic Park' is coming to an end, and what better way to celebrate it than by experiencing every word of the film in this fully illustrated form? Yeah, I know, I may be a little biased in this endorsement. However, I hope this detailed article on what the book consists of, with some exclusive first-look images, will entice you to seek a hardcover or digital copy today! This is the kind of book I have always wanted for 'Jurassic Park!' James Mottram, and the staff of Insight Editions, have gone out of their way to make this new entry in their series "spared no expense." Perhaps someday the other films in the series will get script books of their own? There are definitely more stories to uncover, and artwork that deserves to be unearthed, before becoming extinct.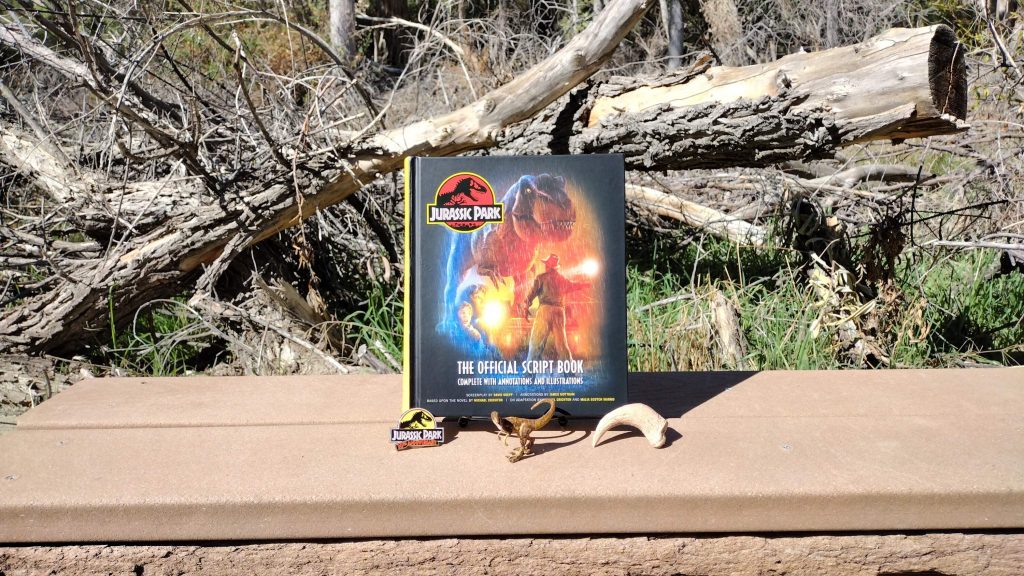 Do you plan on checking out the first script book ever for a 'Jurassic Park' film? Would you like to see Insight Editions tackle 'The Lost World' next? Share your thoughts in the comments below and stay informed with Jurassic Outpost for the latest!