Universal Brand Development, Amblin Entertainment, Ludia, and Google have partnered together to bring 10 dinosaurs from the Jurassic World franchise into your Google Search.
Searching for a dinosaur on Google while using a mobile device will now allow you hit 'View in 3D' which shows you a 3D model of the dinosaur, allowing you to rotate it and zoom in to see it close up.
From there you can add the dinosaur into the space around you, using AR technology to position the dinosaur in scale. If you're on an Android device you can turn up the volume to hear footsteps and roars.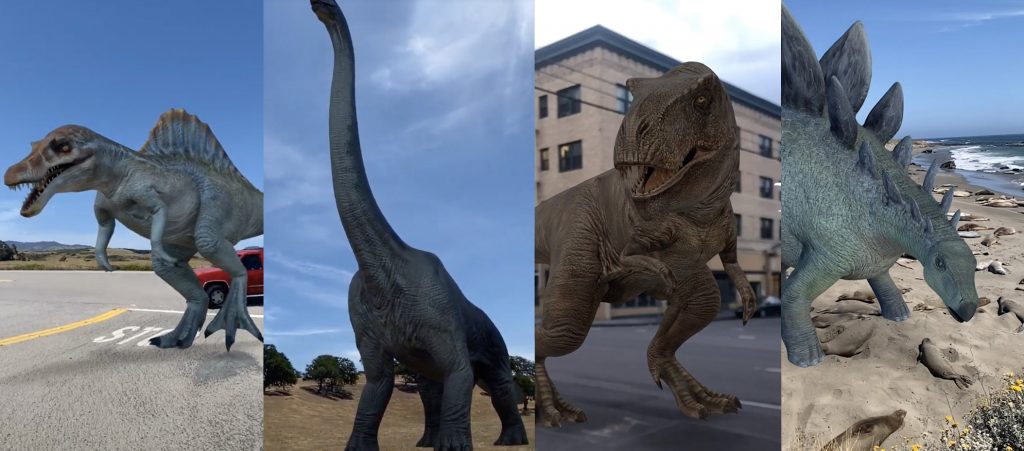 Ten dinosaurs are viewable in AR, including the T. rex, Velociraptor, Triceratops, Spinosaurus, Stegosaurus, Brachiosaurus, Ankylosaurus, Dilophosaurus, Pternodon, and Parasaurolophus.
According to Google, the technology from Ludia's 'Jurassic World Alive' game has been used to ensure that these dinosaurs have the most realistic models possible.
"To create the 3D dinosaurs, our concept artists first did preliminary research to discover information about each creature," says Camilo Sanin, Ludia's Lead on Character Creations. "Not only did we draw research from various forms of literature, our artists also worked with paleontologists and the 'Jurassic World' team to make the assets as accurate and realistic as possible. Even the smallest of details, such as irregularities of skin color and patterns, are important." 
You can see an example of how the Brachiosaurus was developed for 'Jurassic World Alive' below:
The dinosaurs available are a lot larger than your average dog or tiger which Google's AR service also offers, so they have implemented an auto-scale feature that can calculate the distance between your phone and a surface in the area you're in, and resize the dinosaur accordingly.
Using the Google app on both Android devices and iPhones, search 'dinosaur' or for the names of one of the ten dinosaurs listed above, and click 'View in 3D' to access.
The technology can also be used to create AR videos, recreating your favourite scenes from the Jurassic World franchise. Will you be checking out Google's new feature? Let us know in the comments which dinosaur you'd like to see if not already featured.
And make sure you check out this important message from Jurassic World…