Universal Studios Hollywood announced today that the theme park, which closed in March of 2020 due to the Covid-19 pandemic, will officially re-open to the public on Friday April 16th!
We're officially reopening on April 16!

Park tickets will be available online only, starting April 8. At this time, theme park visits are limited to California residents. https://t.co/rjnJZiP4Go pic.twitter.com/hadhrhmiwy

— Universal Studios Hollywood (@UniStudios) March 30, 2021
With the re-opening of the park that means that Jurassic World: The Ride will also be re-opening. But the ride will look a little bit different than it did the last time guests experienced it. Added to the ride is a new animatronic Indominus Rex!
The grand reopening of Universal Studios Hollywood also brings guests face-to-face with "Jurassic World—The Ride's" all-new, extraordinarily realistic dinosaur, the Indominus rex, who stakes her claim at the ride's finale in a forceful battle with her arch-rival, the Tyrannosaurus rex."

"Breaking new ground with highly complex innovations, this fully-articulated lifelike Indominus injects intense new thrills, excitement and intrigue to the already dynamic ride. Spanning nearly 55 feet horizontally from head to tail and over 22 feet vertically, the Indominus' imposing presence will be amplified by the fluidity of her motions and synchronized movements that deliver an unprecedented level of authenticity. From the subtle blinking of her eyes, the flexing of her arms and claws and clenching of her jaw as she bears her razor-sharp teeth, the colossal Indominus rex will lunge from her hillside setting, stalking guests just before they descend the giant waterfall drop to escape her grasp."
Included with the press release of the ride updates is a new advertisement poster showing the Indominus Rex squaring off with the Tyrannosaurus Rex as a ride boat is about to plummet down a waterfall.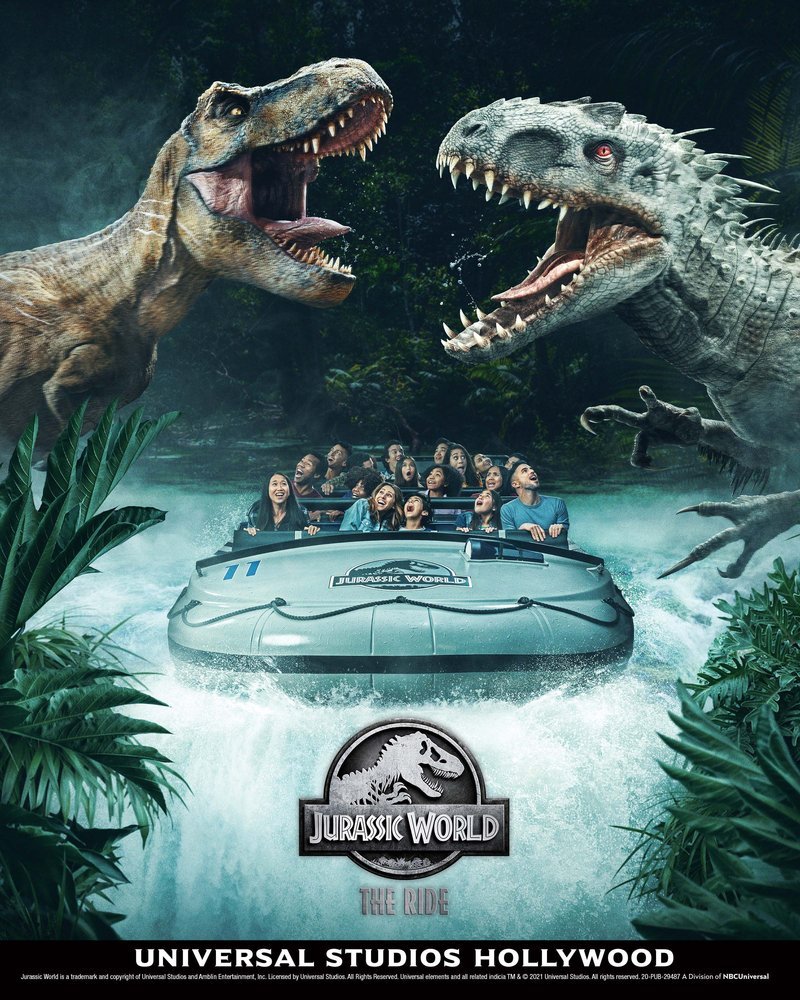 What are your thoughts on Universal Studios Hollywood re-opening and the addition of the Indominus Rex to the Jurassic World ride? Please let us know your thoughts in the comments section down below!