We were planning on holding this one off until Jurassic June, but much like the dinosaurs of Isla Nublar, we simply couldn't contain it. While you no doubt know there was an unreleased Jurassic Park animated series in the early 90's, you probably did not know there was another in development alongside The Lost World. This attempt at bringing Jurassic Park into the animated front was kept under lock and key, without any substantial evidence of existence… until now.
Check out our video below, where dive into the art and story revealed from this elusive, never before seen unreleased Jurassic Park tie-in!
The Lost World's animated series was commissioned by Steven Spielberg himself, and developed by DreamWorks Animation under the supervision of Steve Lyons. The artwork on display comes from Phillip J. Felix, who also contributed to the story of this ill-fated cartoon venture. Not much is known about the plot, outside of the fact that it would have introduced hybrid dinosaurs to the Jurassic Park franchise for the first time. While the cartoon was eventually shelved due to a variety of internal conflicts, many ideas were adopted by Kenner with the Jurassic Park Chaos Effect toy line (which was also to have a animated series that fell through).
The video above walks you through all the art available, what we know about the story and its titular DOOMSDAY REX, and how the idea of hybrids evolved forward into Jurassic World. Be sure to check it out!
While the art from Phillip may be our only real look at the series, it's believed these Kenner Jurassic Park Chaos Effect precursor concepts were tied directly to it. Most noticeably, the mech suit is very similar to that of Phillips artwork: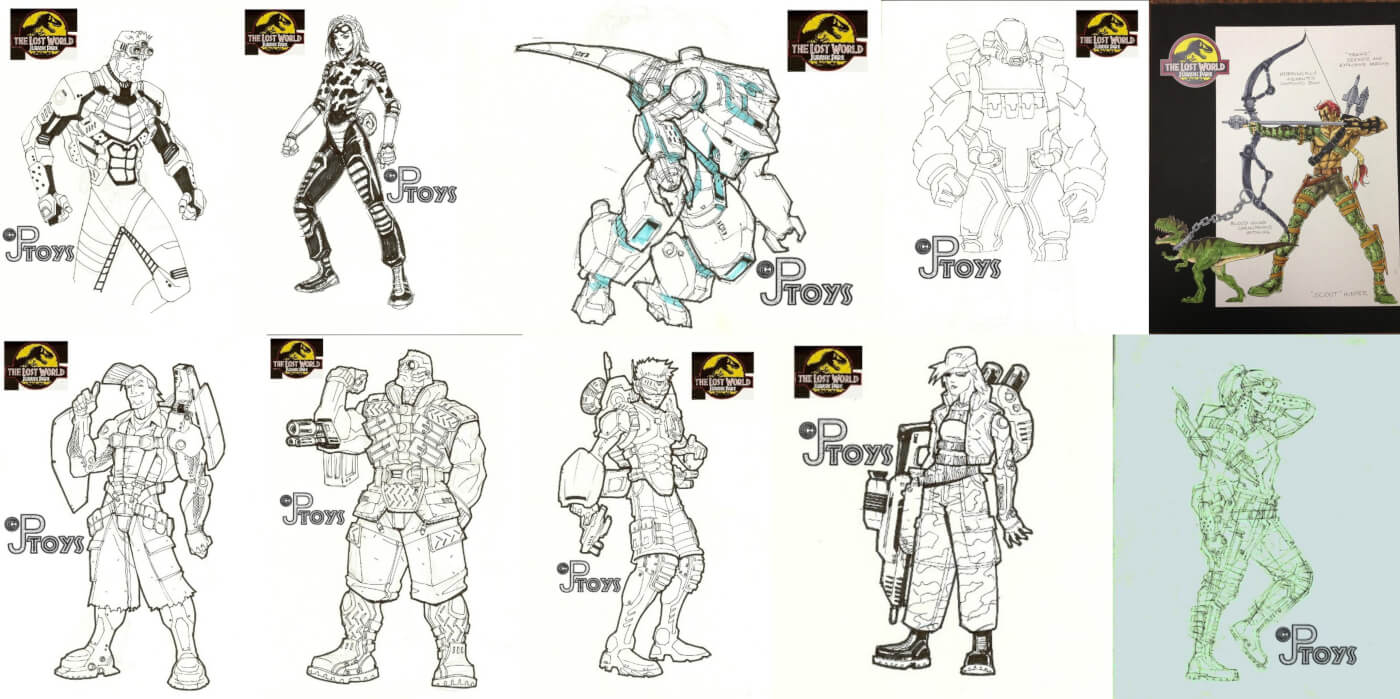 And of course, check out all the art from Phillip below!

The idea of a Jurassic Park primetime animated series was attempted many times over the years, but all became extinct before they were ever even truly alive. While some of the art for the hybrids in this series was a bridge too far for canon, in that era, transmedia story expansions were hardly ever held to continuity, and I would have enjoyed it as its own thing. That said, in today's world of mega-franchises with expansive expanded universes and spin-offs, I think an animated series would need to stick closer to the source materials content.
While you're here, check out our exclusive look at the original animated series attempt, 'Escape from Jurassic Park', featuring the entire season 1 story treatment! It features an unfinished script, and completely outlines the arc, episode-to-episode – its story goes much further into new territory than the beautiful artwork from William Stout had led us believe!
What do you think of the franchises first real attempts to bring hybrids into the story, prior to Chaos Effect, the Indominus Rex of Jurassic World, and Indoraptor of Fallen Kingdom? What would you have liked to see from this cartoon, and do you think we will ever get a proper Jurassic animated series? Sound off in the comments below, and as always, stay tuned to Jurassic Outpost!
Source: Phillip J Felix