Last year, 'Jurassic Park' fans were gifted with the "Jurassic Park: The Ultimate Visual History" book from Insight Editions. While it may not have entirely lived up to what die-hard fans were hoping for, it was overall a great summation of the behind-the-scenes stories for the original 'Jurassic Park' trilogy. The entire book was also illustrated with loads of pre-production artwork & rare photographs from all three films, making it a beautiful (but deadly?) addition to any fan's collection. They also produced a very cool cookbook & children's book that are also worth checking out.
On October 25th, Insight Editions will release a brand-new book showcasing the making of the 'Jurassic World' trilogy with "Jurassic World: The Ultimate Visual History".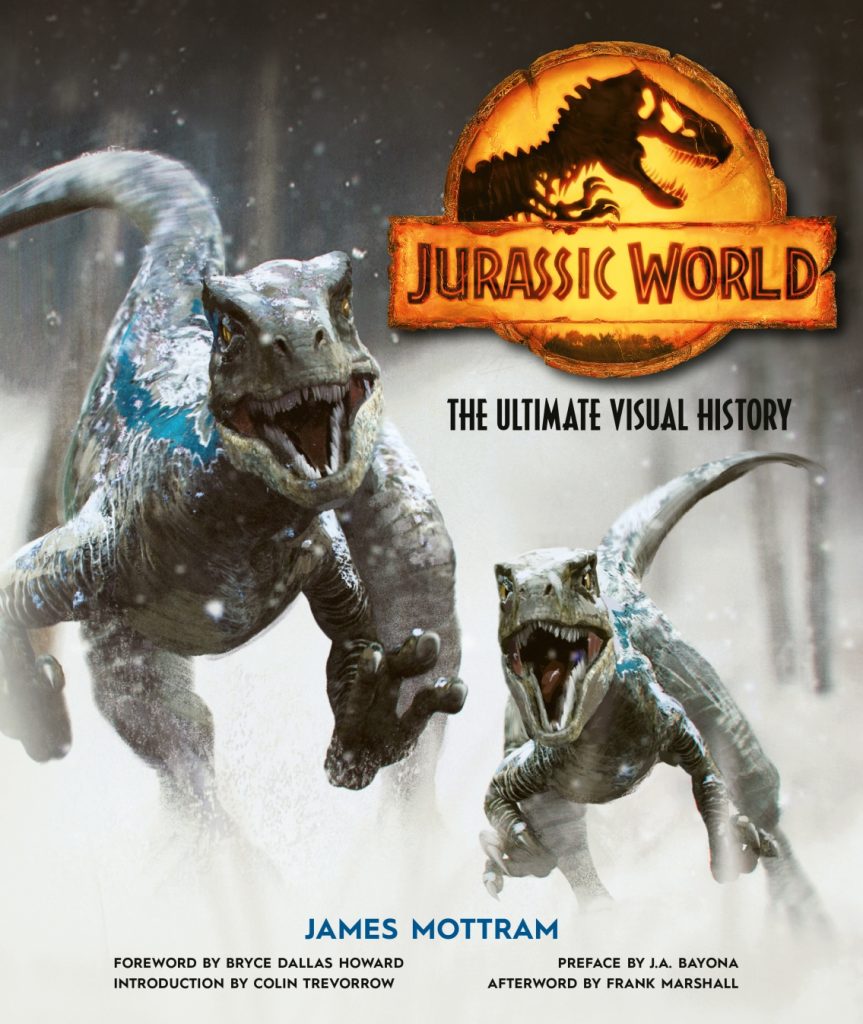 Celebrate one of the most thrilling franchises of all time with this in-depth look at the making of the Jurassic World trilogy. Following the release of director Colin Trevorrow's smash hit Jurassic World in 2015, the dinosaurs of Isla Nublar once again dominate the public imagination. Jurassic World: The Ultimate Visual History is the definitive account of the franchise – and a companion book to Jurassic Park: The Ultimate Visual History (released in 2021) – delivering a comprehensive look at the making of the first hit film as well as its thrilling sequels Jurassic World: Fallen Kingdom (2018) and Jurassic World Dominion (2022). Through rare and never-before-seen imagery and exclusive interviews with key creatives, the deluxe volume explores the entire creative process, from the films' stunning dinosaur designs to the epic location shoots and the creation of the films' incredible visual effects.
The book also includes sections on the DreamWorks Animation animated series 'Jurassic World: Camp Cretaceous', various games, toys, theme park attractions, and even the short film 'Battle At Big Rock'. This is the first time any of the 'Jurassic World' films have received a behind-the-scenes book, which already makes it vital for this reason alone. But is it truly a "definitive account of the franchise" for this trilogy of films, or is it met with some the same (perhaps nitpicky) issues found in the previous book? Let's have a look!
WHAT'S GOOD?
VISUAL & WRITING STYLE
Just like in the previous 'Jurassic Park' version, this book is visually pleasing. It's filled with as much colorful artwork and photographs as possible. The text is neatly placed within it all, and nothing ever feels too crammed or out of place. The previous book had more going on with the borders around each page, whereas this 'Jurassic World' version has a more barren approach. It simply features gray tabs on the sides with gray/amber-tinged headlines for each new section. This simpler approach feels appropriate with the sleeker look of the films themselves, particularly the first 'Jurassic World' and its park's design.
The writing itself is clear and precise, which is vital in stitching together different information from different sources. James Mottram, who also penned the previous book, weaves the information into a distinct fabric to tell its story.
EXCLUSIVE INTROS/OUTROS
This book includes a foreword by Bryce Dallas Howard ("Claire Dearing" in the trilogy), introduction by Colin Trevorrow (director of 'Jurassic World' & 'Jurassic World: Dominion', writer of the trilogy), preface by J.A. Bayona (director of 'Jurassic World: Fallen Kingdom'), & an afterword by Frank Marshall (producer of the trilogy). Mysteriously absent from this list is Chris Pratt, but I suppose he is too busy voicing Mario these days. These exclusive passages are great bookends for the entire presentation, with each person adding their own personal tribute. They even reveal fun information, like J.A. Bayona as he details Michael Giacchino's fantastic music score for 'Fallen Kingdom':
One of my most cherished memories from making Fallen Kingdom was working with composer Michael Giacchino. We spent hours talking about film music and listening to soundtracks. There was one specific piece of music we paid attention to: Bernard Herrmann's work for Mysterious Island (Cy Endfield, 1962). Our common goal while venturing into the musical tapestry of our movie was expressing our love for this kind of film. When I listen to Michael's music for Fallen Kingdom, I sense our mutual desire to travel back in time and bring back the same unparalleled fascination and heartwarming happiness that those movies gave us.
FANTASTIC COLLECTION OF IMAGES
While many of the book's images have been revealed online over the years by various concept artists who worked on the films, it is still great to have them all cobbled together in one book as the trilogy's history is told. Even better, there are some art and photographs that have never been seen before! Here is just a tease of what to expect!
NEW & OBSCURE INFORMATION
Making a book like this requires many sources for quotes, stories, and other information. Website articles, television interviews, Blu-Ray bonus features; everything was sifted through to collect the data. While some, maybe even a lot, of the details could be considered "old news" to people deeply invested in this trilogy's history, it is all well-arranged while even including new details sprinkled throughout. [NOTE: I will be honest and admit I am not as familiar with the history of the 'Jurassic World' trilogy as I am with the 'Jurassic Park' trilogy, so forgive me if any of this is not truly "new".]
For 'Jurassic World', some of these fun new details include Derek Connolly never having seen a 'Jurassic Park' movie before when he was tasked with co-writing the script with Colin Trevorrow; production designer Ed Verreaux had sent his art department team to the Universal Studios theme park in Hollywood to photograph everything (including signage) to see what they wanted their fictional park to resemble; and concept artist David Lowery came up with an unused idea for a "Pteranodon Terrace" where guests traveled in glass gondolas hanging from a huge cable that stretched across a vast expanse of jungle (and included "food Frisbees" that would be shot out of the gondolas and snapped up midair by the flying reptiles.). However, one of the most exciting new details for me was a little more about the script written by Rick Jaffa and Amanda Silver right before Trevorrow & Connolly were brought in to pen their draft.
Spielberg also wanted to revisit the idea of a hero character capable of training and commanding dinosaurs. These ideas manifested in the character Vance who, in the Jaffa/Silver draft's opening scene, is seen jumping out of a helicopter with a pack of trained raptors and landing in a compound belonging to a Colombian drug dealer. Although [John] Sayles used the bipedal Deinonychus in his draft, Spielberg felt that the physically similar Velociraptors, first seen in Jurassic Park, would be a better fit for the role. The story also focused on a Chinese paleontologist who visits the now-open Jurassic Park with her sons. The scientist has a secret agenda, believing that the park's owners have stolen DNA from bones she unearthed of a previously undiscovered dinosaur—the Malusaurus. The corporate side of the park is run by Whitney, a female manager who views the dinosaurs as commodities and nothing more. Inevitably, the Malusaurus created using the stolen DNA escapes from its enclosure, and Vance must use his raptors to hunt it down.
'Fallen Kingdom' includes interesting tidbits, such as Benjamin Lockwood originally having very little connection to John Hammond and the past of 'Jurassic Park'; in its original draft they went from Isla Nublar to England where a small village gets destroyed by dinosaurs (until Steven Spielberg told them there was no credible way to make that journey happen); and the film's fantastic opening sequence was originally just over a single page in the script, with Bayona fleshing it out further with an extended climax on the helicopter ladder while also adding Jurassic staples (like the pouring rain and the yellow raincoat worn by the tech that resembles Nedry's apparel from Jurassic Park). The film's title itself (along with the next film's) proves to also have its own unique history:
"I wanted to call [the first film] Jurassic World. And the second one was Jurassic Earth, and then the third Jurassic Kingdom. The studio was like, 'You can't keep changing the title of the movie. You already did it once.'" Taking Universal's feedback into consideration, Trevorrow decided to combine the overall franchise name with a subtitle, taking the word kingdom from his proposed third film and adding it to fallen, suggesting the decline of the dinosaurs' domain.
Even the small section on the short film 'Battle At Big Rock' gets a nice detail on its inspiration: a YouTube video titled "Battle at Kruger", in which tourists witness a water buffalo being attacked by lions and an alligator.
The section on 'Dominion' reveals that a scene featuring Daniella Pineda (Zia Rodriguez) had to be recast with another actor, Varada Sethu, when COVID restrictions kept her from being able to leave another production she was on; production designer Kevin Jenkins ensured that the equipment seen in BioSyn's abandoned amber mines displayed 1990s-style Biosyn logos, a detail reminiscent of the old rivalry between the company and InGen (although I suppose footage containing it must have been cut, because I can't seem to spot it in either version of the film); and animatronic creature effects artist John Nolan took inspiration from Frontier Developments' 2018 video game 'Jurassic World: Evolution' to get a better sense of the Dilophosaurus's locomotion for the film. In fact, Nolan's team had created a device that would allow the animatronic version of the dinosaur to travel on a dolly track with eleven puppeteers following behind it using levers, rods, and cable controls to create the dinosaur's walk. However, Trevorrow was not happy with the result. But perhaps one of the biggest pieces of interesting information involved our favorite clone girl, Maisie.
When it came to casting the role of Maisie's mother, Charlotte Lockwood, Trevorrow considered using digital tools to graft Isabella Sermon's face onto a body double and age her features appropriately. However, during a casting section for the body doubles, he made a remarkable find. "I had been given a set of faces whose bone structure was similar enough to Isabella Sermon's," says Trevorrow. Among those faces was Irish-born Elva Trill. As Trill began reciting lines with the director, he quickly came to realize that she would be perfect as Charlotte and abandoned the digital augmentation idea. "I've never seen an actor come in and just grab a role by being so good," says Trevorrow.
The section near the end of the book that details 'Camp Cretaceous' scored some of its own interesting details, such as the showrunner's original plan to feature Owen Grady and Claire Dearing; there was an early version of the story where Ben doesn't survive past Season 1; and most interestingly how the originally intended final shot of the film trilogy was instead used as the final shot for this series:
Camp Cretaceous also brought Trevorrow full circle, back to his early meetings with Steven Spielberg when he pitched the arc of the Jurassic World franchise, which would ultimately lead to dinosaurs entering our everyday lives. Specifically, the image of a child looking out his window on a suburban street and seeing a traffic jam caused by a Brachiosaurus at an intersection. "We actually ended up making that the very last shot of the entire [Camp Cretaceous] series," says Trevorrow. "After nine years, that idea found its way back into the story."
THE INSERTS
As usual with Insight Edition's Visual History books, there are numerous "inserts" on certain pages that feature unique items. While some are still applied with an adhesive per the previous book, many of the inserts this time are more technically "part of the book" and not meant to be removed entirely. Some are just meant to be unfolded beyond the confines of the book's dimensions, while a few are even in the form of actual booklets to flip through. The only real negative is that it is focused more on the first film than the rest. Here is a complete list of what you will find:
From 'Jurassic World': Poster art advertises Jurassic World's Gyrosphere ride; Storyboards by David Lowery from an early iteration of Jurassic World's evolving storyline; A map of Isla Nublar showing the island's topography and the location of Jurassic World; Dr. Wu's Jurassic World security pass; Concept art by Glen McIntosh for Jurassic World's petting zoo; The sketches that Steven Spielberg drew for Colin Trevorrow to illustrate his feedback on the Indominus rex breakout sequence; A tourist map of Jurassic World highlights the theme park's attractions; & Storyboards by Glen McIntosh for the scene in which the raptors pursue a pig in the Raptor Research Arena.
From 'Fallen Kingdom': Raptor movement study by Glen McIntosh; A sticker sheet featuring production design art created for the Dinosaur Protection Group; & Production design art for the jacket of Dr. Ian Malcolm's book, God Creates Dinosaurs (not actual size).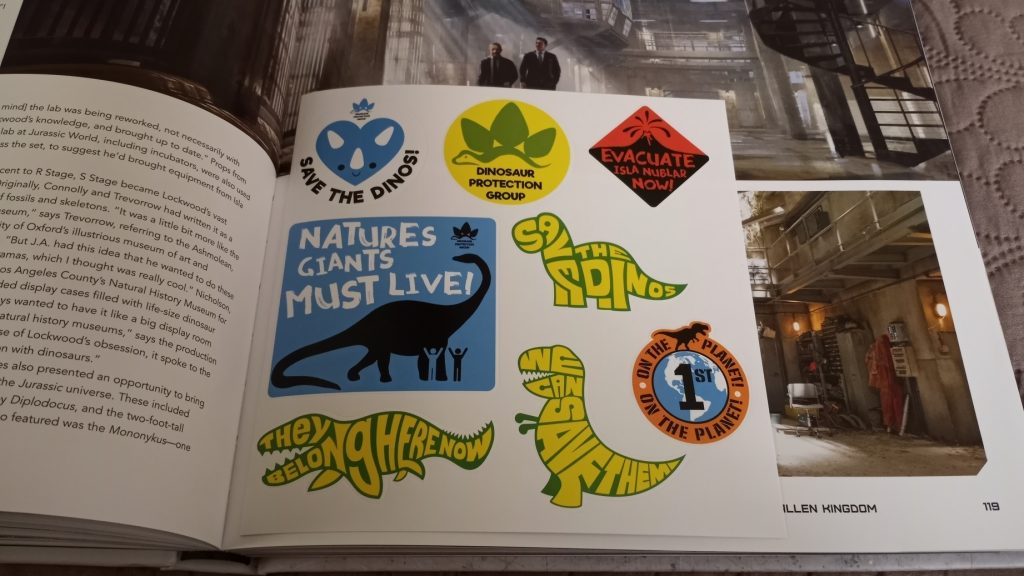 From 'Battle At Big Rock': Concept Art Booklet.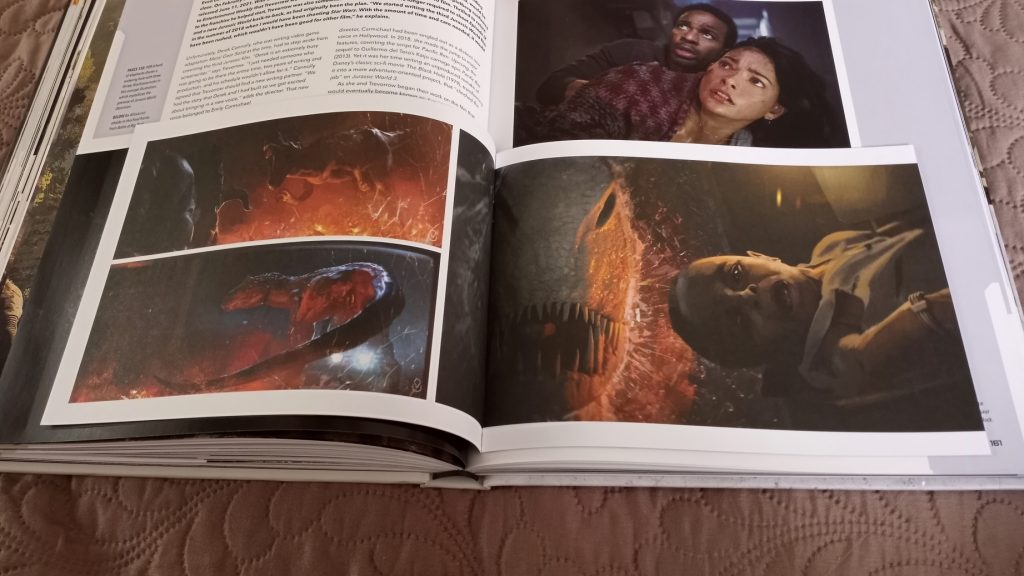 From 'Dominion': Storyboards by Glen McIntosh for Jurassic World Dominion's prologue scene & Malta Concept Art Booklet.
From 'Camp Cretaceous': Concept Art Booklet.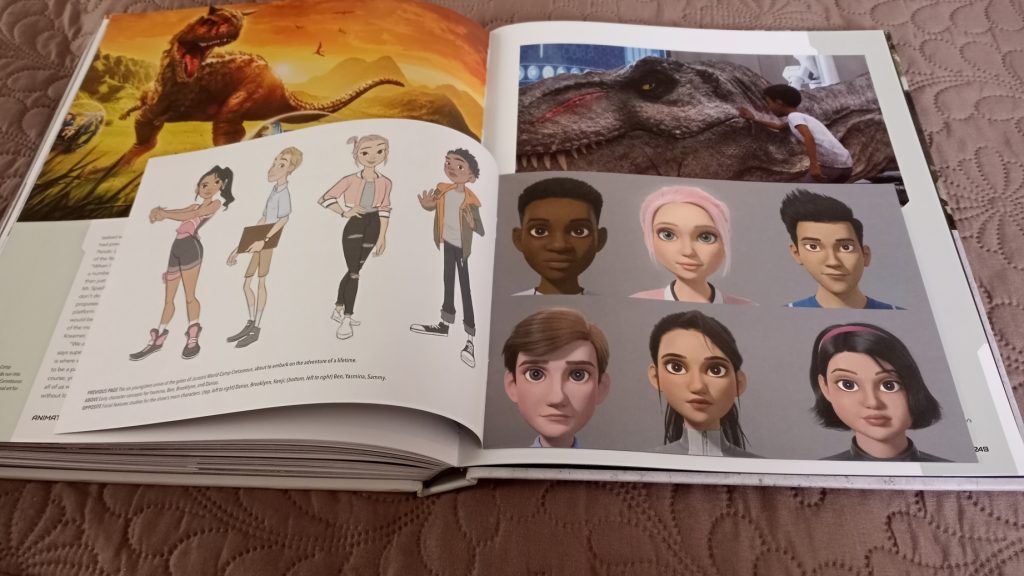 WHAT COULD HAVE BEEN BETTER?
A fan wouldn't be a fan without needing to nitpick, right? (Don't answer that.) Despite being mostly pleased with this book, there are still a few areas that could have been improved upon (perhaps in a revised edition, which Insight Editions have done before).
WHAT ABOUT 'JURASSIC PARK 4'?
The opening of the book does briefly go into 'Jurassic Park 4' (the obvious working title before it eventually was named 'Jurassic World'), mostly delving into some details on the John Sayles script and then eventually a little more about Jaffa/Silver's script before Trevorrow/Connolly did their own version. But what about the rest? There were numerous versions of the film, by other writers, that were tackled in the 14 years between 'Jurassic Park 3' and 'Jurassic World'. Given that it was such a long range of time where the studio kept throwing ideas around to try to make things happen, most of it shrouded in secrecy, this had been one of my most anticipated sections. Instead, it was only a few pages, and generalized.
Also, while they mention the dinosaur/human hybrids, it's a shame that none of the wild concept art (that has been online for many years) was included at all. Perhaps they couldn't get the rights to feature them?
Speaking of art from this period: where was John Bell's art? Last year's book featured loads of art by Bell for the original trilogy, plus a tease of two pieces of artwork he did for 'Jurassic Park 4'. And yet, this book didn't feature any of it. This is another case where the art has been online for years, on Bell's very own site. And there is some fantastic stuff, including his concepts for gyrospheres and even a version of the park's map that perhaps coincided with the Jaffa/Silver script. This book even mentions Bell in the "special thanks" section, making the exclusions even more mystifying.
OTHER OMISSIONS
Look, I get it: this book can't be 1,000 pages long like all of us die-hard fans would like it to be. Putting the complex histories of three massive films into one book is a huge undertaking (just like it was in the previous book). Still, there were some things I wish had been mentioned or visually included in this book. Because when and where else would it be, apart from random online articles & videos that eventually get buried with the rest? Perhaps that's why some of these details were possibly missed to begin with?
Seamus Blackley, the creator of the XBOX and the 'Lost World'-related game 'Trespasser', had pitched a video game that he titled 'Jurassic World' (before anyone else); which would later inspire several ideas for the new film trilogy. None of this important revelation is mentioned at all (although to be fair it wasn't publicly known until very recently). Also for 'Jurassic World', there is no mention of the "Stegoceratops": a second hybrid dinosaur that was originally planned to be in the film, and even had a toy made for it!
The previous book had spent a lot more time detailing most of the different scripts for the films. This book does this at times but to a lesser degree. While it was nice to learn a little more about the Jaffa/Silver script for example, it still just grazed the surface. And since this script can't be found anywhere online currently, a more detailed summary would have been amazing. For example, was the concept art that was shown in one of the Blu-Ray bonus features (and not in this book) of the Indominus attacking a robotic T-Rex coming out of a waterfall (ala 'Jurassic Park: The Ride') something from this script?
MORE LOVE FOR THE SEQUELS
This is another reoccurring issue, but it just feels like more focus is given to the first film of the trilogy (despite me just complaining I wanted more from it!) with less invested in the sequels; 'Fallen Kingdom' and 'Dominion'. More details about their different scripts, more inserts related to them (A pull-out Hammond painting from 'Fallen Kingdom' would have been awesome!), or even the mention of certain deleted scenes we know were filmed thanks to still images (that aren't in this book): such as Iris's death from the Indoraptor & a dead/decayed Stegosaur that Owen and his team come across as they search for Blue on Nublar.
According to more "hush-hush" behind-the-scenes stories, we also know that 'Fallen Kingdom' was going to originally involve Isla Sorna, a 'Gene Ship' for Wu's experiments, and more of Ian Malcolm. He was going to try and sabotage the rescue mission on the Arcadia! 'Dominion' was originally going to be two films that would have been filmed at the same time. But again, none of these details are brought up.
In an ideal world, each film in the series would have gotten its own book. This would have allowed much more breathing room to fully explore all these things, and more. Perhaps that is just not economically feasible anymore, even for a big franchise? Especially when, let's be honest, the sequels in each trilogy are not as popular or well-regarded as their first entries. While a slew of die-hard fans would have clamored for a 'Fallen Kingdom' making-of book, for example, is it really something that would sell well? Especially now? Sometimes these sorts of "package deals" are the only way to at least get what we are able to.
SO, SHOULD I GET IT?
I think 'Jurassic World' fans should absolutely get this book. My complaints, as you've read, only really dwell with what isn't in it. While the omissions are disappointing, it isn't so egregious that it takes away from what is included. There's a wealth of information, concept art, photographs, and nice inserts (the "concept art booklets" being my favorite) that are all woven together wonderfully. In most ways it improves upon their 'Jurassic Park' book, and in retrospect I may have originally been a little too critical on it. But if being a little harsh helped make this book better, well, that's why I still felt the need to point some things out this time, too.
What I didn't expect to feel while reading and looking through this book was how much nostalgia it gave me. The first film in this trilogy is nearly a decade old, and it's crazy how time flies. Books like Jurassic World: The Ultimate Visual History help preserve these films beyond the screen, along with all our memories that come with them.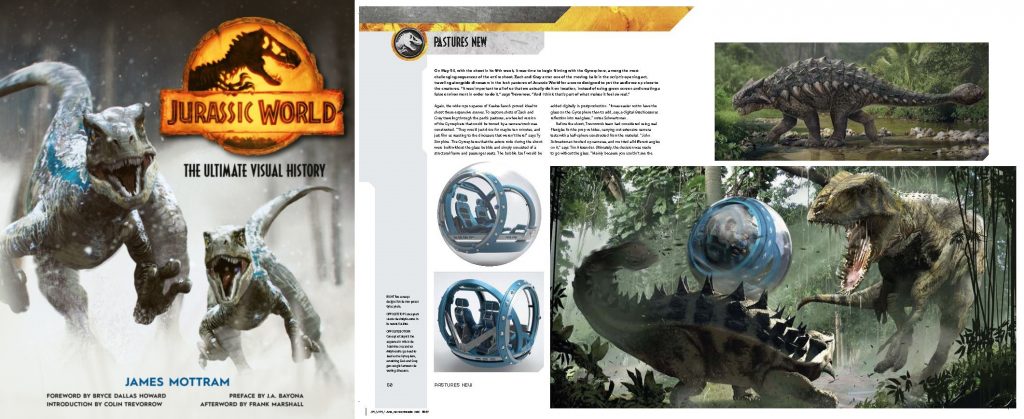 The feelings we had in anticipation for these films, the news as details were revealed, the organized screenings every time they came out, and the events we attended where other people obsessed with this series finally felt like they belonged. Friendships made, perhaps even hearts broken, or miraculously the bond of marriage formed. We all have our stories. And when you go through these pages, I can almost guarantee that at least one image, maybe something obscure not literally in the film that you would never expect to elicit an emotion, reminds you of a time that once was. And you remember your place in that time, and perhaps realize just how different you are now; or the same.
This trilogy, and our time in it, is over. But like everything in nature, it will evolve. And so will you.
What are some of your favorite memories related to the 'Jurassic World' trilogy? Did you go to a fun event, see any of the films with someone you loved, or make new friends because of it? Share your thoughts in the comments below, and may the joy you have for these films never go away!
ADDENDUM: In celebration of the release of "Jurassic World: The Ultimate Visual History", Insight Editions presents author James Mottram in conversation with Jurassic World Animation Director/Paleoartist Glen McIntosh. Discussion moderated by Derrick Davis, Writer at Jurassic Outpost & Creator of Jurassic Time! Intro/Outro by Insight Edition's Marketing & Publicity Strategist Amanda Hariri. Live Book Release Event via Crowdcast (10/25/22).