The sequel novel to Jurassic fan Ethan Pettus' first novel 'Primitive War' is available now! The novel is titled 'Primitive War II – Animus Infernal'.
In case you missed the first novel in the series, 'Primitive War' is set at the height of the Vietnam War and tells the story of a search and rescue team known as Vulture Squad. The team is sent into an isolated jungle valley to uncover the fate of a missing platoon. As they hunt through the primordial depths of the valley, they discover ancient horrors that not only threaten to unravel their minds, but to end their lives as well.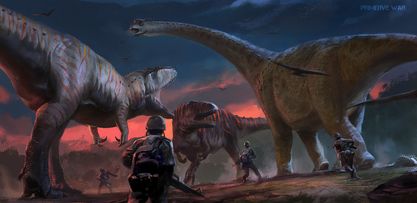 The implosion of a particle accelerator in Cold War era Angola begins the story of 'Primitive War II – Animus Infernal'. Two Angolan bounty hunters must lead an elite dinosaur-tracking team called Stalker Force to the heart of the implosion in order to contain a prehistoric outbreak. As the men devolve in their struggle to survive an inhospitable lost world, the landscape of the earth as we know it is changed forever by… the Primitive War.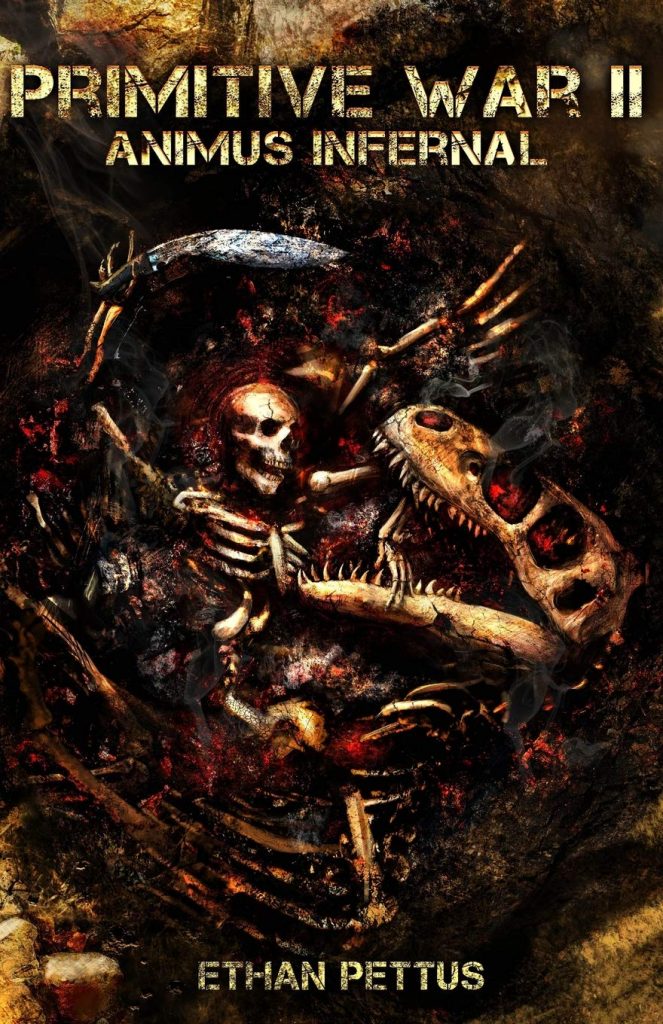 This sequel novel presents an enticing new story for fans of dinosaurs, time travel, and historical fiction. The first 'Primitive War' novel was both thrilling and terrifying, combining ancient horrors with modern combat drama. 'Primitive War – Animus Infernal' takes those elements to the next level, and is an awesome new dinosaur story that Jurassic fans will love.
Also available now is the episodic short story anthology 'Primitive War Dispatches – The Hunting of Stalker Force', which serves as a bridge between the two novels, along with 'The Primitive War Bestiary', which is a field guide illustrated by Bruno Hernandez. The audiobook version of 'Primitive War', recorded by Wayne June, is also being released in January 2021!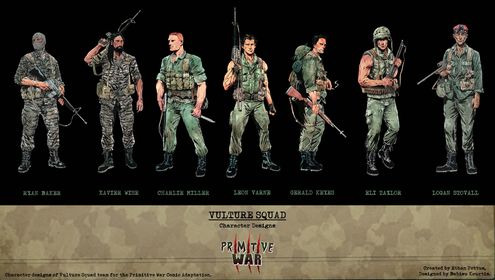 In even more exciting future release news, a brand new graphic novel adaptation of 'Primitive War' is currently in the works! This will be an excellent way for fans to visualize the novel's vicious carnivores and thrilling action sequences like never before. The adaptation's stunning colors and frames are being brought to life by writer Ethan Pettus, illustrator and co-creator Babisu Kourtis, colorist Maja Opacic, and letterer Taylor Esposito. The five-issue first volume of the adaptation is currently being drafted simultaneously with a KickStarter campaign and conversations with publishers.
Thanks to the generosity of author Ethan Pettus, Jurassic Outpost is able to showcase exclusive images and pages from the upcoming graphic novel. Check them out below!
'Primitive War – Animus Infernal' is now available on paperback and Kindle through Amazon!
You can find 'Primitive War Dispatches – The Hunting of Stalker Force' on Amazon here, and 'The Primitive War Bestiary' here.
The original 'Primitive War' novel can be found here, and two preview chapters from the new 'Primitive War' audiobook can be found here.
Will you be purchasing this new dinosaur novel and any of the exciting new tie-in materials? Let us know what you think in the comments below!