Hold on to your butts, because this Jurassic June is going to be a proper celebration of the franchise. After weeks of rumors and speculation, we now know more about the plans for 'Jurassic World Dominion's' heavily teased trailer: revealed by Dr. Alan Grant himself it'll premiere with a scene from the film exclusively during IMAX screenings of 'Fast and the Furious 9'!
Here we go ! pic.twitter.com/nHWWBJGDco

— Sam Neill (@TwoPaddocks) June 9, 2021
This all-new poster seems to show a mosquito biting a dinosaur over 65-million years ago, which is full of exciting possibilities if it's not just for the poster – especially with the tagline "It All Started Here". We imagine we'll know lots more soon.

UPDATE: It seems we are traveling back in time with Jurassic World Dominion, seeing the dinosaurs in their habitat prior to cloning. Most excitingly, this includes the debut of feathered dinosaurs within the franchise! Take a look at the all-new look at the opening of the film courtesy of Rob Keyes of Screenrant.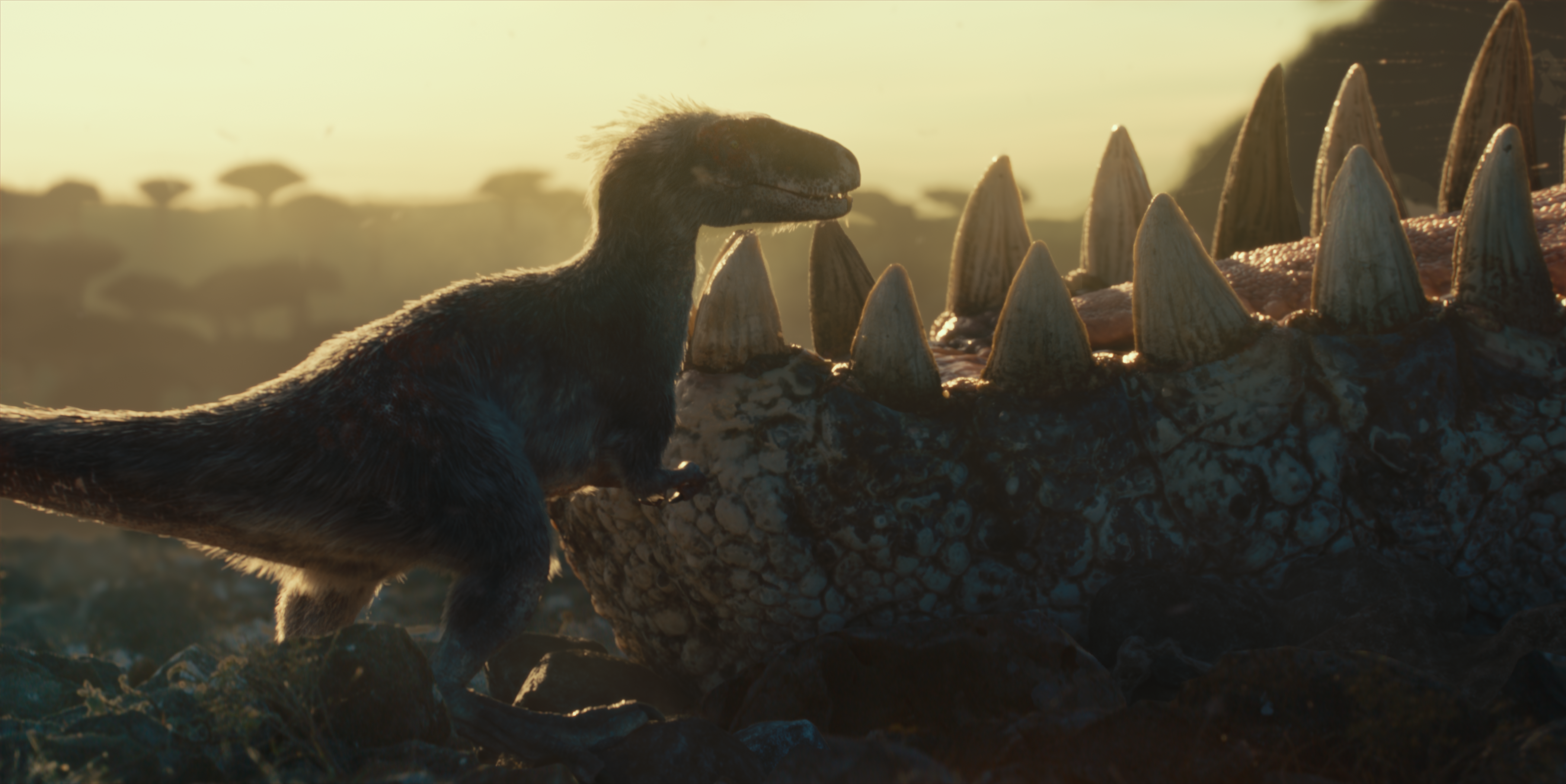 We had earlier speculated about a 'F9' trailer connection, and it's great to have further details and confirmation about how the exclusive preview will make its debut. While there is no word yet on what exactly the footage will entail, we suspect it may be an extended scene from the film leading into the trailer itself, with the aforementioned scene remaining exclusive to IMAX screenings only. However, we do suspect trailer itself without the extended sequence will be available online soon after.

While 'Fast 9' doesn't hit theaters until June 25th, tomorrow (June 10th) is the year-out release date of the upcoming Jurassic Park sequel — so we fully suspect we may get even more news then! Further, while it remains unconfirmed, it seems Empire Magazine will have a preview of the footage to come, including an interview with director Colin Trevorrow.
Got to see 5 mins of spectacle from a 2022 biggie on an IMAX screen. Interview with the director on Empire Online tomorrow.

— Nick de Semlyen (@NickdeSemlyen) June 9, 2021
Empire Magazine has been a long time partner with Universal and Colin Trevorrow for the Jurassic World franchise, and with Colin's recent hints about news hitting soon, it certainly seems like the stars are aligning.
Further, tomorrow may have even more in store for Jurassic fans, with the official opening of the Velocicoaster resort, and a rumored Jurassic World game reveal at Summer Game Fest. While the latter remains unconfirmed, Geoff Keighly has been dropping Jurassic hints on Twitter, which certainly coincide with Jeff Goldbum's involvement in the show – not to mention Frontier Developments, the Jurassic World Evolution developers, are partnered with Summer Game Fest.
Next Thursday, don't miss @SummerGameFest Kickoff Live hosted by @geoffkeighley, streaming live at 11 am PT / 2 PM ET / 6 pm GMT.

Just announced: The one and only Jeff Goldblum will join Geoff as a special guest. pic.twitter.com/7RBDYofNMQ

— The Game Awards (@thegameawards) June 3, 2021
While we're not certain if all these reveals are tied together or not, we're convinced this month will be a fun one for fans of everything Jurassic.

Be sure to stay tuned – there will be a lot more to cover soon!