The Park is Open – again.
It's been over 3 years since the original Jurassic World Evolution released on consoles and PC, and the anticipated sequel delivers on the promise of Fallen Kingdom: we're not on an island anymore (except when we are, but more on that later).
Jurassic World Evolution 2 offers some new updates to the established gameplay from the first title, but will also be immediately familiar to players of the first – perhaps too familiar at times. However, for those unfamiliar with Evolution, it is a park building and management game where you're tasked with creating your very own Jurassic worlds.

The core gameplay loop in Jurassic World Evolution 2 is all about building park attractions with key operation and exhibition facilities, seeing to guest and animal comfort, all while making sure you remain profitable and don't run out of money. As you may expect, things don't always go to plan, and chaos will come into play – from natural disasters like tornadoes and blizzards, dinosaurs growing distressed by their health and needs, and occasionally, dinosaurs breaking free and eating your guests (which is a very quick way to run out of funds).

You can help avoid unhappy dinosaurs trying to escape by making sure you've crafted an enclosure meeting their environmental needs, such as making sure you've grown the correct prehistoric flora for herbivores to feed upon, have enough water, open space, and other factors such as making sure species cohabitating a particular enclosure actually like one another.
If your dinosaurs break free you'll need to send in ranger teams to round up the ramping threats before they cause too much mayhem, so it's important to have them placed close by. While this may be easy in the early stages of your park, it becomes more of a challenge as your park grows and is something that will greatly affect your ability to mitigate the collapse of your park – especially as some maps are quite restrictive in size (but fret not, others are quite large).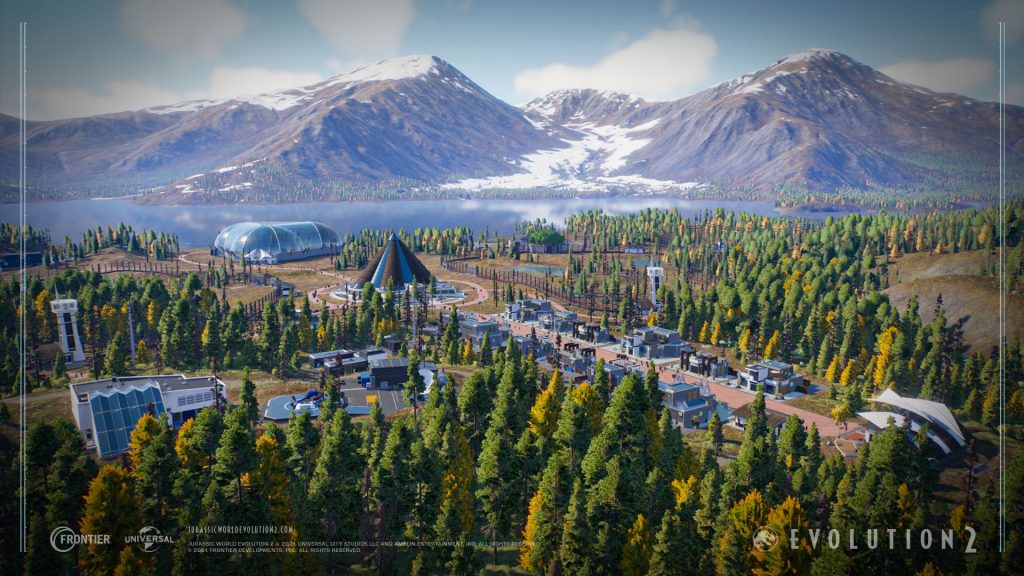 Likewise, you'll want to make sure you've researched the best facilities to contain and care for your dinos – such as the new medical center for taking care of sick and injured dinosaurs. As sick dinosaurs can die or spread illness, you'll want to make sure your mobile veterinary teams can access the species as quickly as possible.
Research is integral to keeping your park well managed and profitable, and will also provide you the means to train your scientists whomst are integral to the core game mechanics. Scientists are hired staff required to be assigned to all management tasks such as aforementioned research, expeditions for fossils and dinosaurs, DNA synthesis, and egg incubation.
Each scientist has three skill categories with associated levels: logistics, genetics, and welfare. The various management tasks, such as sending out a team to look for fossils, have required skills in the category or categories, therefore making sure your various staff are properly leveraged for the tasks ahead is crucial. Likewise, each scientist has a specific perk. Some simply have a higher stamina rate, meaning you can assign them more tasks in a row without them needing a break from overworking, while others may allow for things such as 50% cheaper DNA synthesis or 30% faster egg incubation. You'll have to make hard choices to make sure you're saving as much money and time as possible while having enough skill points for the tasks your park requires, and this staff system brings a lot of strategy into the game.

As I mentioned before, the staff can get overworked and require rest. If you're not careful, the scientists may become disgruntled, causing setbacks in your park such as sabotage. These new functionalities make the gameplay more dynamic as you expand your park, requiring more strategy in your choices as opposed to only arbitrary wait times while tasks complete.

The way you edit the environment is far more dynamic than the first game. For example, herbivores no longer have feeders and rather require the proper plant life to support their diets. While some may feed off of ground fiber and nuts, others will feed off tall leaves. With limited space in each paddock for what you can grow, you need to be mindful about the species you place together so their dietary and general comfort needs (which include things like open space, the amount of rocks, and more) can sync up.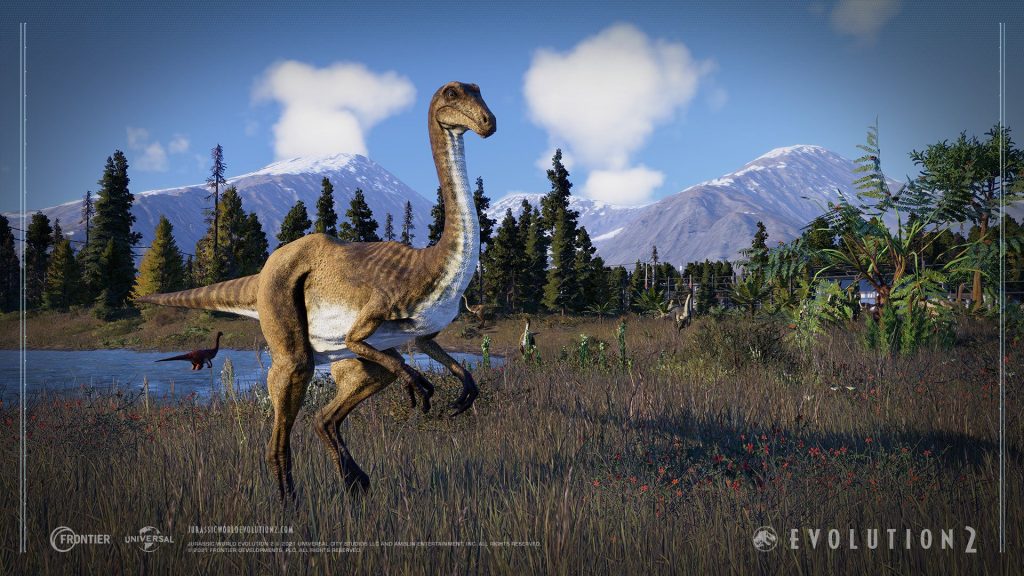 Then, of course, there are the park guests – the people you want to keep happy to fund your dino-park escapades. Their comfort in the park boils down to amenities such as food, shopping, and restrooms, the placement of emergency bunkers, transportation, and of course attractions. Your star attractions are the dinosaurs, and you want to make sure you have the other desired amenities in close proximity to them. Viewing galleries are a primary way for guests to see dinosaurs, and the placement of the galleries is key to make sure the guests actually have sight-lines on the various species. Guests also don't like to travel too much by foot, so researching and placing structures such as hotels and monorail stations around your focal dino-hubs really helps maximize the success of your park.

Each level features different environmental locations with different sizes and shapes, sometimes including narrow choke points where building and movement will be restricted. Making smart use of that space to fit all the needed structures, pathways, and dinosaur paddocks is crucial. If you're not careful, you can easily build yourself into a corner where the needed facilities cannot fit. This will affect profit, guest comfort, and your ability to properly care for the dinosaurs – this can become even worse if disaster strikes.
Another great feature is the ability to pause time and assess a situation while assigning tasks within the park or choosing building placements. When a park is large, a lot can happen at once, and this feature allows you to manage many occurrences simultaneously before resuming the action and letting your choices play out. Likewise, you can speed up time by 2 and 3 times, allowing for tasks to complete in a blink of an eye. Be careful though – if things start going wrong, every second counts.
While many of these elements existed in the first Jurassic World Evolution, there are many small quality of life adjustments across the board which make the gameplay more dynamic, and in theory, more fun.
Unlike the first game, Evolution 2 offers 4 different modes of play: Campaign, Chaos Theory, Challenge Mode, and Sandbox.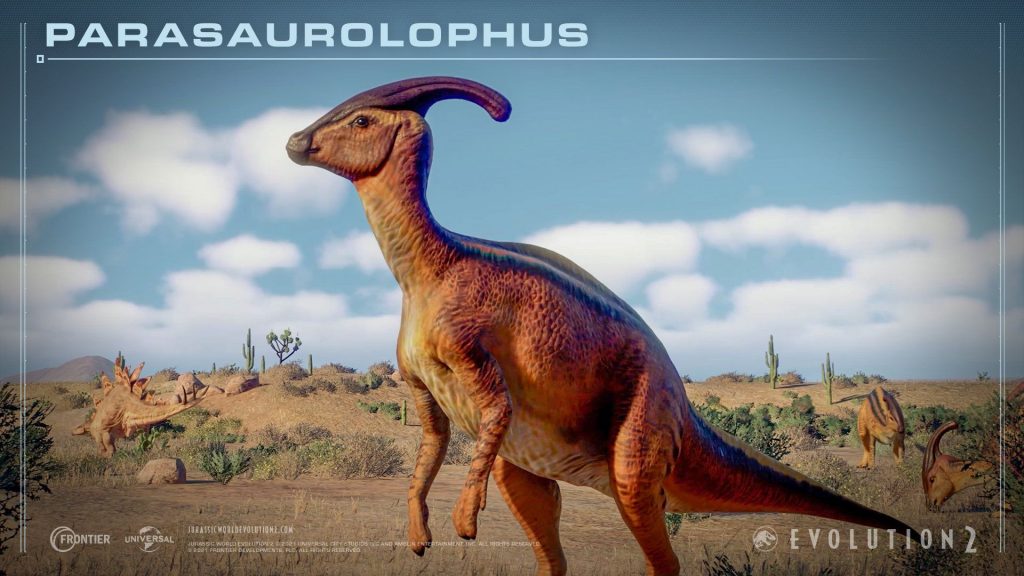 Campaign mode picks up after the events of Jurassic World: Fallen Kingdom, with dinosaurs now free in the mainland across various wilds in the US and elsewhere. The story picks up with Owen Grady and Claire Dearing now employed by the United States Department of Fish and Wildlife (DFW) working to help humans and dinosaurs successfully co-exist. The United States Government is concerned by the potential threat dinosaurs pose, and have set up many departments to help keep a close eye on the dinos. These include the DFW and another key player: the newly formed Dangerous Species Division (DSD) of the CIA. While the DFW and DSD cooperate together, there is some tension and distrust between the government agencies, particularly as the CIA isn't the most forthcoming about their activities with dinosaurs outside of those the DFW directly assist with.
The single player mode marks the largest departure from Jurassic World Evolution and frankly even Evolution 2's core gameplay mechanics. Rather than building parks, worrying about guest comfort, and profits, you're simply tasked with tracking down nuisance dinosaurs and containing, observing, and relocating them – just as normal, non-prehistoric nuisance animals are often dealt with.

As such, the levels are divided into distinct playspaces within each map: the "buildable area" for creating and maintaining the DFW's facilities and the "wild area". The wild area consists of large expanses of wilderness where you cannot build but can take direct control of ranger teams to drive and fly across, tracking down dinosaurs, capturing them, and bringing them back to your containment facility that you build. Primarily you will build simple operation facilities such as paleo veterinary centers, paddocks, and observation platforms for the DFW to study the dinosaurs. Essentially, you want to make sure you have the right size paddock with the right terrain inside for the dinosaurs' comfort, and once you've done that, you've got nothing else to worry about.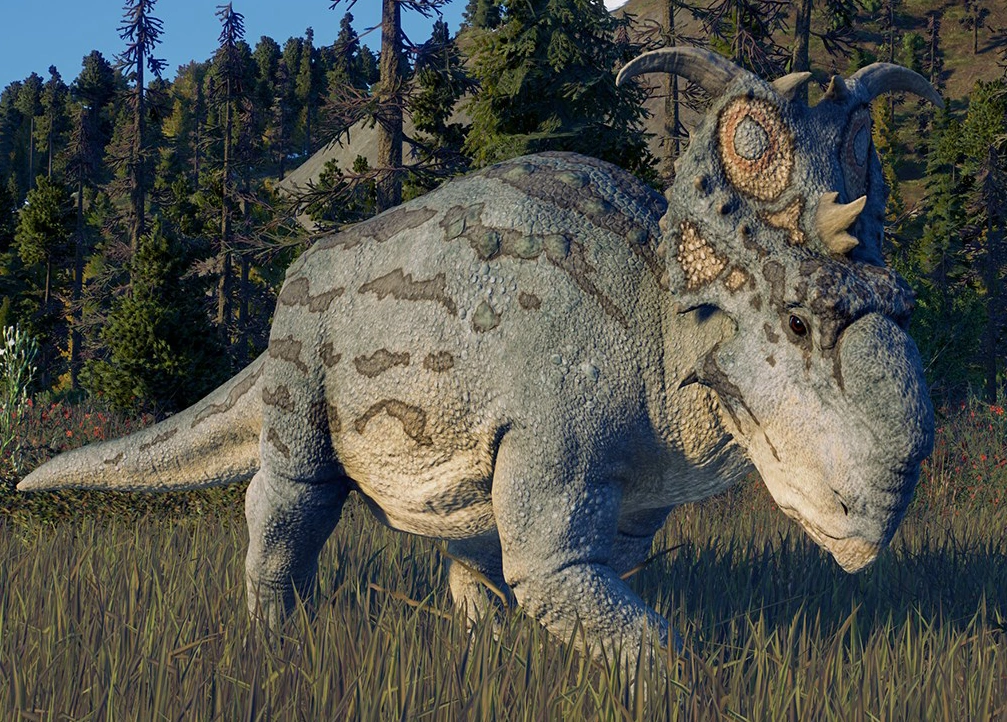 As such, you wont utilize most of the game's core gameplay features and building options in the single player which, quite frankly, is a bizarre choice in a park building and management game. In fact, the the entire single player feels like a short, snappy narrative driven tutorial for a larger game that Frontier forgot to include. The story ends abruptly, only running a few hours, with a narrative that feels like it's just setting up the first act. While the campaign of the first Jurassic World Evolution admittedly could drag, it was much larger and felt more content complete. The sequel's main story can be beat faster than it takes to achieve a 5-star rating on some of the challenge mode locations.
It truly feels like rather than adjust the story to account for the fact that Jurassic World Dominion was delayed, they kept the initial set up and cut the rest of campaign that would intersect too closely with the upcoming film. The story makes mention of a third party and unknown location (seemingly alluding to BioSyn), and it seems like things are just getting ready to explore that thread when the credits role unceremoniously.
If you're a player more interested in the narrative single player campaign be warned: campaign feels more like a small expansion to the first game rather than a standalone sequel experience. While the new environments are gorgeous, you won't spend much time in them within the context of campaign. Some levels, such as Pennsylvania's beautiful Appalachians, aren't even featured in the various sandbox and challenge modes.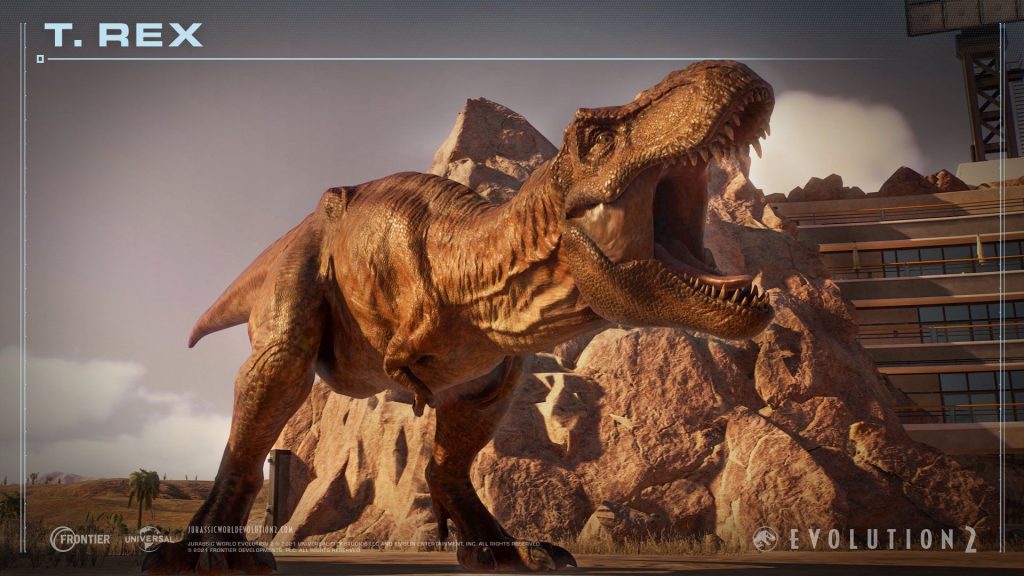 Chaos Theory mode feels like a secondary campaign, only smaller in story scope. It does offer some expanded narrative "what if" situations which are introduced with absolutely stunning intro cut-scenes narrated by Jeff Goldblum, reprising his role of Ian Malcolm (though he sometimes sounds less like Malcolm and goes into his weird and whimsical Goldblum voice). Each level is its own standalone story with simple premises attributed to the five films: build and open Jurassic Park successfully for the first film, Build and open Jurassic Park San Diego successfully for The Lost World, Create Jurassic World and successfully remain open with the Indominus Rex for the fourth movie. However, all of those quickly become repetitive gameplay with less narrative threads as your task is simply to achieve a 5-star rating with certain arbitrary chore-like challenges thrown at you along the way. This mode is hit and miss, particularly as it limits player freedom and can quickly become a little too chaotic if you make one wrong move. Personally, I found the San Diego level to be more engaging than the other two which just felt like they dragged on too long. I'm pretty sure I spent more time on Jurassic World's Chaos Theory level than I did the main campaign – most of my star dinosaurs dying of old age before I cleared the level.
The issue in Chaos Theory mode is that it mostly assumes you understand the intricacies of park building and management. While it does introduce you to some basics, they're not enough to realize the long road you have ahead to reach 5-stars. The mode may have felt like less of a chore had the main campaign done more introductory legwork work to introduce the player to the expanded core park management mechanics, but as it stands, the average player may find the experience overwhelming. Spending hours on a simple 'what if' scenario shouldn't be a trial by fire to learn the games core mechanics – because if you make too many mistakes, you may be forced to start from scratch.

Jurassic Park 3 and Fallen Kingdom's Chaos Theory modes shake up the formula, and while the other three levels may last too long, these two feel too short. Fallen Kingdom's plot essentially boils down to returning to Nublar sans a volcanic threat, scanning a few dinosaurs, and then using the removal tool to destroy the pre-built park. It's weird – and not fun.

Jurassic Park 3 stands out, as it seems to be an actual lore expansion set between the events of Jurassic Park 3 and Jurassic World rather than a "what if", returning to Isla Sorna to capture dinosaurs and relocate them to Isla Nublar for Jurassic World. This level plays more like the single player where you capture wild dinosaurs and create basic paddocks for their comfort only. As such, it is short, but it is also a fun break with some curious lore implications.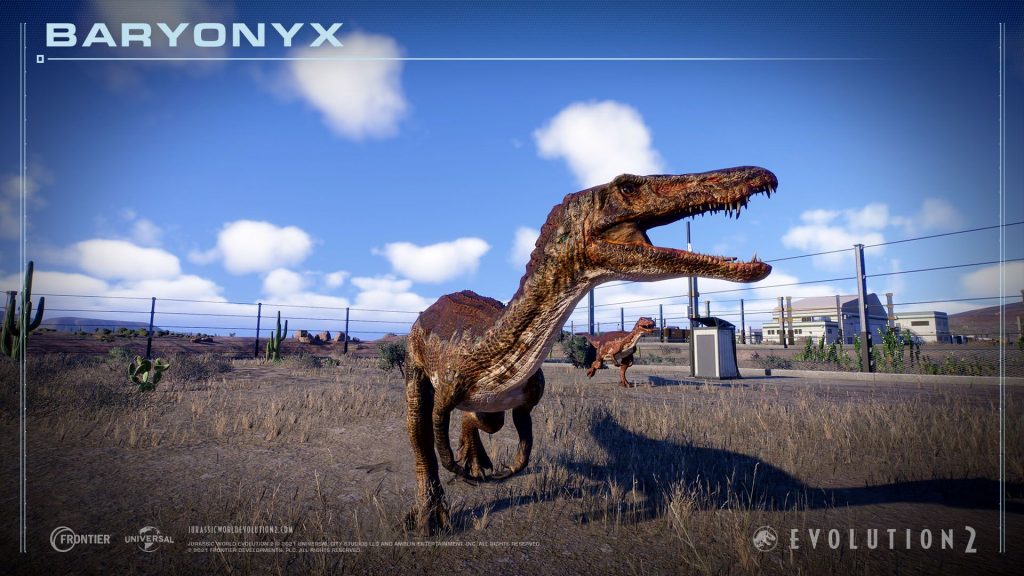 Challenge mode is where the game really shines and seems to find better balance between pacing, mission structure, and player expression. It features entire suite of gameplay mechanics all with the goal of reaching a 5-star rating in various locations, while contending different challenge modifiers (for example, a level where dinosaurs are more prone to sickness). While this may sound similar to the Chaos Theory mode, you have more freedom and less arbitrary requirements, allowing you to build and respond to the various challenges in the way you personally wish. Likewise, this mode offers the full suite of ways to obtain dinosaurs for your park, including finding them within the map, sending expeditions to find fossils, and occasionally expeditions to capture wild dinosaurs transporting them directly to your park. It's a shame the game's more narrative-driven campaigns don't embrace this wider sandbox of gameplay, as it offers a sense of freedom and diversity critically lacking in the campaign and Chaos Theory.
That said, much like the first Jurassic World Evolution, the game still lacks a sense of personal freedom to entirely craft a park as you wish with the many facilities and attractions you would come to expect from the films. While the Gyrosphere tour returns, as does a Jurassic Park and World themed vehicle tour, no new rides or dinosaur themed attractions are present – such as the river tour, Pachy arena, or T. rex kingdom. While some of these additions may seem arbitrary, the idea of this game very much revolves around building your own park – and when each park has the same limited suite of options, it quickly becomes repetitive.
This is an issue the first game suffered from, and by result, it often times felt boring when compared to other park management titles. While this game has some new additions, and thus can be more engaging, many of the changes feel more like lateral moves. This is especially because most of the buildings, features, and dinosaurs are straight out of the first game. In fact, some species featured in the first didn't even make the cut for the sequel.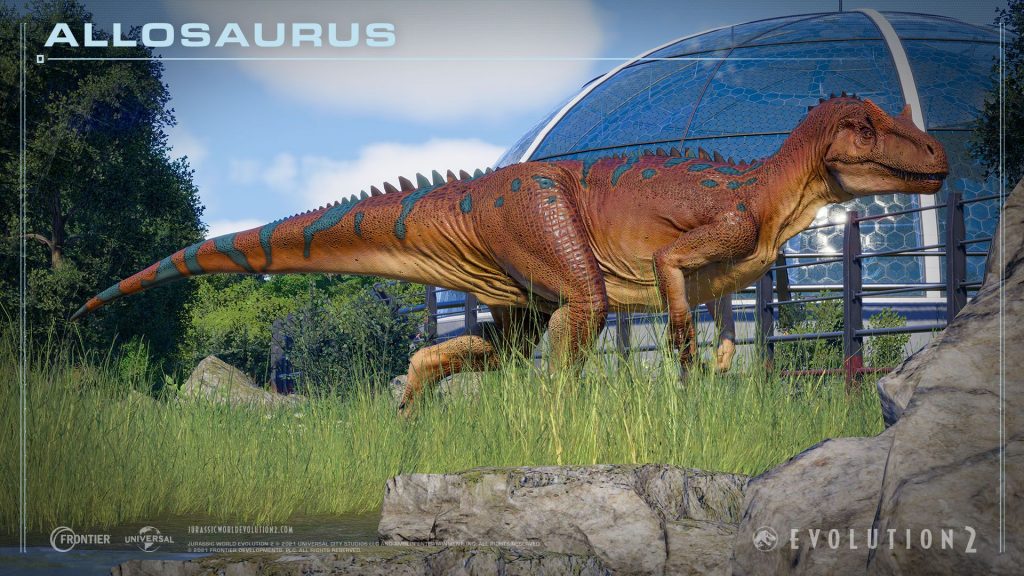 A fun albeit small addition is the ability to customize some buildings, choosing from a few presets like Jurassic Park or Jurassic World styled walls, entrances, and decorative displays – while also being allowed to customize portions of the colors and lights. While this doesn't effect gameplay, it does give the player more forms of expression. Although most of it is hard to notice while properly playing the game in its birds eye view.

Some of the buildings you would expect to have alternative models and skins from various eras – such as the aviary or paddock fencing – sadly do not. And while you can choose skins for your vehicles, including the pre-order and deluxe addition bonuses, in sandbox mode you cannot freely choose any skin. If you want Jurassic World-themed ranger teams, you have to choose that building style for the ranger station, and vice versa for Jurassic Park, only allowing for the bonus skins to be freely swapped in. Curiously, the DFW vehicles from campaign seem to be absent.
The ability to genetically modify your dinosaur returns allows you to adjust things like their temperament, lifespan, and of course, how they look. Each species has a variety of skins – imagine them as basic color presets and patterns. You can apply a pattern to a skin to bring out more complexity, usually resulting more contrasting colors and striping. Sadly, like the first game, you cannot actually preview the skins to know what they create and there is no proper database for all the varieties of species designs in-game.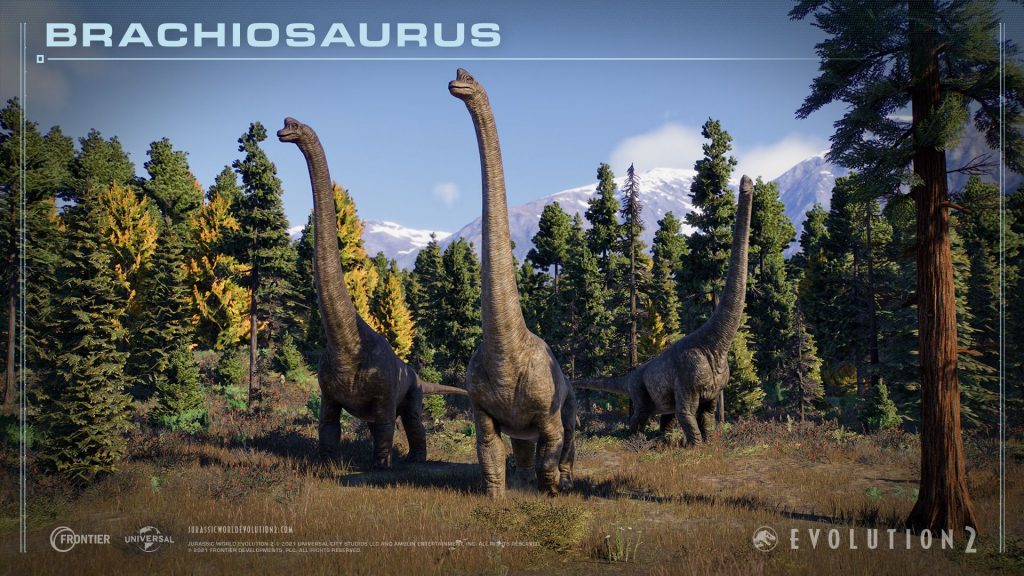 Some of the legacy dinosaur designs also appear as skins, and they also can result in model changes. These include the Tyrannosaurs with skins from all 3 Jurassic Park films, Parasaurolophus from the two sequels, Velociraptors from all three films, the Brachiosaurs from both Jurassic Park and JP3, Stegosaurs, Triceratops, and more. Some legacy species don't have skin that directly calls out the film its from – such as Spinosaurus, Dilophosaurus or Pachycephalosaurs – yet they do have film accurate colors achievable by choosing the correct generic skin/pattern combos. Just good luck figuring that out on your first try.
While some dinosaurs are incredibly accurate and offer a fantastic look at their film counterparts, others are lacking or have issues. For instance, Jurassic Park 3 female raptors have great colors, yet sport the quills of the males. The Allosaurus retains its look from the first game, which predates Battle at Big Rock and does not reflect Fallen Kingdom either. This means it's an entirely canon on-screen species with entirely fictional in-game design. The Pteranodons do not have their Lost World or JP3 skin/models, and sadly the Mamenchisaurus does not reflect its design from the The Lost World which was recently shown in better detail for the first time.
The aviaries are engaging and the flying reptiles can escape from them wreaking havoc on your park – however they don't offer much in the terms of customization, theming, or shape. The species list is on the small side, but does include the Jurassic World Pteranodons and Dimorphodons. Sadly the Dimorphodons lack the fuzzy filaments called pycnofibres that they sport in the films.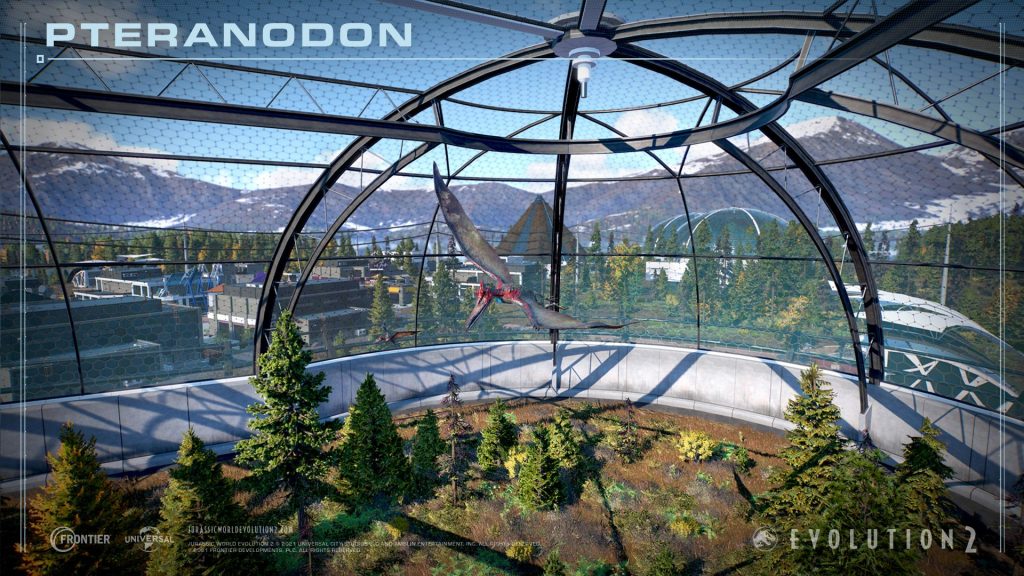 The ability to build lagoons and breed marine reptiles also makes its debut, but these facilities have even fewer customizations and gameplay options.
Despite the various frustrating inaccuracies, when the game looks good, it looks fantastic. However, it's not always firing on all cylinders in the art department or engine performance. While some levels look gorgeous, with the environments looking rich, realistic, and detailed, others have a decidedly dated and lower detailed look which effects visual readability. The same could be said for the dinosaurs. While some species are so detailed you can see each scale and bump in crisp detail up close, others look waxy with muddier textures. That said, as the game is often played at distance from the dinosaurs, the animation, lighting and environments are what really make or breaks the visual experience.
The game suffers from some noticeable draw distance pop-in, especially with shadows which just blip in and out of existence – which can be very distracting. Likewise, lighting effects turn off and on at various distances, and while that may not be obvious when hovering in one location, as you pan across your park it jumps out more and more. This is very obvious while in "capture mode" which turns off the hud and gives you more cinematic control over the camera.

I played the game on the Xbox Series X, one of the most powerful home consoles out there, and these issues were immediately obvious. While I didn't play the game on the less powerful Xbox One or PS4, I imagine they're even more notable. Which brings me to the other, more important point: performance.

When things really get going this game struggles, with huge frame hitches as you zoom in and out or pan over particularly complex areas. Again, I can only guess how it runs on the less powerful machines, but it feels like a certain layer of optimization and polish is missing – further illustrated by the numerous crashes I experienced while playing. Thankfully, autosave meant not much progress was lost, although I do recommend saving frequently.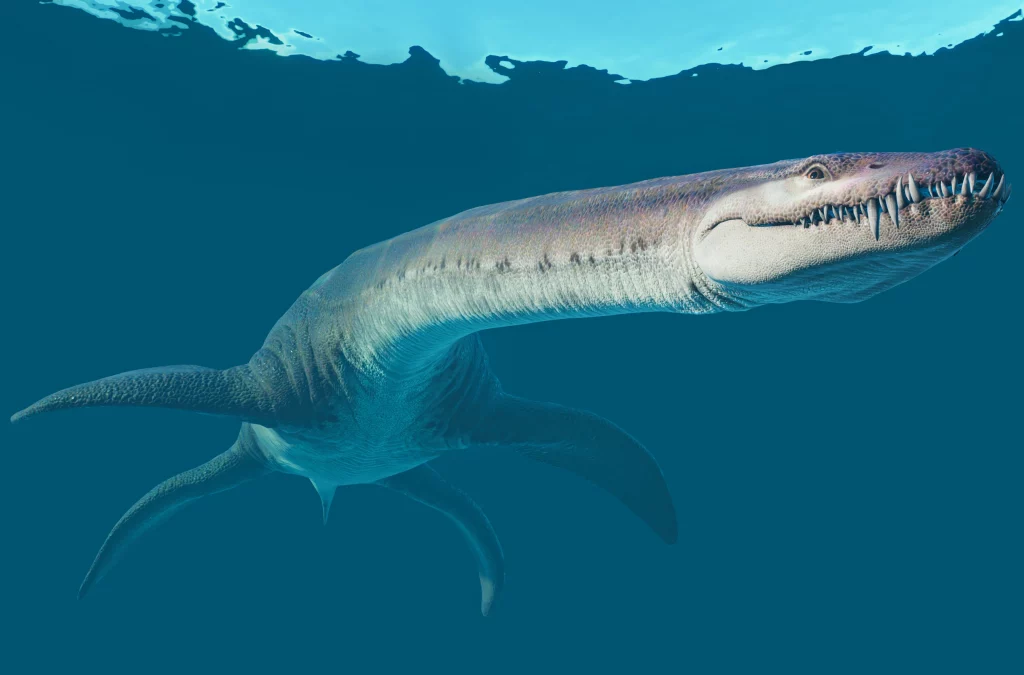 The game also suffers from frequent bugs, and while most are minor and don't impact the game some can lead to frustrating results. Sometimes dinosaurs can become stuck in place – they attempt to move, making flying or walking motions, but they go nowhere. This leads to them slowly dying from starvation and dehydration. At the very least, that can sometimes be fixed by tranquilizing the dinosaur and relocating them. However, it's not always that easy in an aviary as you can't exact direct control over the task. You have to let the AI do it by deploying a drone into the aviary, and guess what: the drone can become stuck. There is no easy fix for that – I found myself destroying aviary hatcheries and rebuilding them simply to allow for a new drone that hopefully doesn't get stuck. Unfortunately this issue popped up frequently, enough to deter me from flying reptiles in the more difficult challenge modes if possible.
With so few changes from the first game, a shockingly short and simple campaign mode, and the various performance issues I can't help but feel this game was rushed and surely could have benefited from a delay to release alongside Jurassic World Dominion – if not further out. I also have no doubt content was removed from the game due to the films delay – I suspect it will be released next June alongside the upcoming sequel – but this sadly contributes to what feels like an incomplete package.
Don't get me wrong, the game can be fun, but much like the first it has the foundations of a decent park management simulation without the much needed finer level of control, freedom, and variety. The gameplay can be repetitive and oftentimes doesn't feel rewarding. While the dinosaurs do have more behaviors this time, such as pack hunting, they're essentially just pretty looking props to challenge you that you can't really appreciate outside of sandbox mode – where you can turn off disasters, have unlimited cash, and can get up close taking your time without concern of park collapse. Even there, there's not much to do with the dinos if you're not interested in building environments and then using capture mode to grab cinematic footage of them. I just can't help but feel there is some core gameplay element lacking here that would make it all more worth it.
While this game isn't bad – it's also not great. I suspect it will find its real home with modders and content creators, but the average player likely won't entirely get what they're looking for. Likewise, park management fans may find the gameplay more shallow than they're used to. This was easier to forgive with the first Jurassic World Evolution, but it's doubly frustrating with the sequel, which seems more interested in re-skinning the first game than offering a proper evolution and improvement. While I do believe Jurassic-fans will find something they enjoy in this game, if you don't mind waiting a little, I recommend waiting for it to go on sale.
I can't imagine it will take too long.