Rick Carter was the production designer of 'Jurassic Park' and 'The Lost World: Jurassic Park', among many other classic films from the 'Back To The Future' sequels to 'Avatar'. Now, immerse yourself in Rick's visually-stunning mind with ESMoA's new art exhibit: 'TIME'.
"TIME, a project by artist and production designer Rick Carter, is an immersive collage that contemplates the concept of time. The exhibition features paintings, drawings, and collages by Carter along with photographs, movie memorabilia, and additional works by eight other artists who were invited to participate."
Rick Carter further explains:
"Over the past five decades as an artist and film production designer, I am frequently immersed in the realizations of visual concepts. […] This experience at ESMoA provides the opportunity to explore with younger LA-based artists the legacy of my artistic career as both a painter and visual collaborator with movie directors."
Last weekend I attended a special advance preview of the exhibit, and it was quite extraordinary to see it in person! After being a fan of his production design in films for so many years, it was unique and exhilarating to be in a representation of his vast mind. Below is a gallery that features just a taste of what this exhibit is like.
For fans of 'Jurassic Park', there are various interpretations by other artists that are beautiful and engaging. Such highlights include art by Jacori "Aiseborn" Perry that feature a raptor running towards the gates of 'Jurassic Park' and a Triceratops hatchling!
There is also a myriad of work by Rick Carter himself, of course; straight from his own production files. This includes a special area at one end of the exhibit where a portion of the wall features several key items that have never been seen before. Unique collages of Jurassic Park's Visitor Center and pencil sketches done on napkins create an early look into what would eventually be realized on the screen. A glass case at the center of this section displays a miniature Velociraptor model created by Stan Winston's team. This detailed creation is clearly a cherished item in Rick's collection that everyone can appreciate.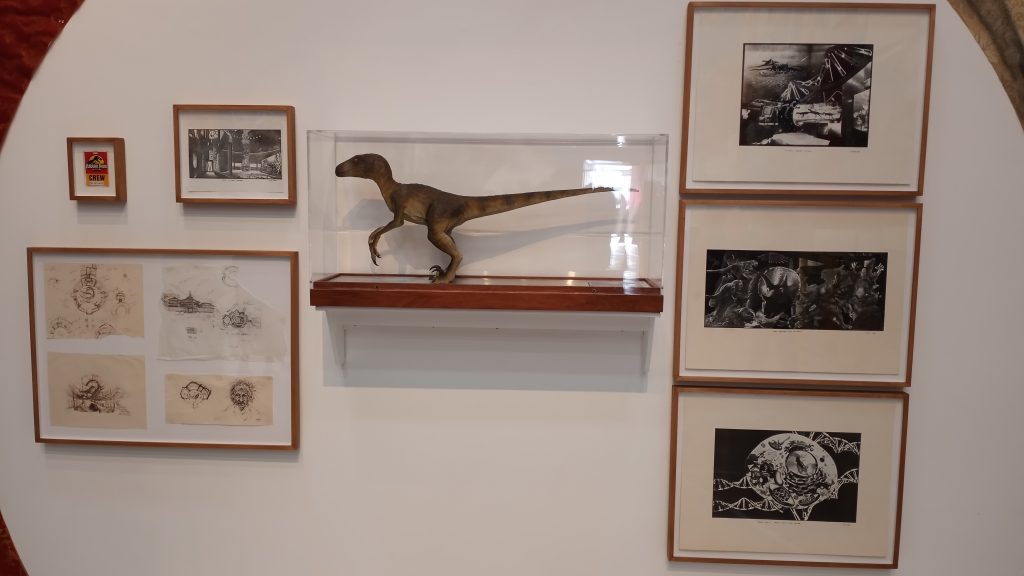 One of the coolest things for a 'Jurassic Park' fan to see is the mural Rick created that is actually featured in the film's cafe; most iconically during Richard Attenborough's portrayal of John Hammond as he tells his 'Petticoat Lane' story to Laura Dern's Ellie Sattler. It was inspired by Pablo Picasso's Guernica!
Another neat treat is an illustration of a Tyrannosaurus Rex made in 1990 (the first year of pre-production for 'Jurassic Park'). It is credited to both Rick Carter and his daughter Amee Carter.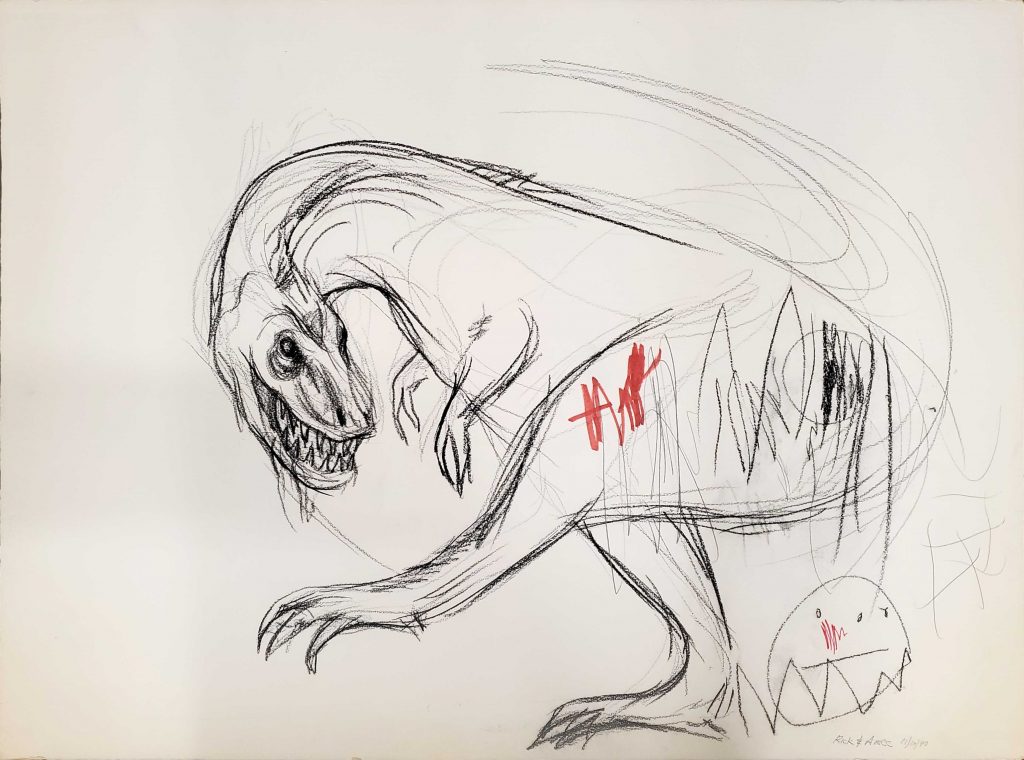 However, 'Jurassic Park' is just one of many films that Rick Carter was part of that the exhibit showcases. Other artifacts and artistic depictions include 'Avatar', 'The Polar Express', the 'Back To The Future' sequels, 'Cast Away', 'What Lies Beneath', 'Star Wars: The Force Awakens', 'Forrest Gump', and a lot more. There are also more abstract and personal pieces not related to any film, including many stunning renderings of human faces.
Walking around this massive room, with art reaching all the way to its tall ceiling, you can't help but be wonderfully overwhelmed with Rick's vision and the representations of his entire career (so far). One of the most arresting visuals Rick himself produced for this exhibit are the faces of the four leading directors he has worked with through the years: Steven Spielberg ('Jurassic Park'), Robert Zemeckis ('Back To The Future' trilogy), James Cameron ('Avatar'), & J.J. Abrams ('Star Wars: The Force Awakens'). They almost appear to be looking down at the entire exhibit, seeing their entire worlds that Rick helped create with them.
One of the coolest features of this exhibit is the ability to have your own self-guided tour of sorts using ESMoA's "Grid" feature! Using correlating numbers that are painted on the floor near the items they represent on the walls, you can look up each number on the Grid then select it to view a small cropped version of the artwork along with information about the specific artist and other details. There are even some fascinating sketchbooks that Rick created that you can digitally thumb through! These features are additionally informative if you somehow aren't able to visit this exhibit in person, presenting a version of everyone's work to be appreciated by virtually everyone. Or, as John Hammond would say, "Everyone in the world has the right to enjoy these illustrations."
Additional artists that illustrated Rick's mind and career are: Alex Garcia, Luke Hayes, Muraji Khalil, ​Dalila Paola Méndez, ​​Helena Park, Jacori "Aiseborn" Perry, Ivan "Mr Mustart" Petrovsky, and Carlos "Kopyeson" Talavera. The creation of the exhibit itself was also a massive undertaking, as evidenced in a cool time lapse video that begins with its inception then leads up to the preview event. The exhibit was curated by Dr. Bernhard Zuenkeler.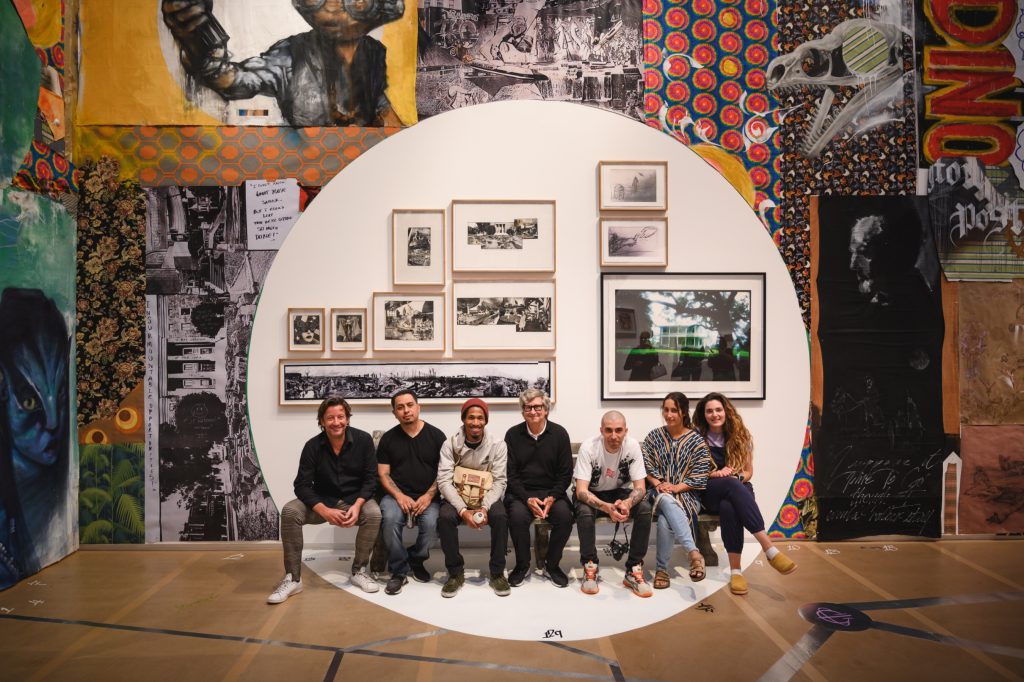 While attending the preview event, I saw all of the talented artists and ran into some 'Jurassic' veterans, including: Rick Carter (of course), David Lowery (Storyboard Artist), John Bell (Art Director), & Seamus Blackley (creator of the 'Lost World' PC game 'Trespasser'… and a little thing called the XBOX). Seeing this exhibit with so many of the creative leads that were involved with the extraordinary films represented will certainly be a night I will never forget!
Derrick Davis pictured above with Rick Carter and then Rick Carter & David Lowery
While ESMoA is applauded for having an online version of the exhibit accessible to everyone, I must stress just how much more incredible it is to see it all in-person! They really did "spare no expense"! This amazing free exhibit is open from May 5th to September 17th 2022 in El Segundo, CA, USA. Be sure to plan your trip in advance for the exact location and available hours and days it is open. Also check out their various upcoming programs that include opportunities to see Rick Carter in person!
For another Rick Carter-related experience that is connected to 'Jurassic Park', watch Jurassic Time's illustrated audio drama of 'Rick Carter's Jurassic Park'; an adaptation of Rick's script for the film, featuring thousands of production images from the film and interviews with Rick!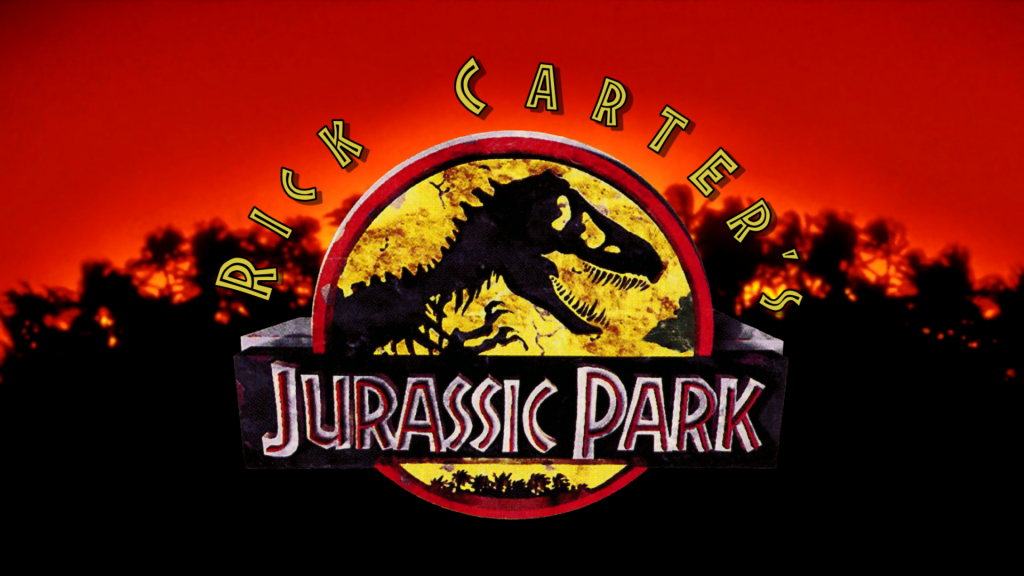 Note: Some images were obtained directly from ESMoA. Special thanks to Rick Carter & Eugenia Torre. 'Rick Carter & Select Illustrators' and 'Installation Shots' are credited to Mark Knight.
Do you plan to make a trip to this exhibit? And besides the 'Jurassic' films, what are Rick Carter's other films that he worked on that you also love? Share your comments below, and as always stay tuned to Jurassic Outpost for the latest!