At long last, a Jurassic World game that is not mobile-exclusive or a park builder has arrived! 'Jurassic World: Aftermath' is an immersive VR survival adventure game hitting platforms like the recently released Oculus Quest 2, featuring plenty of Dino-action, and compelling storytelling.
Check out the launch trailer below!
We've been playing this game the last couple of days, and will have plenty of exciting content hitting our YouTube channel soon – but until then, here are some of the basics you need to know:
'Jurassic World: Aftermath' is set 2 years after the events of Jurassic World, prior to events of Fallen Kingdom. You play as Sam, a voiceless protagonist serving as an avatar to the players, who was hired for an illegal asset retrieval mission on Isla Nublar. You were hired by Dr. Mia Everett, an ex Jurassic World geneticist who worked under Dr. Henry Wu. Everett accompanies you to the island and watches your every move via a body camera, all while speaking to and advising you as you explore (think Halo's Cortana to Master Chief – only if the Chiefs main talent was hacking computers, and hiding in storage lockers).
Dr. Everett's past with Dr. Wu comes into play throughout the story, as their time working at the park was mired with admiration, tension, and spite. Working on the Velociraptor genetics program together, they eventually butted heads and had a falling out – which could mean life or death on the island as Everett tries to salvage the mysterious operation, and figure out just who she can call for help.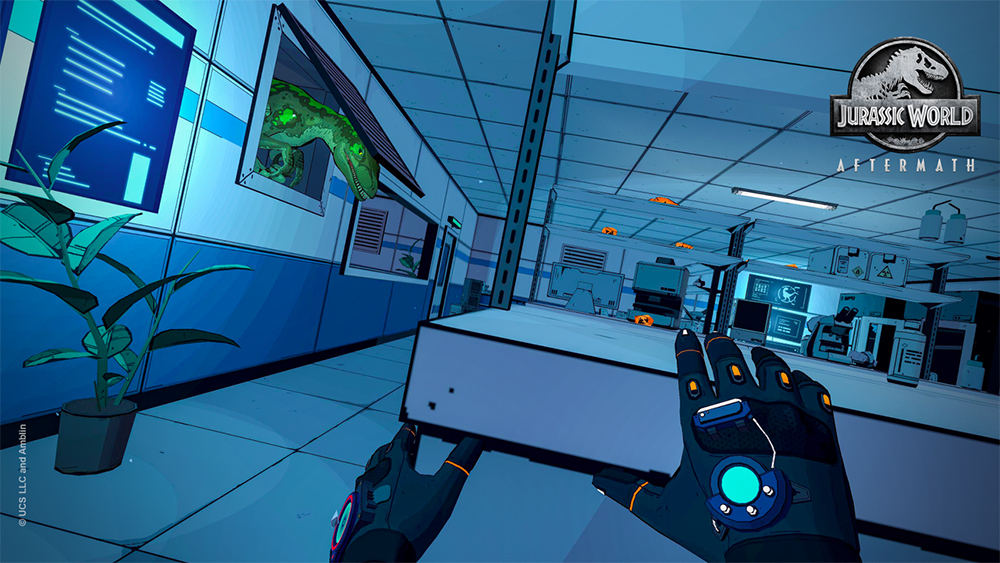 This game is lore rich, with fantastic voice acting by Laura Bailey (Everett), BD Wong (Wu), and Jeff Goldblum (Malcolm). The story has everything to do with Velociraptors, and there is a lot to discover within – including some reveals that may have relevance in 2022's Jurassic World Dominion. There is a lot to unpack there, and we will have more in-depth coverage soon!
The gameplay is focused on navigating the facilities (including the canonically important, and expanded universe favorite Geothermal Power Plant), getting certain system back online to unlock doors, access computers, and try to survive – all while dodging three Velociraptors. If you're wondering where these new raptors came from, why they look different, and why they behave differently, worry not – the game has compelling answers for all those questions within the story.
This game has zero combat elements: your tool is your wit, using computer systems to distract the raptors as you crawl through vents, take cover behind tables, or hide within lockers all while hacking into computer systems, or looking for items needed to progress. You also have a flashlight, which you can use to spook the occasional Dilophosaurus, which will try ambush you from ventilation openings. All of this leads to exciting 'raptors in the kitchen' like moments of cat and mouse tactics, much like Alien Isolation at a smaller scale and budget.
While this games budget is notably smaller, the voice acting is top tier, as is the music. The story is incredibly compelling – and certainly seems to be canon – but shorter, and clearly episodic, with an expansion coming in 2021. The cel shaded visuals looks crisp, though I really can't help but wonder if a more realistic style would have been better positioned for the VR format. After-all, it's all about breaking the confines of a screen and bringing that world to life for the player. Thankfully, the gameplay is well polished, and that's what really matters.
If you have a VR capable device, or are planning to pick something like the Oculus Quest 2 already, this game is not to be missed for Jurassic story fans (Side bar: also pick up Vader Immortal and SuperHot — they really are must-haves for the VR platform. They made me a believer.). If you're waiting for more information, fair play as well! Be sure to stay tuned to Jurassic Outpost, where we will have in-depth video coverage coming, including a Quest 2 unboxing, lore videos, and a formal review in the days to come!