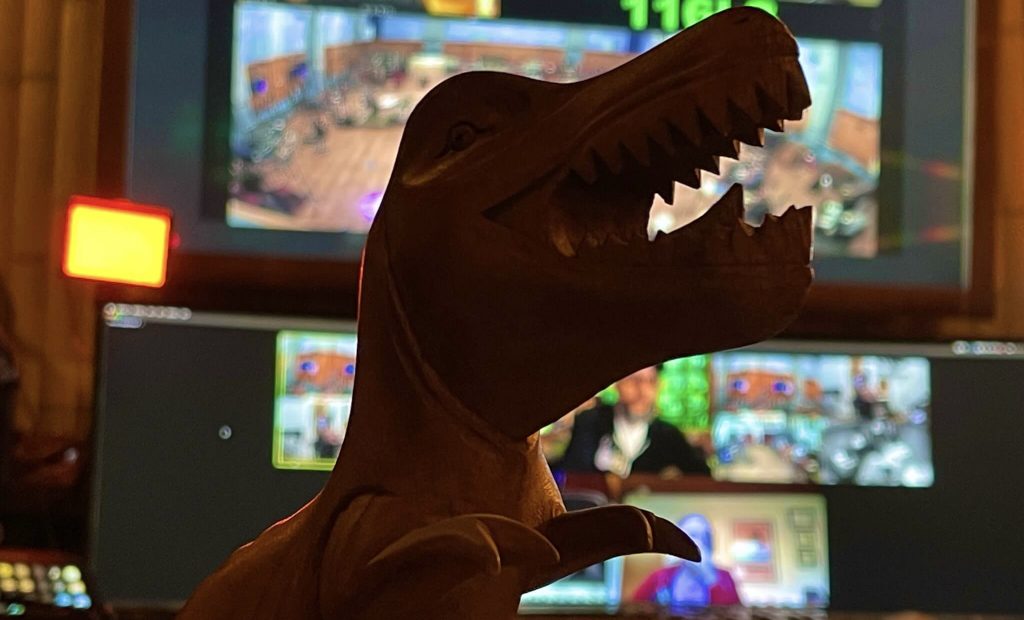 Both Michael Giacchino and Colin Trevorrow have enriched social media timelines with looks behind the scenes of the 'Jurassic World: Dominion' scoring process over the last couple of weeks. The teases were strictly in photo form, but as of today both Giacchino and Trevorrow have shared the very first audio snippets from the new film!
First, Giacchino:
Well, the Jurassic World Dominion Recording is DONE. Now it's time for the mix. I'll share something NEW with you soon!@colintrevorrow @JurassicWorld @AbbeyRoad pic.twitter.com/0SAUalK5bH

— Michael Giacchino (@m_giacchino) May 2, 2021
Giacchino's audio tease features a calm and rather affecting full orchestra rendition of the main theme from 'Jurassic World'. The wooden T. rex from past photos makes an appearance along with the full orchestra in London via Zoom in the background. The camera pans down to reveal two partial orchestral score pages from the recording session. It's really satisfying to hear the main musical theme returning for this film. The nature and dynamics of the music in this tease could lend themselves to a solemn scene somewhere in the film, or perhaps a majestic scene featuring a dinosaur landscape.
Next, Trevorrow shared a tease of his own:
Trevorrow's audio tease is an entirely different story. The video features him playing what looks to be Dark Souls III with a recording from Giacchino's new 'Dominion' score serving as the music for the video game. The music in this tease is starkly different from that of Giacchino's post. It features jarring strings, woodwinds, brass, and percussion musically punching and stabbing in a truly terrifying way. It is reminiscent of Bernard Hermann's 'Psycho' score and also composer Igor Stravinsky's wild musical works. Giacchino has previously said that these two composers were major influences for his 'Jurassic World: Fallen Kingdom' score. This music is clearly meant for a horrifying moment in the film. It's exciting to hear these musical styles and influences returning for 'Dominion' after building through the first and second 'Jurassic World' films.
Giacchino also teased that the haunting main theme from 'Jurassic World: Fallen Kingdom' might make an appearance in Dominion's score:
Perhaps!

— Michael Giacchino (@m_giacchino) May 2, 2021
Most importantly, Giacchino shared that the scoring process for 'Jurassic World: Dominion' has been completed!
Last day of scoring for @JurassicWorld Dominion. It's been an incredible 10 days with the orchestra and crew at @AbbeyRoad . Thanks for making an incredibly difficult process seem effortless! Big kudos to my team and engineers Peter Cobbin and Kirsty Whalley! pic.twitter.com/YY9SIwNZhS

— Michael Giacchino (@m_giacchino) May 1, 2021
The process was slightly different and took longer than normal in order to observe safety protocols, but Giacchino's team along with Trevorrow and everyone at Abbey Road got the job done. Giacchino even sent everyone at Abbey Road cupcakes to thank them for their hard work:
Socially distanced cupcakes! Thanks @m_giacchino ??? #sugar pic.twitter.com/QXhxfqBv0V

— Alfonso Casado (@alfonsocasadot) April 29, 2021
I'm not sure what was in those #cupcakes @m_giacchino but there is definitely something a little strange going on in studio 1 today at @AbbeyRoad #JurassicWorld #cellists #majorscales pic.twitter.com/wXlLKpSwgC

— Cliff Masterson (@cliffmasterson) April 30, 2021
The completion of the scoring process and these musical teases for 'Jurassic World: Dominion' are very exciting. This is a huge step towards the completion of the film and release next summer. Music is an integral part of the Jurassic franchise and we can't wait to see and hear more from the score! What do you think about these Jurassic score teases and what do you want to hear from the score for 'Dominion'? Let us know below!