'The Lost World: Jurassic Park' may not have the same cultural impact as 'Jurassic Park,' but it features one of composer John Williams' most intense and exciting music scores. Loaded with percussive action, memorable jungle rhythms, and alluring atmosphere, this score holds a strong identity for the entire franchise. Now, over 25 years after it premiered, this incredible music score gets a definitive release in a brand-new 2-CD set from La-La Land Records. But how definitive is it, and what sets it apart? To find out, let's embark to this "lost world" together!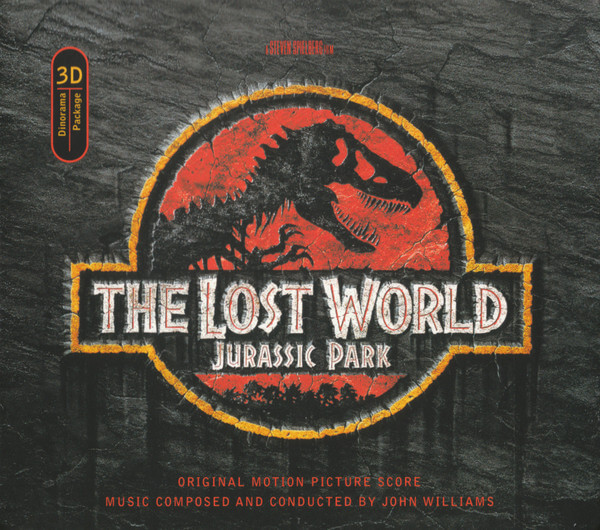 In 1997, the soundtrack was released on CD in the form of a 69-minute album via MCA records (also available on audio cassette). John Williams assembled this 1-CD release himself, combining some cues together to form certain tracks, and arranging it all in his own personal sequence. While this album featured a large chunk of the score it did leave off several cues that were heard in the film. Some of these were favorites of those who had seen the film, expecting to find them on the album but ending up disappointed.
Interesting to note is that the CD version of this album featured a pop-up foldout display and housed the CD within its cardboard assembly. It was called, fittingly, a "3D Dinorama". Collectors often criticized the packaging due to it falling apart easily, but worst of all, it would scratch the CD if not removed carefully. The cassette version had a 2D paper foldout-only version of the same scene as well. A Taiwan CD release also included a digital "Tamagotchi-styled" dinosaur pet. While the 1997 CD Album is now out of print, it can at least be bought for relatively cheap prices in the secondary market and is also easily available for digital purchase.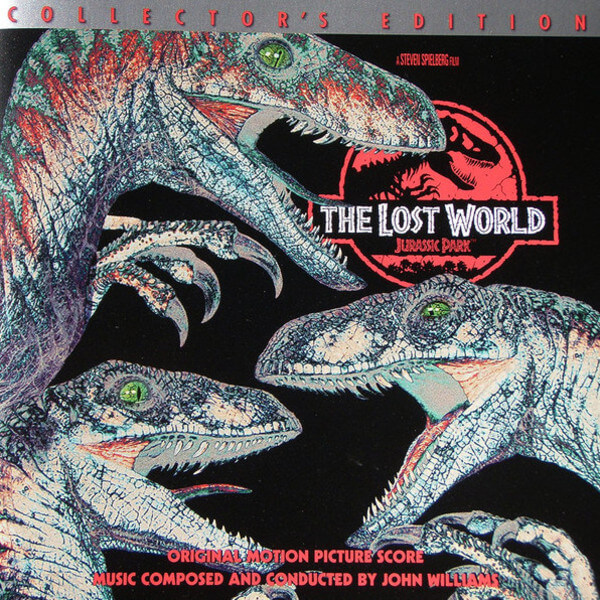 This same music program was replicated in the year 2000 for a CD re-release of the score. It was included in a neat "Collector's Edition" set with the films and soundtracks for 'Jurassic Park' & 'The Lost World: Jurassic Park.' It featured unique cover art that mimicked the DVD release at the time. Unlike the 1997 version, there is no 3D Dinorama and it is instead housed in a typical jewel case. For a long time, many collectors would seek this version of the album for this reason alone.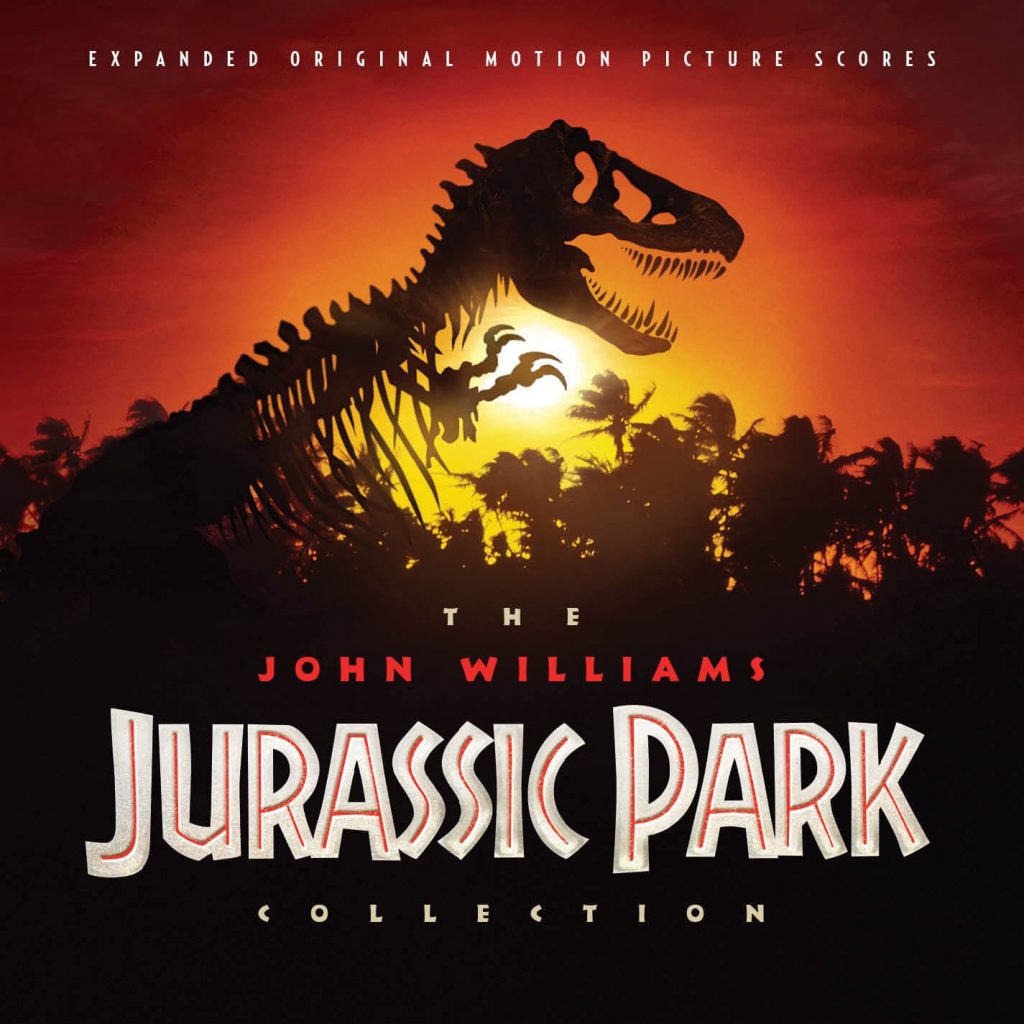 Finally, in 2016, La-La Land Records released a 2-CD expanded and remastered edition for the first time, as part of a 4-CD collection that had included John Williams' score to 'Jurassic Park' (also expanded and remastered). Apart from the remastering, La-La Land Records also went back to the original elements and provided every cue of the score for the very first time. This was a godsend for fans after yearning for the missing cues for so long. This included "On The Glass", when Sarah Harding is terrifyingly on the glass portion of the Mobile Lab as it hangs over a cliff; "Ripples", when the T-Rex parents make their attack on the hunter's camp; and the intense conclusion in the abandoned village as the raptors' chase after our heroes in "High Bar and Ceiling Tiles".
While many units of the 2016 set were produced, it did eventually go out of print. This led to second-hand sellers taking over the reins of offering this CD release to people online, often selling for well over $100. The perfect sound quality and the complete score presentation it contained was otherwise hard to find for fans of the score that wanted more than the 1997 or 2000 albums had to offer.
Now seven years later, La-La Land Records returns with a brand-new 2023 re-release. Only this time, it is focusing on just 'The Lost World: Jurassic Park,' with some additional improvements to truly make this be the definitive release of this thrilling score: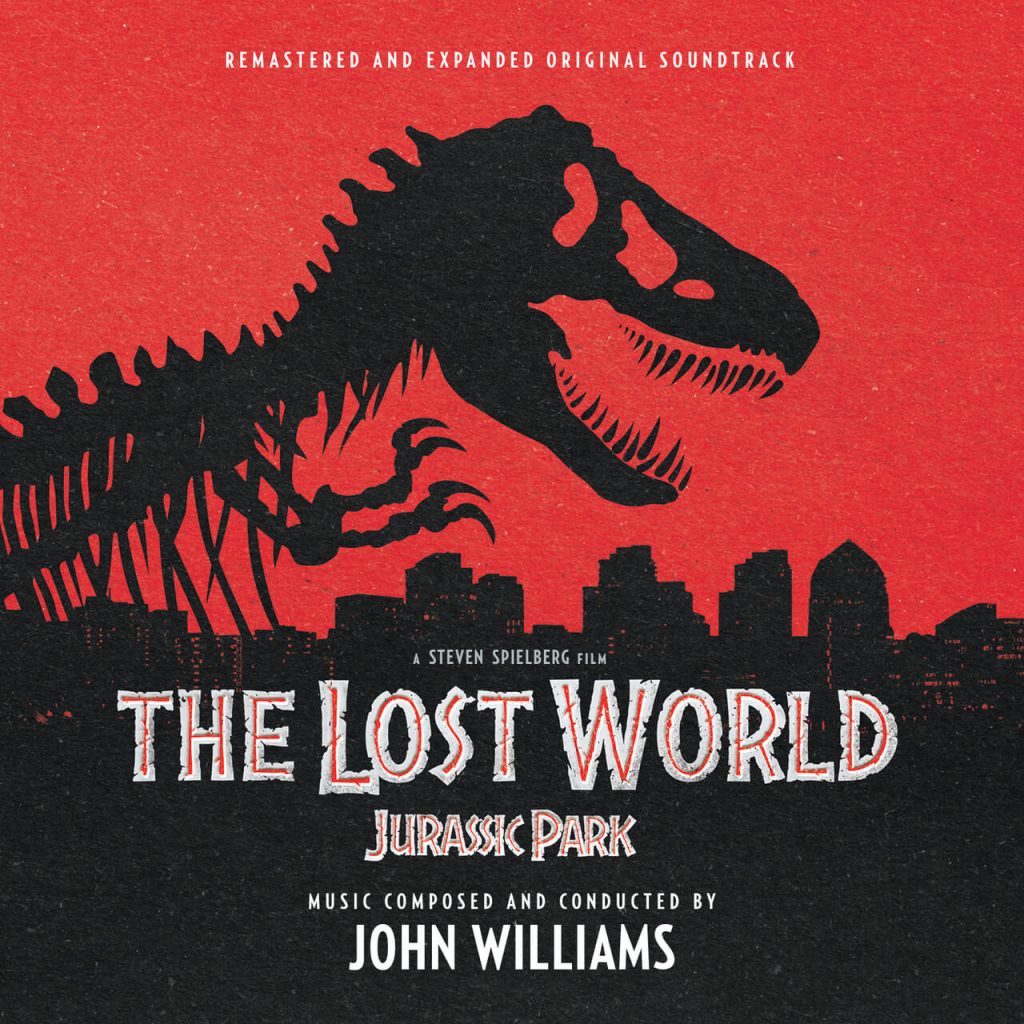 La-La Land Records, Universal Pictures and Amblin Entertainment, Universal Music Group and Geffen Records present THE LOST WORLD: JURASSIC PARK, a limited 2-CD re-issue presentation of maestro John Williams' (JAWS, E.T., JURASSIC PARK) original motion picture score to the 1997 blockbuster THE LOST WORLD: JURASSIC PARK, the first sequel in the legendary JURASSIC PARK franchise, starring Jeff Goldblum, Julianne Moore and Pete Postlethwaite and directed by Steven Spielberg. Maestro Williams' sensational and powerful orchestral score thrills and awes, ranking as one of the composer's most celebrated and unique works. Produced, edited and mastered by Mike Matessino, the 96k/24 bit master files utilized in our previous 2016 collection have been newly output and remastered, including minor sonic improvements throughout. Newly added to this 2-CD expanded reissue are never before released takes of "On The Glass," "Rescuing Sarah" and "The Raptors Appear," all featuring alternate instrumentation, plus the unique film version of "Ripples." The 28-page CD booklet features liner notes by Matessino (adapted from our 2016 collection) and the new art design is by Jim Titus. This is a limited edition of 5000 Units.
This release's additional new bonus tracks make or an appealing reason for super-fans of the score to seek it out! The first new track is a partial alternate (the second half) of "On The Glass." It covers the section where Eddie is arriving and trying to figure out how to save the characters hanging over the cliff. It's mostly just an alternate performance with some other unique touches. The alternate for "Rescuing Sarah," the sequence where Eddie uses his car to pull the trailer as Sarah and the others attempt to climb the rope, is not only a quite different performance but also feels more subdued and eerie. The percussion feels less active, and features what the sheet music calls "a low animal moan" and "synth breaths" in prominent ways that add to this unique version.
The film version of "Ripples" is an interesting one. The middle of this cue is where the alterations happen, but not from an alternate performance. It was created editorially, using isolated elements of the orchestra and synths to create a unique version that removes most of the active percussion and instead builds on a rhythmic pulse-pounding escalation with strings into the T-Rex's attack at the campsite. While John Williams apparently did not create this alternate version, it was memorable in the film for many people and was included this time since there is no viable way to re-create it without having access to isolated elements of the score. Lastly, the alternate for "The Raptors Appear" is a completely different performance and features unique mixing, the removal of certain elements (like the swelling gong when the first raptor attacks), but the additions of others (different wild percussion, slashing strings, and a different "crying sound").
Overall, these new additions give fans of the score incredible new insight into the process of its creation! It is also noteworthy that some of these alternate versions have been featured at Universal Studios Islands Of Adventure theme park in Orlando! The overall sound quality of the entire release also sounds slightly better (although not as punched-up in the mastering, which may be a positive or a negative depending on how loud one likes the quieter moments of the score), and features some smoother transitional edits such as "To The Island" and the mid-section of "Rescuing Sarah."
The booklet included in this release is very much the same as the one from the 2016 release, but only focuses on 'The Lost World: Jurassic Park' this time. The cover is of course different (with a striking cityscape against the Rex skeleton!), making it unique enough to stand on its own. There are some additional credits this time as well, including a special thanks to Jurassic Outpost friend Bernard A. Kyer!
By far the most important aspect of this release isn't what is new, but simply the fact that it is available again. Generations of old and new film score fans, and even those who would like to study such a masterful score as this, should have a comprehensive presentation that is accessible. As good as the previous releases were for their time, having every single cue available, and now different variations of them, is integral for preserving this important milestone of music.
If you have never purchased the music score to 'The Lost World: Jurassic Park' before, this release is a massive no-brainer. It is a fantastic release, finally back in print and with some great new inclusions. If you only have the 1997 Album (on CD or digital), the additional music alone makes it worth the price. For those that have the 2016 CD set paired with 'Jurassic Park'… I can understand skipping this, despite the improvements and some new alternate tracks. Those extra perks may not be enough to fully justify shelling out more money for it again, but that will just depend on who you are.
Since this is one of my favorite music scores of all time, from my favorite film franchise… the choice was pretty easy. This new edition is a must-have. And who knows, perhaps 'Jurassic Park 3' will similarly be revisited next? We can only hope!
But don't just take my word for it. Listen to some of the clips for yourself below! Then, be sure to order your copy today from La-La Land Records!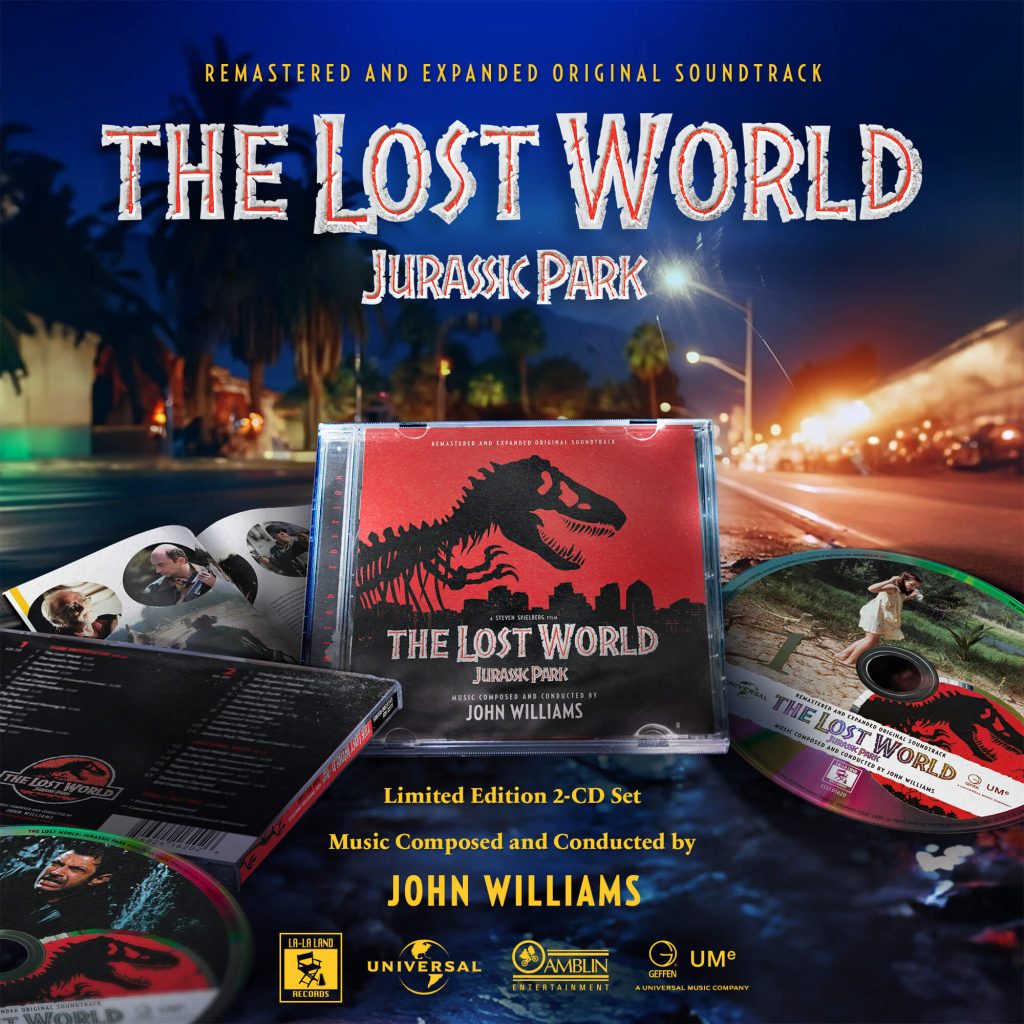 TRACK LISTING (with select sound clips):
DISC 1
SCORE PRESENTATION
1. The Lost World 3:33
2. The Island's Voice 3:34
5. The Stegosaurus (Extended Version) 5:28
6. Fire at Camp and Corporate Helicopters 3:20
8. Big Feet 1:40
9. Spilling Petrol and Horning In 5:06
12. On the Glass 4:04
13. Rescuing Sarah (Extended Version) 5:09
14. Reading the Map 3:07
15. The Trek 5:24
16. The Compys! 4:29
17. Ripples 5:50
Disc 1 Total Time: 68:58
DISC 2
SCORE PRESENTATION (Continued)
1. Finding Camp Jurassic 3:04
2. The Raptors Appear 3:42
3. High Bar and Ceiling Tiles 4:10
4. Heading North 2:12
6. The Wrecked Ship 2:22
8. Visitor in San Diego (Extended Version) 7:40
9. Ludlow's End 2:51
10. Tranquilizer Dart 3:00
11. Jurassic Park Theme (End Credits) 5:30
Total Score Time: 109:25
ADDITIONAL MUSIC
12. The Lost World (Alternate) 3:34
13. On the Glass (Alternate Excerpt) * 2:18
14. Rescuing Sarah (Alternate) * 5:07
15. Ripples (Film Version) ** 5:51
16. The Raptors Appear (Alternate) * 3:41
17. Tranquilizer Dart and End Credits (Film Version) 4:53
Disc 2 Total Time: 66:00
Total Additional Music Time: 25:33
Total Two-Disc Time: 2:15:00
*previously unreleased
**contains previously unreleased material
Still available from La-La Land Records is their 2-CD remastered/expanded reissue of 'Jurassic Park'! Don't miss your chance to own the ultimate version of that score as well, and if you haven't already: check out my review on that soundtrack & its release history!
NOTE: At the time of posting this article, the soundtrack is temporarily out of stock directly from La-La Land Records. They are awaiting for the next pressing of discs to arrive. If temporarily unavailable there, it can also be purchased from other reliable soundtrack CD venues, such as Screen Archives and The MovieMusic Store.
Are you going to get this new release of music from 'The Lost World'? Would you like La-La Land Records to tackle 'Jurassic Park 3' next? Share your thoughts in the comments below, and as always stay tuned to Jurassic Outpost for the latest!