Following its massive and gorgeous first outing last May, Prehistoric Planet is back for an expansive second season on AppleTV+! Creatures immense and small return to exhibit why they ruled the earth for so long, expertly narrated across sprawling landscapes and oceans by Sir David Attenborough. We were fortunate to be able to view the new season early – read our thoughts below.
*Mild species spoilers follow*
---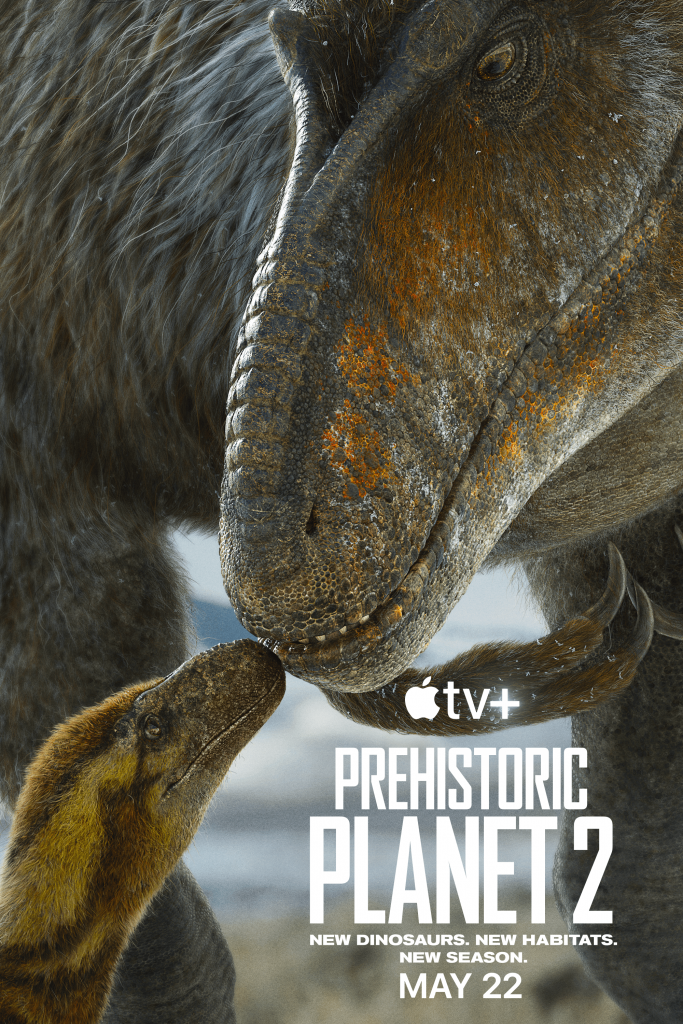 ---
Dinosaurs, Mosasaurs, Pterosaurs, Crocodyliforms, Ornithurans, Ammonites, and even Mammals rule the earth! Season 2 is Prehistoric Planet's most species-diverse yet, and we already can't help but hope there is more of this series to come. The series continues its ability to portray ancient creatures and environments on earth in stunningly realistic and accurate fashion. The lives and behaviors of over 30 species in 5 new environments are featured in these five new episodes, and it is a captivating experience.
---
---
Following the first season's Coasts, Deserts, Fresh Water, Ice Worlds, and Forests locations, season two adds Islands, Badlands, Swamps, Oceans, and North America to its growing catalog. This allows Prehistoric Planet to expand beyond the dinosaurs it is perhaps known for and into profiles of unique creatures like Simosuchus, Madtsoia, Styginetta, and Adalatherium. But that doesn't mean that incredible species like Tyrannosaurus rex, Mosasaurus hoffmannii, and Velociraptor don't make their presence known, among other fierce carnivores and predators.
Season 2's most thrilling sequences are found in the lives of these carnivores: A mosasaur hunts an elasmosaur with rapid and precise skill, a Nanuqsaur pursues a herd of Ornithomimus to feed its young family, and a massive Hatzegopteryx demonstrates its ability to be an apex predator. Relatively smaller creatures like Zalmoxes and Prenocephale make an impact as well, though they are joined by giants like Isisaurus to demonstrate the wild range of creatures in this ancient period. The creatures on display throughout the season are fascinating, and perhaps some of the most extraordinary who have ever lived.
This season also boasts a new addendum on each episode: Prehistoric Planet Uncovered, an in-depth special showcasing paleontologists and experts answering specific questions about featured species. This provides more specific scientific information and partners nicely with the slightly more dramatic elements of the episodes themselves.
---
---
Season 2 is an excellent continuation of the beautiful story of ancient earth presented in season 1. Supported by a brilliant and majestic musical score (composed by Anže Rozman, Kara Talve, Hans Zimmer, and Andrew James Christie), Sir David Attenborough narrates the personal intricacies of the survival of each species with enthralling, entertaining, and heartwarming cadence. This paired with breathtaking visuals and scientific accuracy, especially considering the species and biome diversity in season 2, further cements it as one of the greatest paleontological documentary series ever produced.
Are you excited for season 2 of Prehistoric Planet? Let us know in the comments and don't miss the five-night event on AppleTV+ beginning May 22nd!
---
Check out new promotional stills below and the trailer for Season 2 here.
---