The following review was submitted to us by Neelis/Dinosaur Habitat.
---
Dinosaurs rule the world once more in 'Jurassic World: Dominion'. Is it epic? Is it the conclusion to the 'Jurassic Park' and 'Jurassic World' franchises, as promised by the tagline? Does Giganotosaurus truly want to watch the world burn? And what does a gig at BioSyn pay when you are a swashbuckling mathematician?   
Originally slated for a June 2021 release, but postponed by a year due to the Covid-19 pandemic, 'Jurassic World: Dominion' has been making its way into cinemas across the globe ahead of the US premiere on June 10, 2022.
Reception by audiences and critics has been mixed so far, though the early release has been a financial success; however, monetary profits do not equal quality, so how does 'Jurassic World: Dominion' hold up?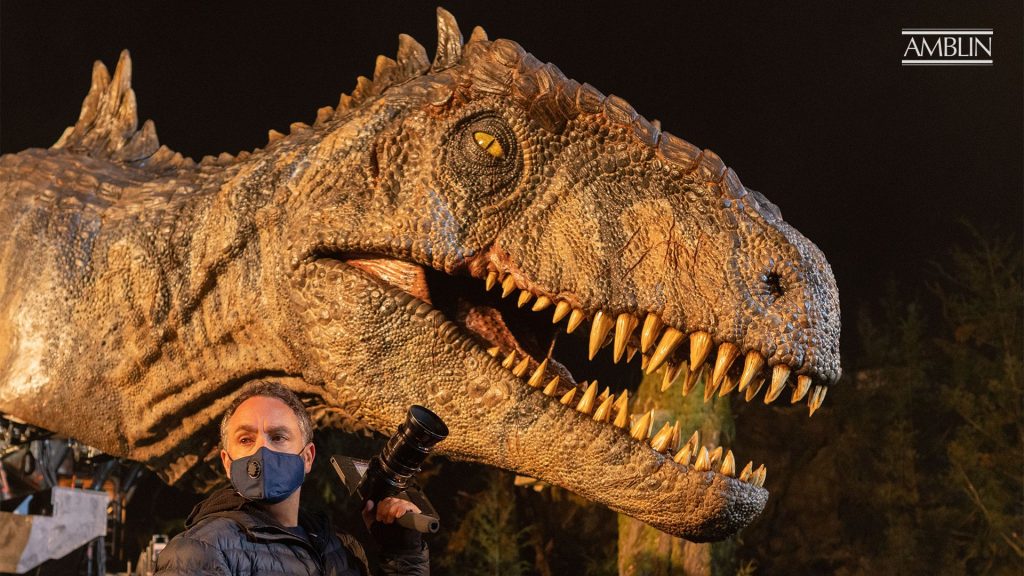 'Jurassic World: Dominion' – the story
Picking up four years after 'Jurassic World: Fallen Kingdom' (2018), Claire Dearing (Bryce Dallas Howard) is still haunted by the past; trying to atone for her mistakes and feeling a deep sense of duty towards the dinosaurs, she has moved on from rallying the public and politicians to more radical measures, raiding illegal dinosaur breeding facilities to expose them and have authorities shut down the awful practices conducted there.
Despite their earlier romantic struggles, Claire and former Velociraptor-trainer Owen Grady (Chris Pratt) have made a pretty nice home for themselves and rebellious Maisie Lockwood (Isabella Sermon), who they've taken under their wings after her grandfather's death.
It isn't long before their peaceful life is disturbed; Velociraptor Blue turns up at their cabin in the woods. And Blue is not alone; she has a baby, whose origins are a mystery.
Both the baby Velociraptor and Maisie are kidnapped by a bunch of nameless poachers, led by over-the-top bad guy Rainn Delacourt (Scott Haze).
Owen and Claire give chase; with the help of Franklin Webb (Justice Smith) they learn Maisie is headed to Malta, where illegal dinosaur fights are being held by more anonymous, unpleasant people, and dinosaurs are sold for excessive amounts of money, the trades conducted by delightfully devious, and criminally underused, Soyona Santos (Dichen Lachman).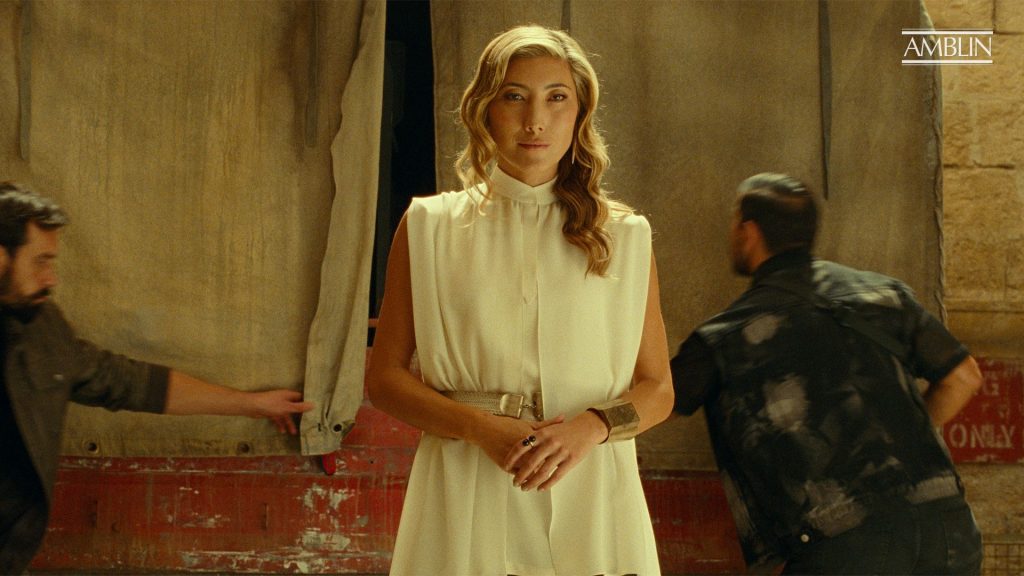 Owen and Claire briefly reunite with Barry (Omar Sy) and find an unexpected ally in veteran pilot Kayla Watts (DeWanda Wise), who agrees to fly them to Biosyn Valley, a sanctuary for recaptured dinosaurs and other resurrected prehistoric creatures.
Parallel to Claire and Owen's story runs another tale; the one of Dr. Ellie Sattler (Laura Dern) investigating the mysterious appearance of swarms of gigantic locusts, feeding on crops throughout the United States, destroying harvests as they swoop down and gorge on anything the farmlands offer.
Believing Biosyn is responsible, she asks her former love-interest and old friend Dr. Alan Grant (Sam Neill) for help with her quest for evidence; invited by a familiar acquaintance, Sattler and Grant journey to the dinosaur sanctuary located deep in the Italian Dolomites.
Touring Biosyn's facility under the guidance of Ramsay Cole (Mamoudou Athie), Grant and Sattler are welcomed by Dr. Lewis Dodgson (Campbell Scott), who seems more aloof than an evil genius. Alas, do not judge a book by its cover; as with 'Jurassic World' (2015) and 'Fallen Kingdom', shady stuff is going on right under everyone's noses, including Dr. Ian Malcolm's (Jeff Goldblum) who lectures at Biosyn for a handsome stipend, and who extended the invitation to Dr. Sattler.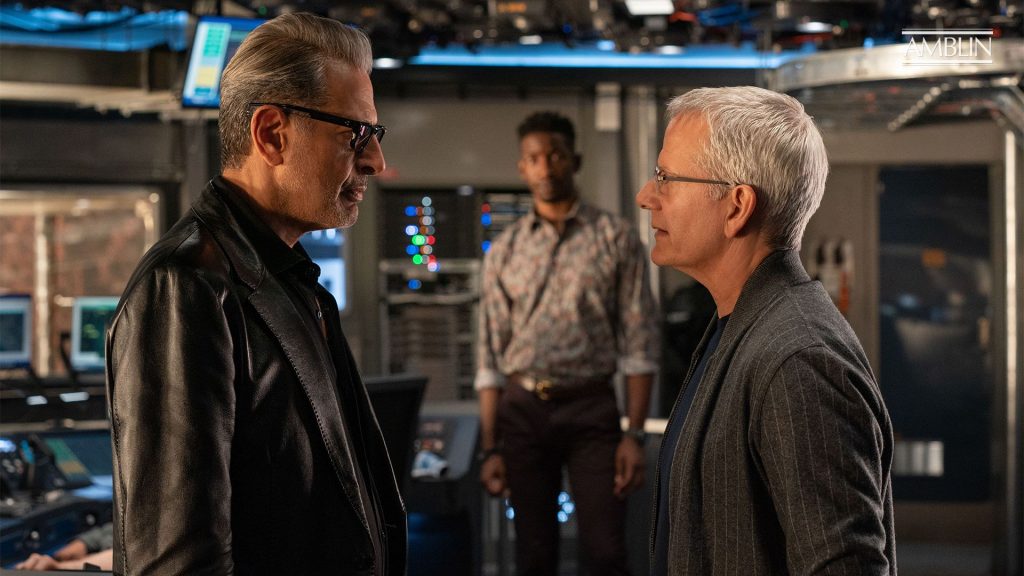 Will the familiar trio manage to expose Dodgson before everything goes pear-shaped?
Through a series of high-adrenaline adventures, the two groups eventually come together in Biosyn Valley and must not only fight for their own survival, but for the chance to reveal the truth.
'Jurassic World: Dominion' – the verdict
The story of 'Jurassic World: Dominion' begins, of course, in 1993; Steven Spielberg's 'Jurassic Park', based on Michael Crichton's novel of the same name, enthralled audiences of all ages and demographics. Never before had dinosaurs been so realistically and dynamically depicted on screen.
At the time, critics lauded the visual effects but quite a few were less complimentary when it came to the human characters; they were seen as somewhat two-dimensional, entirely in service of the spectacular animatronics and CGI.
'Jurassic Park''s success spawned two sequels; 'The Lost World: Jurassic Park' (1997), based on another Michael Crichton novel, and 'Jurassic Park III' (2001).
After the third film, the franchise seemed to have been given up on by Universal. Rumors about a possible fourth film, and even a few announcements of it having entered active pre-production, swirled, but it would take fourteen years before the dinosaurs made a successful return in 'Jurassic World' (2015) and 'Jurassic World: Fallen Kingdom' (2018).  
What has endured most amongst fans, almost ironically, is a deeply rooted love for the original characters; Dr. Grant, Dr. Sattler and Dr. Malcolm inspired generations to seek out careers in palaeontology and science.
Dr. Ian Malcolm in particular remains incredibly popular amongst film enthusiasts; and Jeff Goldblum delights in the character's popularity, having reprised the role not just in sequel films, but a car commercial and the various 'Jurassic World: Evolution' games.
This popularity only made it a matter of time before Grant, Sattler and Malcolm would return to the world of dinosaur escapades. But with five returning leading characters, three returning supporting characters (though two are really cameos), four newcomers, one renewed villain, and Maisie's story continuing too, do they get a chance to truly shine?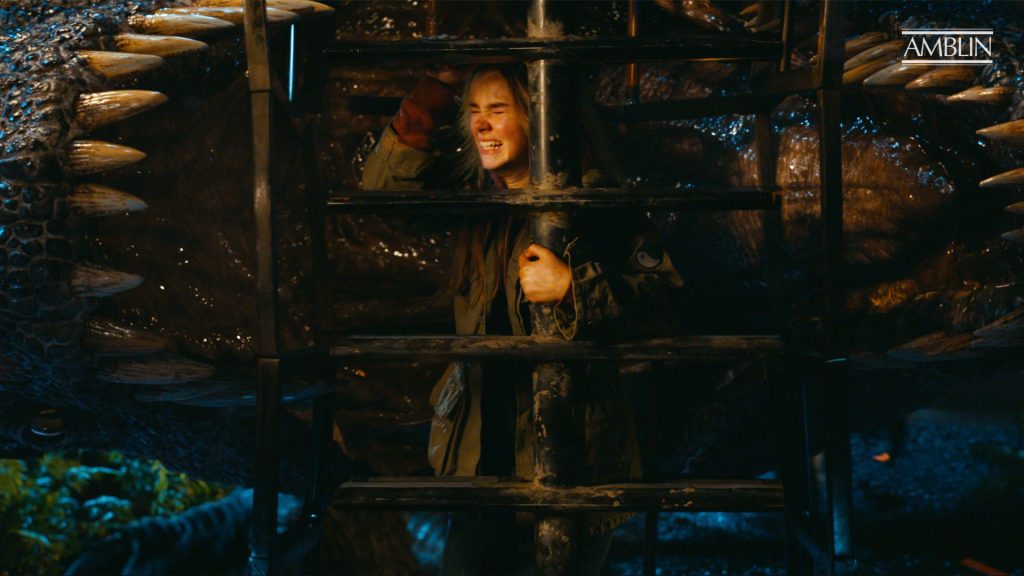 Unfortunately, the answer is no. 'Jurassic World: Dominion' tries to squeeze in so much everyone's individual stories are bogged down, even with the gargantuan runtime of two-and-a-half hours.
Most of the time it feels more as if the entire film's a comedic approach rather than a serious continuation of the series and a re-introduction of beloved characters; Dr. Malcolm talks, but his words, unlike his dire warnings and razor-sharp analysis in both 'Jurassic Park' and 'The Lost World', are hollow, meaningless; even his rivalry with Dodgson can't reach the heights of the adversarial quips traded with Peter Ludlow (Arliss Howard) in 'The Lost World'.
And so it goes on; Dr. Sattler and Dr. Grant have surprisingly little to add, aside from their own little mystery-espionage adventure, and are written rather abysmally.
A completely  ridiculous subplot is introduced, erasing things we learned (or thought we'd learned) in 'Fallen Kingdom' regarding Maisie's origin story, which is now so muddled and contrived (the "Benjamin Lockwood – John Hammond fallout"-spiel makes no sense at all now), it defies any desire of exploring it further.
Claire and Owen, by comparison, have a more straightforward and slightly more serious arc, and given their history there is a surprisingly touching moment between Claire and Owen on Kayla's aircraft. Owen, having taken on the role as surrogate dad, is far less goofy, a welcome approach. Both Kayla and Ramsay are appreciated additions to the story, though they get far too little screentime (Ramsay's character especially suffers from the bloated cast of characters).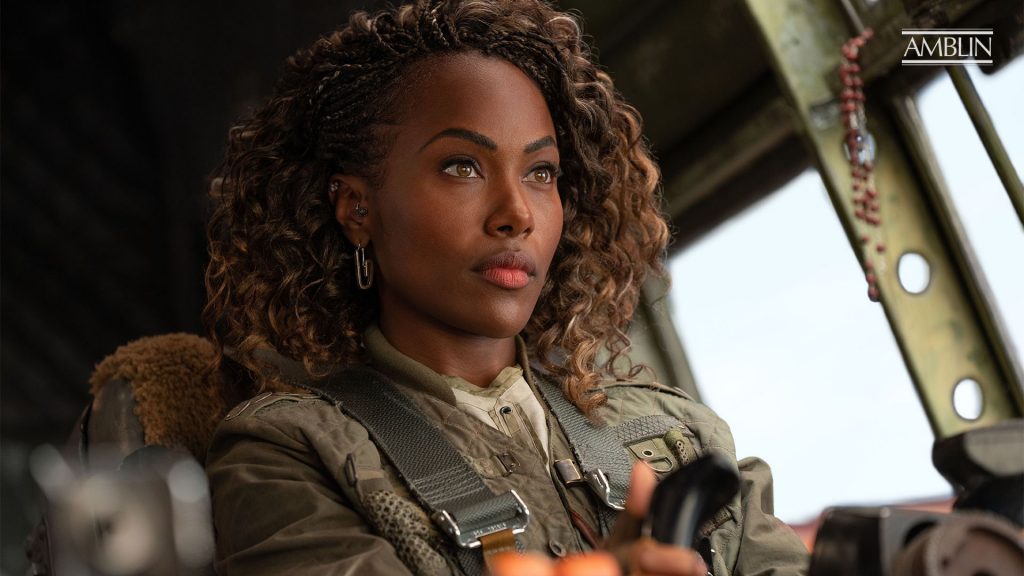 The dinosaurs and other prehistoric animals, too, feel underused. Most of them only appear once, dutifully carry out their parts in the story, then are gone just as quickly as Delacourt and Santos.
With the exception of the (very effective) reveal of the Therizinosaurus, the introductions of the dinosaurs are distinctly underwhelming; they aren't helped by some unimpressive CGI work and highly disappointing animatronics. Not once do they reach the greatness of Stan Winston and his team's work on the original 'Jurassic Park' films.
And though it was heralded as the new big bad dinosaur, Giganotosaurus turns out to be the chillest theropod in the franchise. It lumbers around a bit, and even gives half-hearted chase to our heroes once, but it mainly being absent from the larger part of the film is what stands out most.
By comparison, the mystery of the locusts, admittedly and pleasantly, feels as if it came straight out of a Michael Crichton novel. And some of the humour in the film ("he slid into my DMs") truly works and draws hearty laughs.
For all its flaws, and Colin Trevorrow's insistence of them not featuring when 'Jurassic World' entered production sometime in 2013, 'Jurassic World: Dominion' now introduces feathered dinosaurs, some of them first seen in 'The Prologue' (2022); it's a radical and deeply appreciated step forward for the franchise – the fierce Pyroraptor especially is a fabulously spectacular plunderer, echoing the memory of 'Jurassic Park III''s marvelous Velociraptors.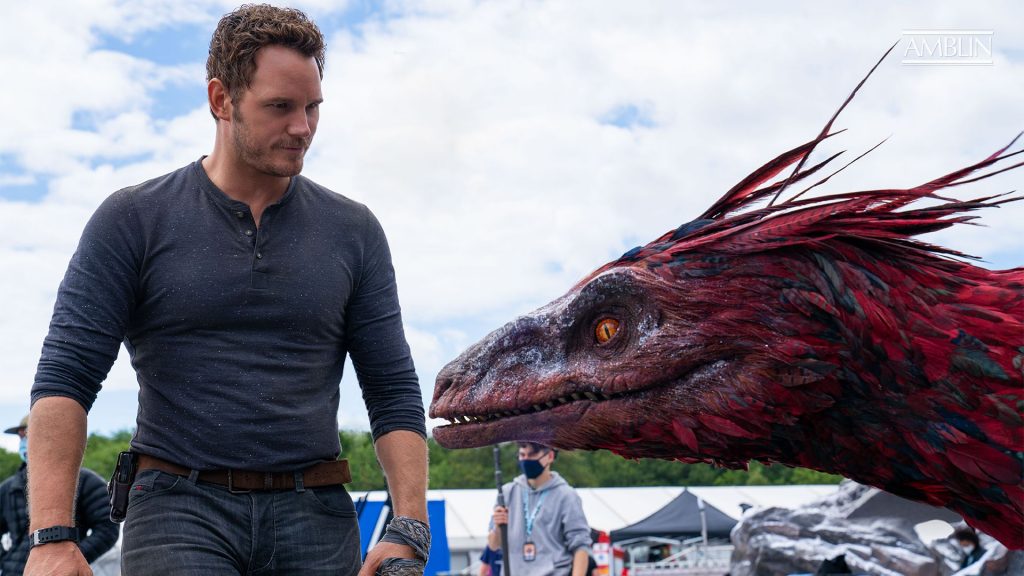 A tighter, more competently written story, shorter runtime and less filler-characters might have made for a better, more entertaining film. Even though the pace is high and everyone's continuously horse-riding, driving, cycling, running and flying from set-piece to set-piece, I found myself bored at times because it was hard to keep up with the action, and also, about halfway, hard to care for what was going on.
The absence of any tension and playing it safe to please a very wide demographic (of fans) takes away any edge it otherwise might have had.
At times the film's more 'Bourne' or 'Mission: Impossible' than 'Jurassic Park' / 'Jurassic World'. As a friend described it; the film feels very much as if you're watching a string of excellent video game levels.
Is it epic? No. Is it the conclusion? Also no. The open end, unfortunately, hints at more to come. I'm hoping Trevorrow and Universal Studios will hand over the reins to other writers and directors; preferably filmmakers who aren't hardcore fans of the original films and therefore capable of taking a step back, critically evaluating what does and does not work, only then to come up with engaging, intriguing stories and characters.
'Jurassic World: Dominion' has its heart in the right place, but the execution is dreadful. Though it will no doubt make an obscene amount of money over the coming summer, it's not destined to become a classic. One thing is clear; dinosaurs will rule cinemas once again and they, unlike that tagline's promise, are very much here to stay.
---
Do you agree with this fan review, or do you have a different view? Share your thoughts below, and as always stay tuned to Jurassic Outpost for the latest!