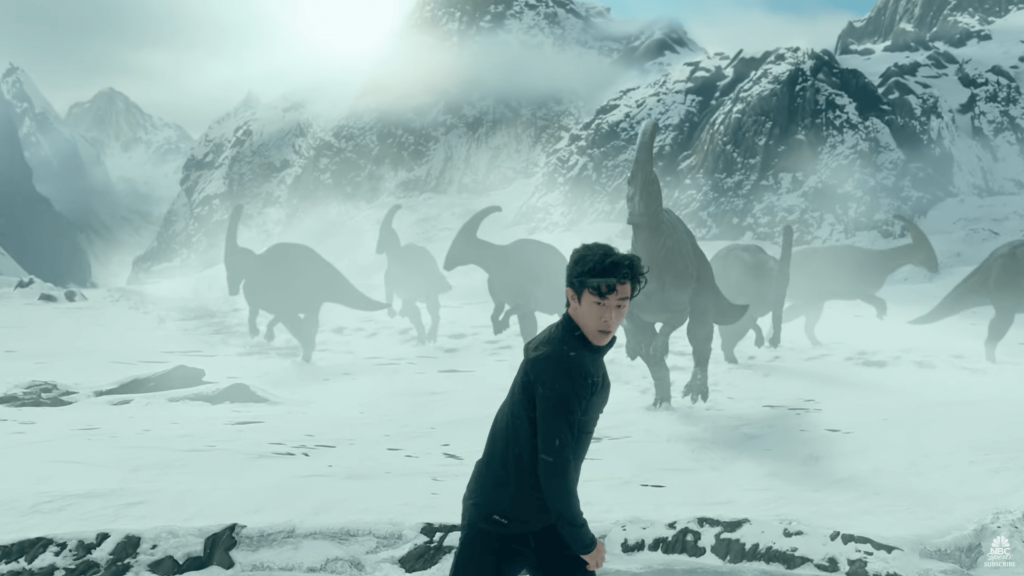 "They do move in herds."
---
The second of three 'Jurassic World: Dominion' x NBC Winter Olympics crossover ads has been released, this time featuring US Olympic Figure Skater Nathan Chen! The first ad featured Olympic Alpine Ski Racer Mikaela Shiffrin, and the third ad will feature US Olympic Snowboarder Shaun White. Watch the newest ad below:
A new breed of Parasaurolophus roams free alongside US figure skater Nathan Chen.@NBCOlympics x @JurassicWorld #JurassicWorldDominion pic.twitter.com/zRy9s2InlO

— Jurassic Outpost (@JurassicOutpost) January 28, 2022
The ad begins as Chen trains for the upcoming Winter Olympics on a frozen lake, high in a snow-covered mountain range. A herd of parasaurolophus stampede through a ravine towards him as Jurassic inspired music begins. It crescendos as the group stops along the bank of the frozen lake, creating a moment of awe before the magnificent creatures. The leader of the herd and Chen lock eyes for a moment before the group bolts away into the snowy distance. The ad ends with a promo card for the Winter Olympics beginning February 3rd on NBC and 'Jurassic World: Dominion' in theaters June 10th.
---
---
This second entry in the 'Jurassic World: Dominion' x NBC Winter Olympics crossover ad campaign really ups the concept of the first a bit and brings in some beautiful music and dinosaurs to boot. Who knows what the next ad and the culmination of this campaign will bring! What do you think of these ads? Let us know in the comments below and stay tuned to Jurassic Outpost for the latest news!
Images and video courtesy of NBC Sports.