The third season of Jurassic World: Camp Cretaceous made its debut on Netflix in May of this year, continuing the story of six campers stranded on the ill-fated Isla Nublar. The season opens 6 months after the campers were left behind after the fall of Jurassic World, eventually aligning with Fallen Kingdom's opening moments. After numerous trials and tribulations for the gregarious gang, the season closed with the kids finally sailing away from Isla Nublar…
But the number one question has been what comes next – and when?
We've known a 4th season is coming: Jurassic World Director Colin Trevorrow has said his favorite moments from the show will take place in it — not to mention last we saw of the campers they were unaware of something else lurking in the lower cabins of the yacht they're now adrift upon. For our speculation on what the season will entail, I strongly suggest checking out the video below where we outline the evidence pointing to the return of Isla Sorna:
As for the release date of Camp Cretaceous Season 4, we've been long reporting that it would be a longer wait than normal to better align with the 'Jurassic World Dominion' debut. Since early this year we had been hearing Season 4 would release this December, with the fifth season dropping after Dominion in July of 2022 – and newly revealed tie-in books for the fourth season support this.
Season 4 tie-in novels 'Camp Cretaceous, Volume Four: The Deluxe Junior Novelization' and 'Rescue Mission! (Jurassic World: Camp Cretaceous)' have been revealed by the publisher and made available for Pre-Order, each sporting a January 4th release date.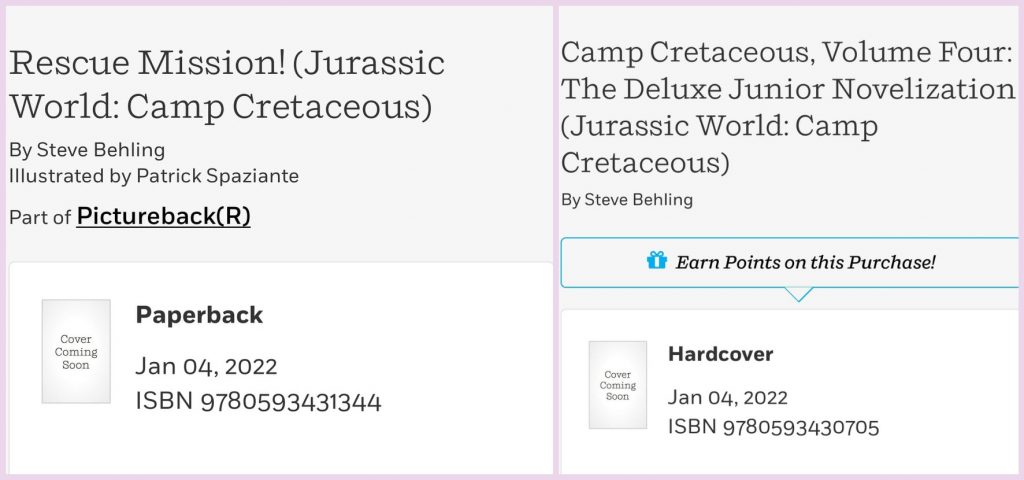 Given the January 4th, 2022 release date for the books, we suspect the season will release December 24th or 17th, 2021. For some added context, every season of Camp Cretaceous has landed on Netflix on a Friday, and each season had multiple tie-in books that would release roughly 4 – 10 days later. If Season 4 adheres to the same schedule, December 24th is the most probable date.
We go into more detail about all of this in our YouTube video, including what the 'Rescue Mission' title may mean – so check it out!
When you take past marketing schedules for Camp Cretaceous into consideration, this means the first trailer will most likely hit in October. However, given the longer time between seasons we're still hopeful to see something this month – perhaps on September 18th, the one year anniversary of the Camp Cretaceous premiere!
Are you looking forward to the fourth season of Camp Cretaceous, and what do you hope to see happen? Let us know in the comments, and stay tuned to Jurassic Outpost for the latest news!