Just one day after the news broke that Jurassic World: Dominion would be shifting it's release date a full year to June 10, 2022, director Colin Trevorrow took to Twitter today to announce that production was hitting "pause" for two weeks after what appears to be a few false positive tests for the Coronavirus on set.
Woke up to the news we had a few positive Coronavirus tests on Jurassic World: Dominion. All tested negative shortly after, but due to our safety protocols we're going to pause for two weeks. Back soon. pic.twitter.com/DxuqX9UdgX

— Colin Trevorrow (@colintrevorrow) October 7, 2020
The good news it that those that tested positive were re-tested and tested negative, so that would mean there is no actual current spread of the virus on set. However due to the safety protocols that Universal spent $5 million to set up, it seems it requires production to be suspended automatically for two weeks.
Any stoppage for production is not good and I am sure is annoying for the filmmakers, but the good news is this should have little to no impact on the film itself. There are only three weeks of shooting left and even with this delay, will still be wrapped up be early November. With the release date change to 2022 they will have far more than enough time for post-production.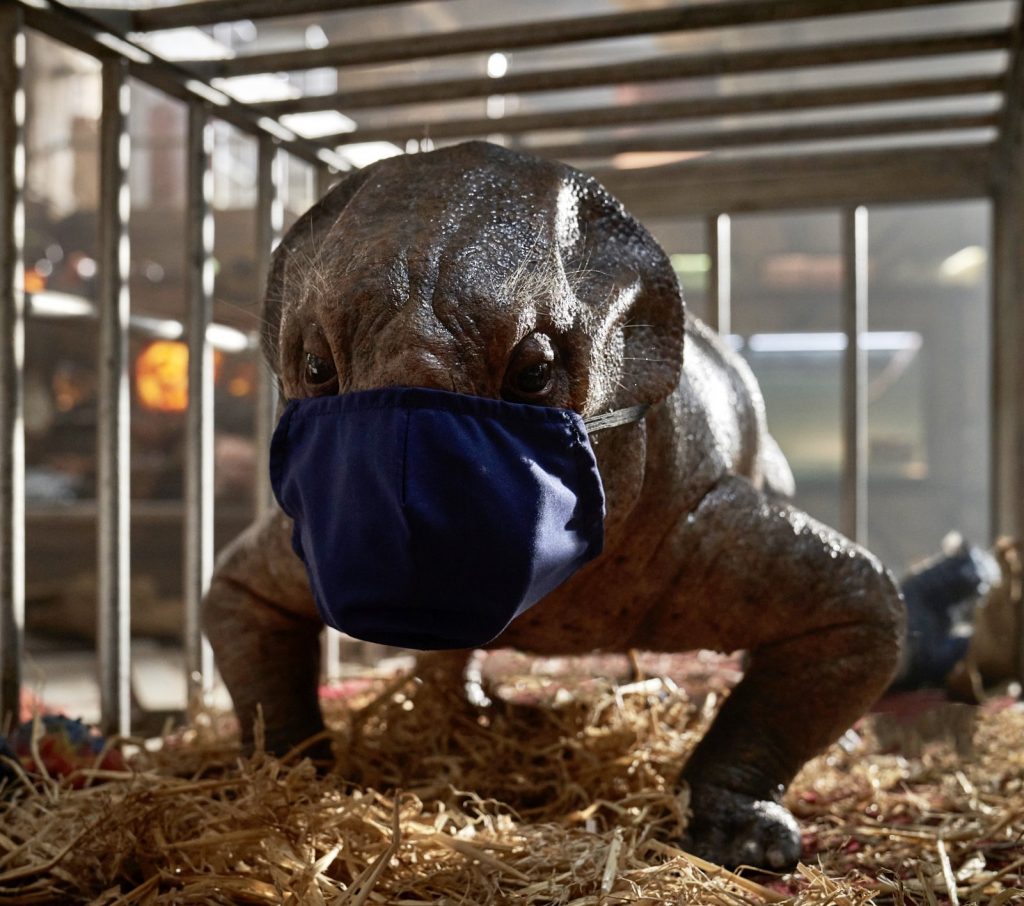 Included with Trevorrow's tweet about the production "pause" was what appears to be an animatronic Lystrosaurus (wearing a mask). With little hairs on the skin, this mammal-like reptile lived 250 million years ago in the the late Permian and Early Triassic periods. Could this be something that Lewis Dodgson cooked up in his Biosyn lab? (UPDATE: Director Colin Trevorrow confirmed on Twitter it is indeed a Lystrosaurus)
What are your thoughts on production pausing for two weeks? Also what do you think of what appears to be a Lystrosaurus? Let us know in the comments below!