As we speculated yesterday as a possibility became a reality today, as Jurassic World: Dominion has changed it's release date. Originally slated for June 11, 2021, the film will now come out one year later on June 10, 2022. The news of the film changing dates was first reported by Variety and later confirmed by the official Jurassic World Twitter and Director Colin Trevorrow.
"Jurassic World: Dominion," which shut down filming in March due to the pandemic, was one of the first major movies to resume production. The studio took intense measures to keep the set free of coronavirus, including frequent testing, temperature checks and isolating the cast. The cost of these protocols are expected to run in the $5 million range, according to insiders. "Jurassic World: Dominion" hasn't completed filming yet, though sources say its about three weeks from wrapping.
Check out the new poster below: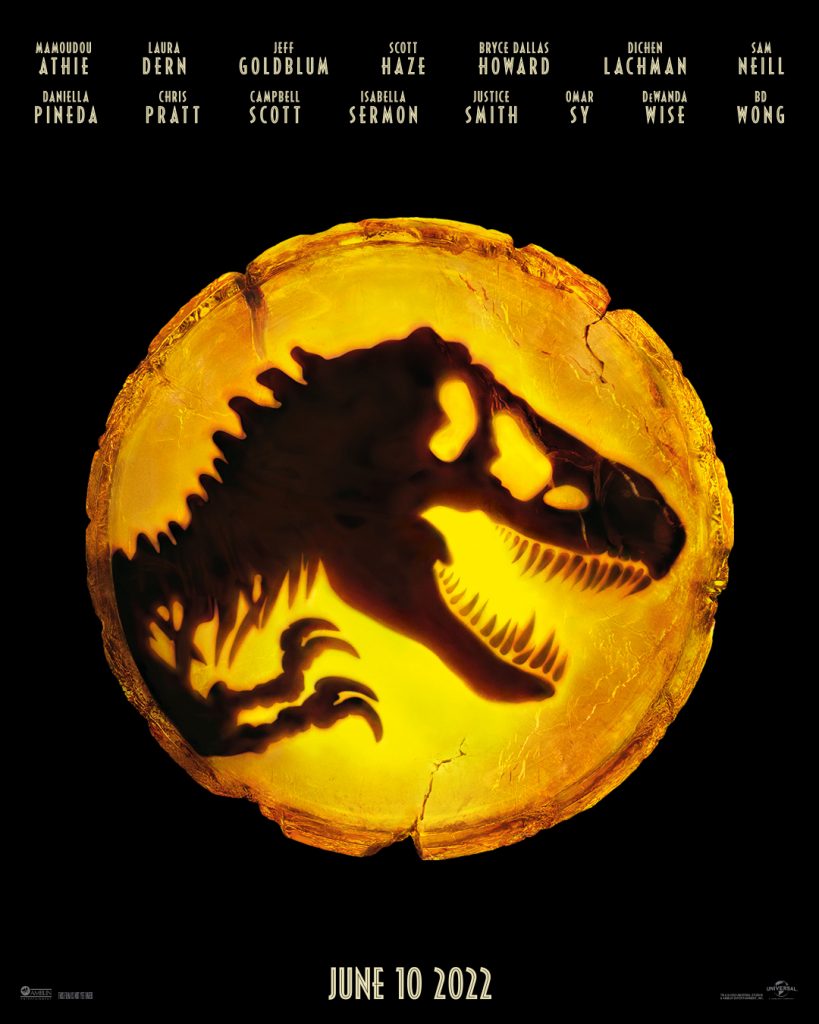 Included with the news of the new date, the first official teaser poster was released as seen above. Featuring the classic black backdrop of the previous films teaser posters, it features a large circle made of amber with the iconic T. rex skeleton.
The poster also lists the extremely large cast across the top including Jurassic World stars Chris Pratt and Bryce Dallas Howard and also Jurassic Park stars Sam Neill, Laura Dern and Jeff Goldblum. Our opinion is this is a very nice teaser poster and one that will for sure get fans excited. It is a simple design but very effective.
For the past three months, I've worked with an extraordinary cast and crew on a film we can't wait to share with the world. Even though we'll have to wait a bit longer, it will all be worth it. Let's stay healthy and take care of each other until then. pic.twitter.com/vnGzhHs4nR

— Colin Trevorrow (@colintrevorrow) October 6, 2020
While it is likely the news of the delay is disappointing for fans, it will not only hopefully allow the movie theater landscape to recover from the pandemic, but it will also give the filmmakers extra post-production time to bring us the absolute best version of the movie as possible and not rush special effects to meet an accelerated deadline.
What do you think of the new release date of June 10, 2022 for Jurassic World: Dominion? Are you upset, relieved or neutral? Also what do you think of the official teaser poster? Let us know in the comments below!