EMPIRE magazine has the scoop with a new image from 'Jurassic World: Dominion'!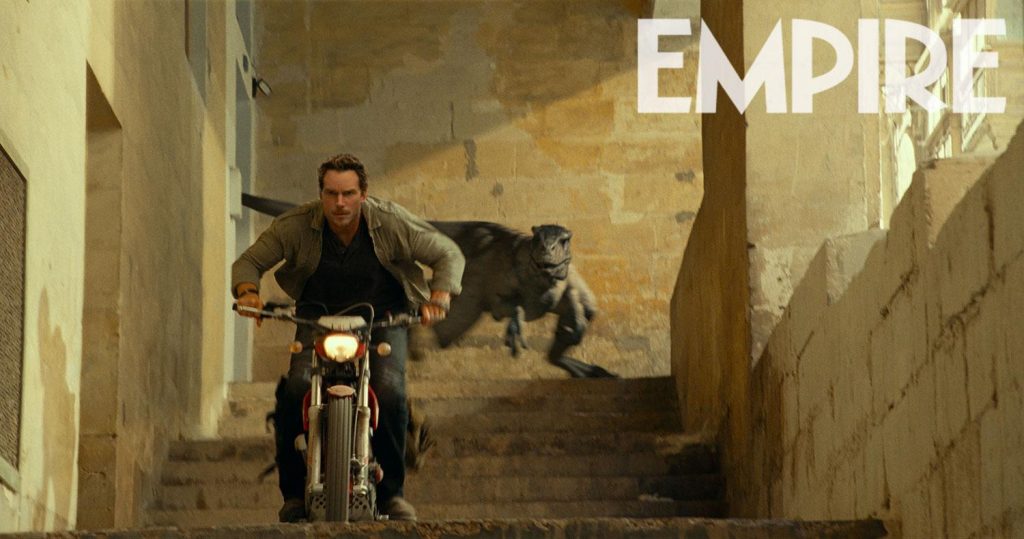 Director Colin Trevorrow describes the image for us:
"It's a sequence set in Malta. And the picture speaks for itself – it's Chris Pratt being chased by an Atrociraptor. And if they catch up, he's gonna die, I can tell you that."
With Pratt riding a motorcycle down a weathered stone staircase somewhere in Malta (never a good idea), the image resembles a James Bond movie more than 'Jurassic Park'. This is now our second real look at dinosaurs in an urban environment for the film (after seeing the Tyrannosaurus Rex at the Drive-In, although that sequence may not even appear in the film itself). The dinosaur in this photo is a newcomer to the series: Atrociraptor.
Trevorrow explains what makes the Atrociraptor different from a Velociraptor:
"Where the Velociraptor is a little bit more of a stealth hunter, the Atrociraptors are a bit more brutish. […] These things will just come at you. And in this particular case, they've picked his scent, and they're not going to stop until he's dead. They're pretty brutal. They're pretty vicious."
It's interesting that he sees these details as the differences. Since 'Jurassic Park 3', the Velociraptors of the franchise have changed into more intelligent and stealth hunters compared to the brutish, murderous qualities we saw in 'Jurassic Park' and 'The Lost World'. It sounds like the Atrociraptors are a return to form of the early qualities of the Raptors more than something truly new.
Still, it is exciting to have any new form of dinosaur in the series. The article confirms there will be even more, such as Pyroraptors and Moros intrepidus.
According to EMPIRE, there will be even more revealed about 'Jurassic World: Dominion' when their December 23rd issue hits, so stay tuned to Jurassic Outpost for any future details!
Do you think there's just No Time To Die for Owen in this image, or is it an atrocity? Share your thoughts in the comments below!