Last week, Mattel released their Jurassic World Legacy Collection SDCC exclusive John Hammond toy to convention goers, and every copy they had at the show sold out! While many thought the chance to get Hammond was then extinct, it turns out there is some good news: Mattel produced more than they could take to the show, and have partnered with Entertainment Earth to sell them!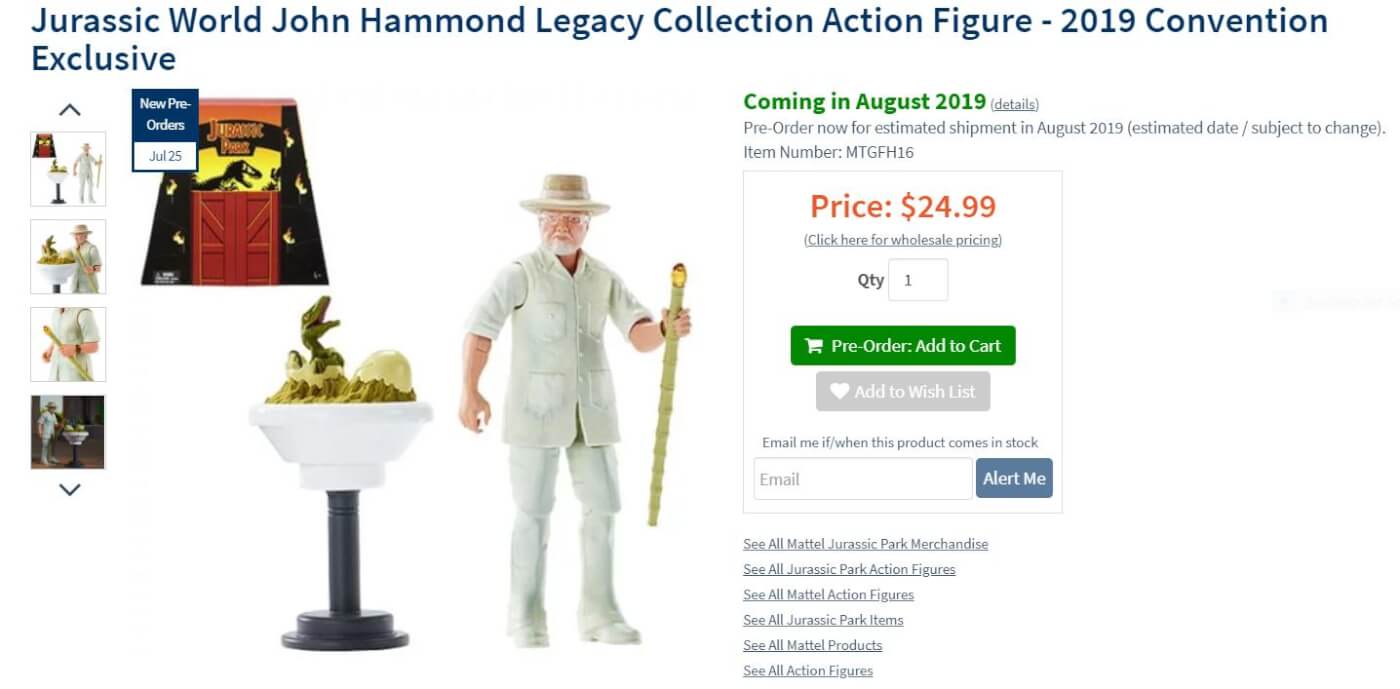 Supplies are extremely limited, and once he's sold out your chance is gone – so order now!
Relive nostalgic, iconic film moments from Jurassic Park with the Jurassic World Legacy Collection John Hammond action figure! This exclusive character captures the spirit of the franchise legacy with movie-authentic decoration and deluxe detail. The John Hammond action figure is inspired by the original Jurassic Park film and captures his innovative will, his caring role as a grandfather and his high expectations for his theme park on Isla Nublar. The figure is approximately 3 3/4- inches tall and includes a cane and a stand with dinosaur eggs. Take home the excitement of Jurassic Park with this exciting John Hammond action figure!
On the fence? Don't be – check out our review of the toy now (spoiler: we love it)!
We're hopeful Entertainment Earth can partner with Mattel to bring other Jurassic Park characters to the toy shelves that may otherwise be unproduced. From Jurassic Park workers, Ray Arnold, Tim and Lex, Nedry, or even ACU troopers from Jurassic World – the potential is nearly unlimited!
Did you pick up a Hammond from SDCC or Entertainment Earth, and what future exclusives would you like to see? Sound off in the comments below, and stay tuned to Jurassic Outpost for all the latest news!