Let's just cut to the chase, this is the embodiment of 'spared some expense.'
Courtesy of bol.com we have the first look at the Jurassic Park 30th Anniversary collectors set and while at a distance it seems to be a nice package, at closer inspection it just doesn't hold up. From the steelbook cover just being a trace-over of a statue to the slip case looking like a bit like a photoshop filter disaster – and of course the art cards using Jurassic World dinosaurs rather than Jurassic Park – we have to wonder how this thing made it past approvals.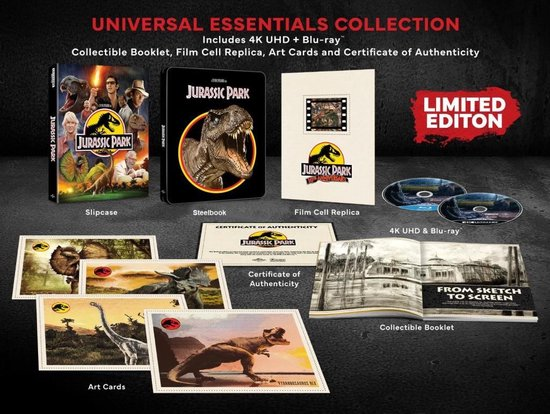 Wait, why is the Jurassic World T. rex on a beach, why is that the Jurassic World Dilophosaurus and WHY is Dr. Malcolm holding a lightsaber? We are interested in that collectible booklet… but…
We can go on about how influential Jurassic Park is as film and how well-regarded the first film is amongst all fans new and old. We can spit out metrics and have a long discussion about how Jurassic Park has been poorly managed via a series of poor attempts at cash in's without the work and love required. But that's just putting more work in than the franchise does itself these days, which is deflating. So instead, we'll leave you with some pictures, tweets, and a song.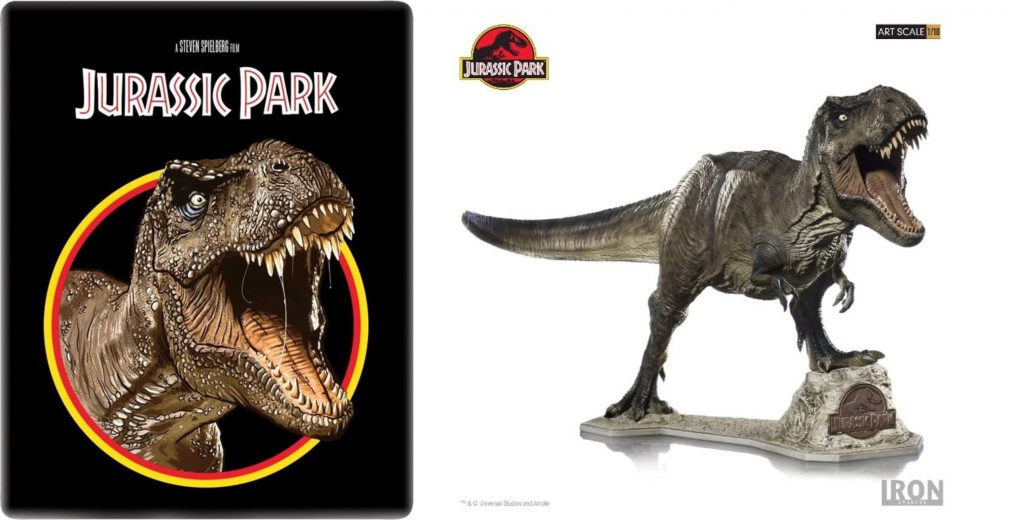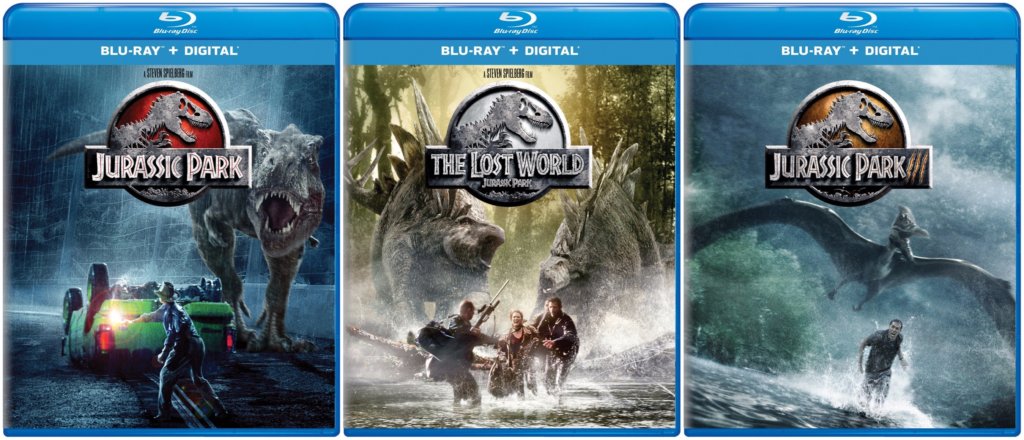 Does someone in the home entertainment department actually hate Jurassic Park, and they're in charge of the art?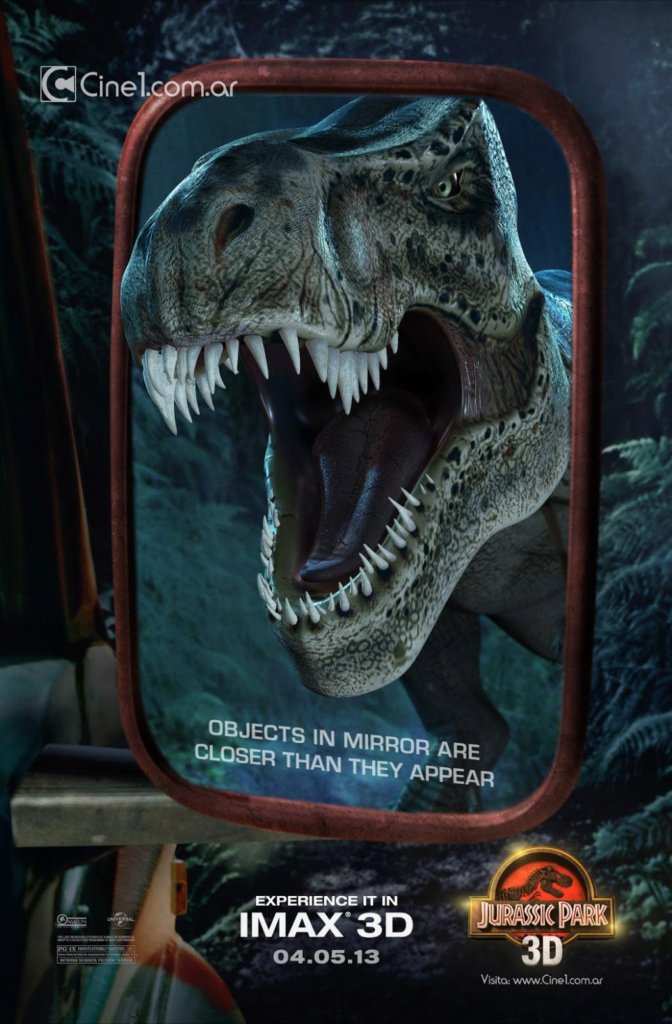 To be fair, the more recent attempts aren't as awful as this 2013 poster. But let's be real, that's a low bar.
This Rex was right there though! https://t.co/AheWYaAh7K pic.twitter.com/IFpoNt3uCj

— The Jurassic Park Podcast (@JurassicParkPod) May 2, 2023
They really spared every expense lmao wtf is this https://t.co/nCQFAYEdUk

— Malcontent (@inert_raptor) May 2, 2023
… listen as a lifelong Jurassic fan I am always happy when we get new merch but like……

what is this. https://t.co/Vv3iSCITu8

— 💛🤍💜🖤 Warzy Raptor (@WarszawaScream) May 2, 2023
This looks like one of those fan made dvd cover you see on the internet. This is official?! https://t.co/aTK9Y4sXjj

— 🦕Magara Oizys🦖 (@MagDaVeloRaptr) May 2, 2023
@UniversalPics this is such a slap in the face to the fandom. You absolutely know you cut corners on this crap and then you use a statue for the "art," as well as renders from another film series and not Winston's original designs??? 🚮 🗑️ https://t.co/7Gq2azP7Fn

— Dilly Dilly 🎥🎬 (@DTDB35) May 2, 2023
Nope. This ain't it Universal🤦🏽‍♀️

30 YEARS. I expected better than this. https://t.co/0NOufq6Okr

— 🌿Muse🌿🔜FWA (@TeaRexee) May 2, 2023
That's a 😬 from me. Everything about this screams "Oops, we forgot so let's throw something together as quickly as possible." https://t.co/CfQ7wjsSsK

— J. Malone (@JMaloneActs) May 2, 2023
This…looks terrible? Like the boxart look's so unprofessional and why are the art cards using JW renders??? And what is with that trex render!? What happened here!? https://t.co/a9BhVlif1F

— Krust (@KrustaceanPlays) May 2, 2023
This is … something that certainly exists https://t.co/GWAWPR6Q5U

— dinosaur enjoyer (@genbates69) May 2, 2023
This is utter trash. https://t.co/b5R9T7Pjev

— Jaroslav Kosmina (@jaros428) May 2, 2023
https://t.co/giQ3fAfudR pic.twitter.com/U4tEwpa3XL

— Tom Jurassic (@Tom_Jurassic) May 2, 2023
This really just makes me think the Jurassic Park fandom is the equivalent of a child who constantly seeks the love from a parent who does nothing but neglect them https://t.co/v4sIUzdwbx

— The Dino Crisis (Safi'jiiva Enjoyer) (@PaleoNotArtist) May 2, 2023
Ok, ok, we'll stop kicking when they're down – but the point is that don't impress us much.