The gates are BACK open with another season of our collector-focused show Beyond The Gates!
We've once again partnered up with the fantastic teams at Universal, Target, and Mattel to produce this fun, Jurassic reveal show from the fans – for the fans! Check out the debut episode below:
In episode 1 we speak with Mattel's toy designer Gregory Murphy about the brand new collector focused line: the Hammond Collection, and dive into the designing and painting of the two debut items: The Lost World's Parasaurolophus, and Fallen Kingdom's Baryonyx.
The Hammond Collection named for Jurassic Park's founder John Parker Hammond and sets a new standard for Jurassic collectables, marrying the detail you knew from the Amber Collection with the core 3.75″ scale. This means more dinosaurs than ever of all sizes from across the entire franchise.
Discover the thrills and adventure of the Jurassic World Series captured in the Hammond Collection, named for Jurassic Park's founder John Parker Hammond and setting a new standard for dinosaur collectables, including the fearsome Baryonyx! With premium design and attention to detail, this 13 inch long Baryonyx from Jurassic World: Fallen Kingdom has incredible movie-accurate design, color and texture, and 20 points of articulation, from a terrifying wide double-articulated jaw to a posable tail and 3 joints on the back legs.
With premium design that is movie-quality in detail, this 12 inch long Parasaurolophus action figure from The Lost World: Jurassic Park will delight fans and collectors. This figure has incredible movie-accurate design, color and texture, and about 14 points of articulation, including an articulated mouth, tail and multiple joints on the back legs.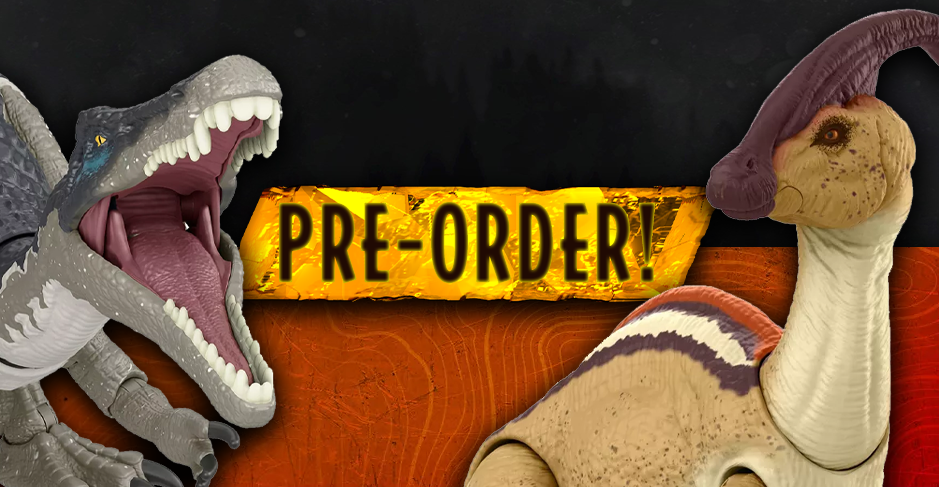 Watch the debut episode of season 2 now and pre-order these amazing toys directly at Target.com!
We're so excited to bring another season of exclusive reveals to the Jurassic fandom! Beyond The Gates will continue with monthly episode and will feature more items from the Hammond Collection, the Legacy Collection and of course, the upcoming Jurassic World: Dominion.
The next episode launches February 16th with an exclusive Legacy Collection set you won't want to miss! Stay tuned.
About Jurassic World:
From Universal Pictures and Amblin Entertainment, Jurassic World immerses audiences of all ages in a new era of wonder and thrills where dinosaurs and humankind must learn to coexist. Jurassic World is set against a global backdrop of diverse locations, with a sprawling story grounded in believable science and populated by distinctive dinosaurs, heroic humans, and cunning villains at both ends of the evolutionary spectrum.
About Beyond The Gates:
Created in partnership with Universal Pictures, Amblin Entertainment, Target, and Mattel, Beyond The Gates is produced by Outpost Creative, LLC which was founded by Chris Pugh and Jack De La Mare in late 2020. This show represents a unique partnership between many parties which has allowed for a true Jurassic Park passion project made for the fans, by the fans.