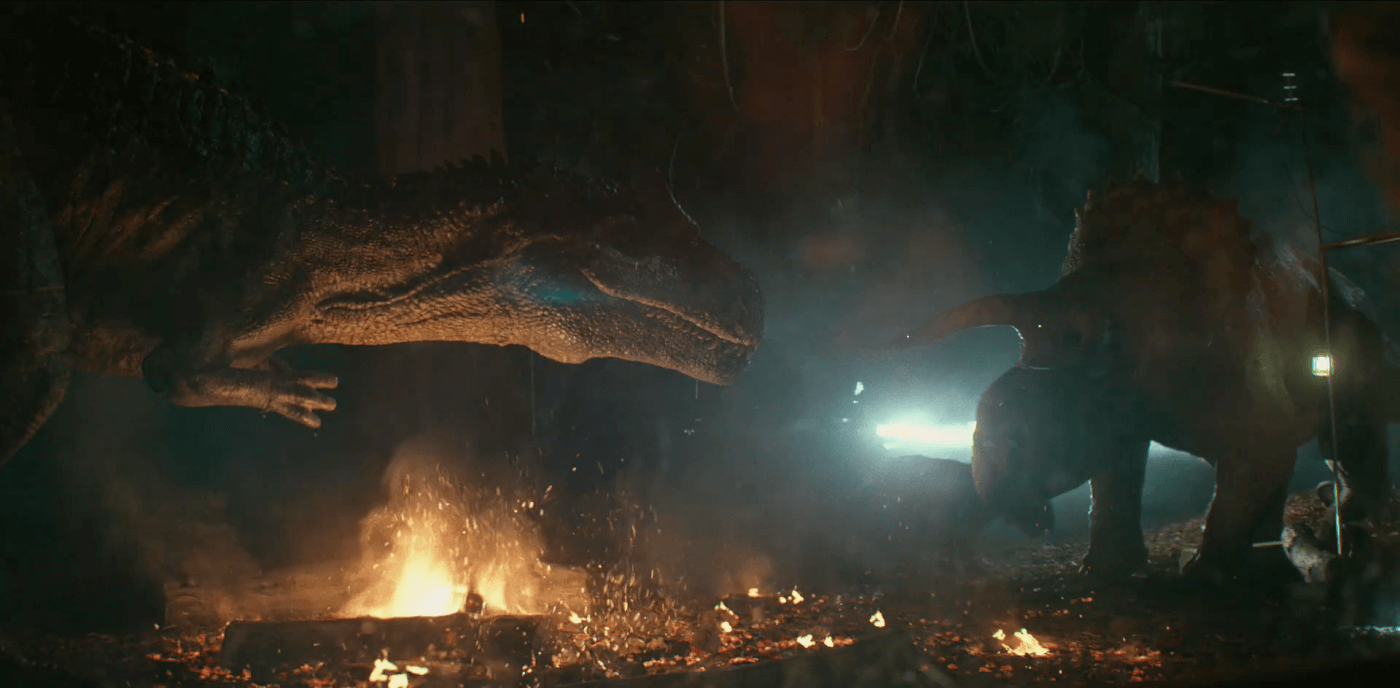 It's finally here – Jurassic World now has an expanded universe. 'Battle at Big Rock', and all new Jurassic World short film set one year after the events of Fallen Kingdom, just made its debut on FX. Set in the Californian wilderness, a family of four encounter more than they bargained for as dinosaurs turn their fun into a situation of survival.
'Battle at Big Rock' features the never before seen Nasutoceratops (and baby), and introduces the adult Allosaurus (with an animatronic from Legacy Effects), which was previously seen in Fallen Kingdom as a juvenile. 'Big Rock' was written by Emily Carmichael and directed by Colin Trevorrow, with Larry Fong as the cinematographer. The short follows an all new cast consisting of André Holland (Moonlight), Natalie Martinez (Under the Dome), Melody Hurd (Fatherhood) and Pierson Salvador. Music is by Jurassic newcomer Amie Doherty.
Watch the short film below!
Warning – detailed spoilers for Battle at Big Rock below:
Battle at Big Rock opens with an ominous newscast reporting on numerous dinosaur sightings in the Californian countryside, before opening on a family camping in a public campground. Shortly after being introduced to our characters, some Nasutoceratops wonder into the campsite inflicting fear and distaste, sparking remarks along the lines of "Oh no, it's one of them" "What is itdoing all the way up here?". We realize dinosaurs sightings are a thing people know about, are not happy about, but do not fully expect. We also learn there was a recent incident that turned ugly, though it apparently involved carnivores unlike the herbivores in the campsite, as the families daughter confidently states.
But then, not all is as it seems, and a hungry Allosaurus hunting the Nasutoceratops family reveals itself. Carnage ensues. At some point in the fight, a second Nasutoceratops charges in – the father, a buck – sexual dimorphism is apparent in the species, as not only is he larger, with longer horns, but his colors appear slightly different. While Jurassic World features male and female dinosaurs, this the first time since Jurassic Park 3 that sexual dimorphism has been made apparent on screen.
When the short film makes its end, the family shaken but alive, and eerie Jurassic music kicks in. The credits paint a serious picture – dinosaurs are part of our world, and home footage of various dinosaur encounters plays, such as a scenario where Compy's are attacking a little girl. This is perhaps the clearest look at what Jurassic World 3 will be yet. We're now living in a new era of wonder and thrills, where dinosaurs and humankind must learn to coexist…
Stay tuned for HD pictures from Battle at Big Rock!
Want more now? The new 'Battle at Big Rock' dinosaurs have toys from Mattel available now!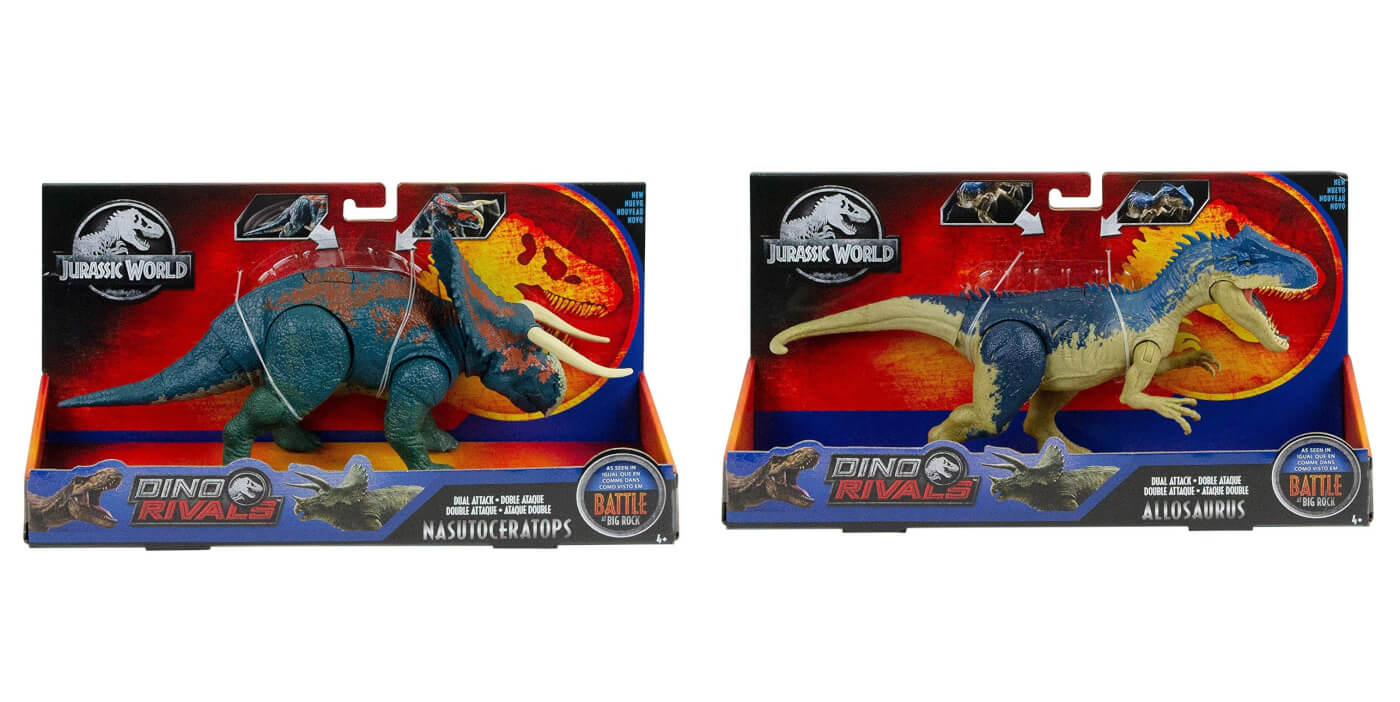 You can order the Dual Attack Allosaurus and Dual Attack Nasutoceratops from Amazon now!
Now that 'Big Rock' is here, what are your thoughts on the short film, the dinosaur designs, and what it means for Jurassic Park going forward? Sound off in the comments below and of course, keep your eyes on Jurassic Outpost for all the latest news!