Christmas is just around the corner, and it's safe to say that we are all looking for the perfect Jurassic Park gifts which we can get our claws on during this festive season! We've already shared some fantastic items in recent weeks – including Jurassic World Stills, Brand-New Mattel Toys and plenty of other fantastic products! Today, however, we are excited to dive back into the world of a 1993 Isla Nublar as we explore some of the great offers which are friends at Fanattik are having on their Jurassic Products for today's 'Jurassic Day' – a part of their larger Black Friday sales.
Let's take a look at some of the great offers which Fanattik have on products this week!
For a vast assortment of Fanattik's products, there will be a fantastic 30% off today – allowing you to grab everything from lithographs to pins, to keyrings and even limited-edition collectable coins. Fanattik pride themselves on creating items which pay homage towards the original films, and their assortment offers a vast variety of different options – meaning there is something for everyone! We have some personal favourites in the line ourselves. The 'Find Nedry' coin is particularly beautiful, as we love the beautiful render of the Dilophosaurus on it – a dinosaur which we really hope returns for Jurassic World 3. We also love the Jurassic Park Pin which Fanattik have created, as it conveys some of the incredibly dynamic sequences seen within the Tyrannosaurus Rex breakout scene from the first film in a fun and quirky manner which is sure to stand out in any collection.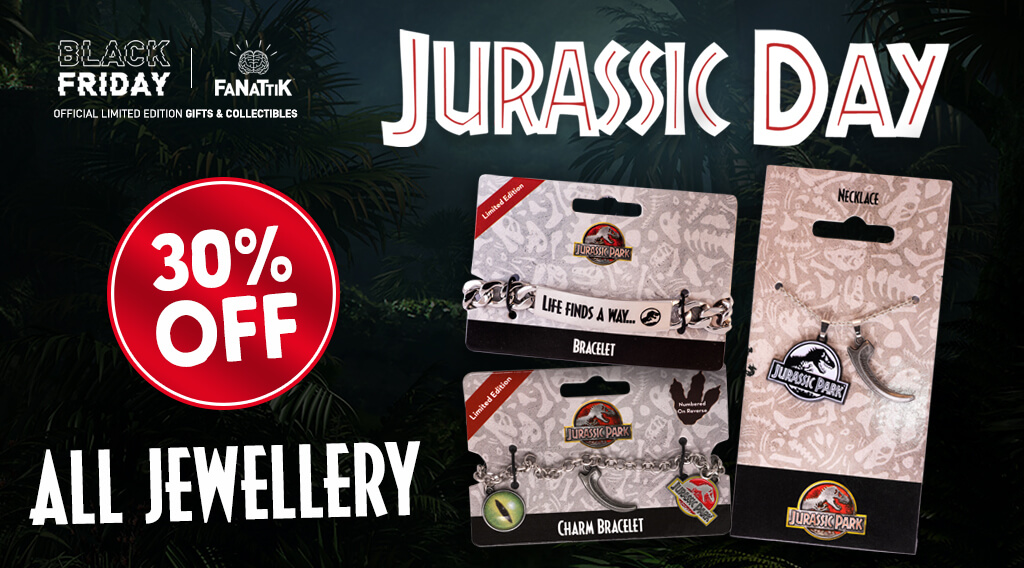 The great assortment available today even includes items like Jewellery – allowing you to add a little bit of Jurassic flare to your daily look! We could see some of these accessories pairing nicely with the beautiful collection of Jurassic Park merchandise from Drop Dead (you can view our coverage of that line here).
It is worth noting, as well, that one special item from Fanattik's collection will be available at 50% off for one day only too!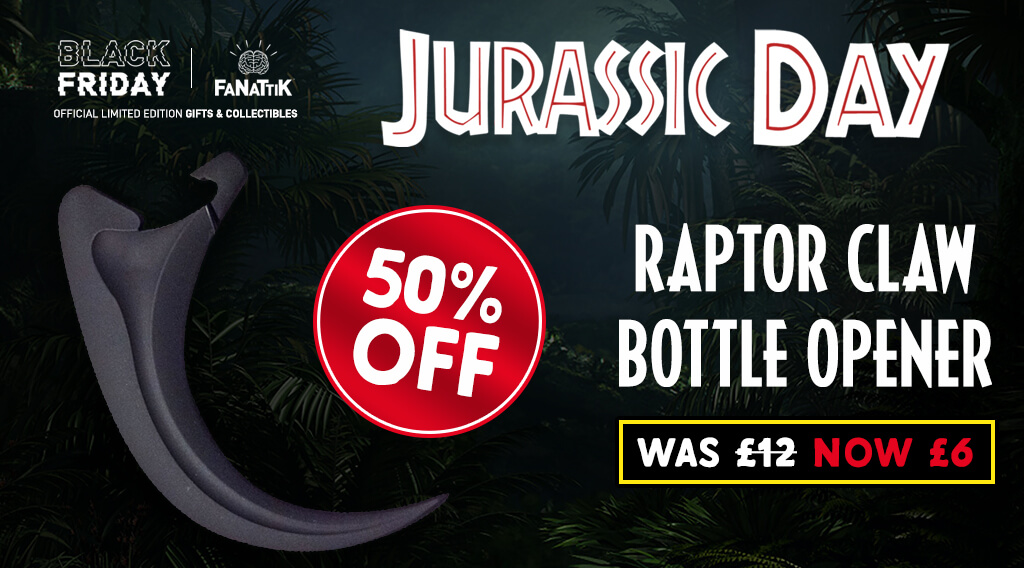 That item is the beautiful Jurassic Park Raptor Claw Bottle Opener – a beautiful, curved rendition of the Jurassic Park Raptor's sickle claw – complete with magnets on the back of the claw. This bottle opener is perfect for any big Jurassic Park fan – capturing perfectly one of the most iconic items to appear within the original film. This is perfect for Alan Grant cosplays – all for telling little know-it-alls what a Velociraptor would do to them if they got in it's way!
Shop the complete Fanattik collection, which is on sale for TODAY ONLY, by clicking on the image below.