SPOILER ALERT: If you haven't watched Season 3 of 'Jurassic World: Camp Cretaceous' yet, do yourself a favor and get on it! In this writer's opinion it is the best, and darkest, season of the show yet!
Season 3 of 'Camp Cretaceous' has a lot going on: island escape attempts, fun callbacks at the Visitor Center of 'Jurassic Park', and the scary scene-stealing poisonous hybrid Scorpious Rex (also known as E750). The kids that were left behind during Isla Nublar's second breakout, thanks to the Indominus Rex, spent 6 months on the island before finally getting off the shores. Presumably they are off the island for good, but who knows where they will end up or return to?
Right before their departure, the kids have an unfortunate clash with the same team that was sent by Eli Mills (a rather untrustworthy man who would eventually steal dinosaurs out from under Benjamin Lockwood's nose and sell them in an auction) to retrieve genetic information from the Indominus Rex so Dr. Henry Wu can create a new hybrid: the Indoraptor. This connects the series directly, not just to 'Jurassic World', but to its first sequel 'Fallen Kingdom'.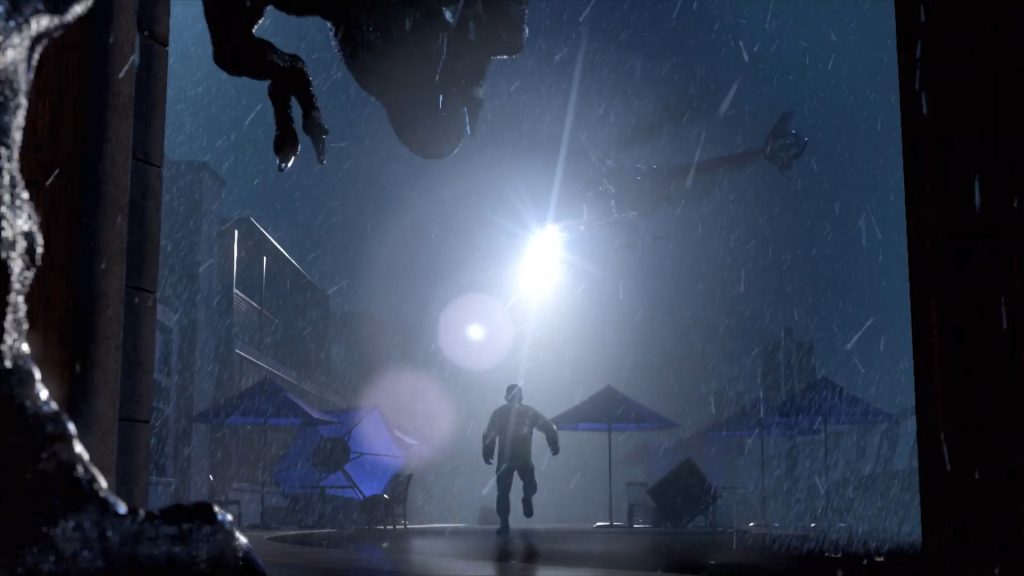 Entertainment Weekly shared a conversation they had with showrunner Scott Kreamer and executive producer Colin Trevorrow (co-writer & director of 'Jurassic World'), where Trevorrow explains:
"They're on this island and, at a certain point, it seems as if they've been there for this indeterminate amount of time. To make clear, first of all, what the timeline was at the beginning of 'Fallen Kingdom' — it was about six months after the fall of 'Jurassic World' — for kids who've grown up on it, it's cool to allow them to connect to these touchstones in the story and recognize that the story we're telling is part of the larger story. It's not just some cartoon show for kids…"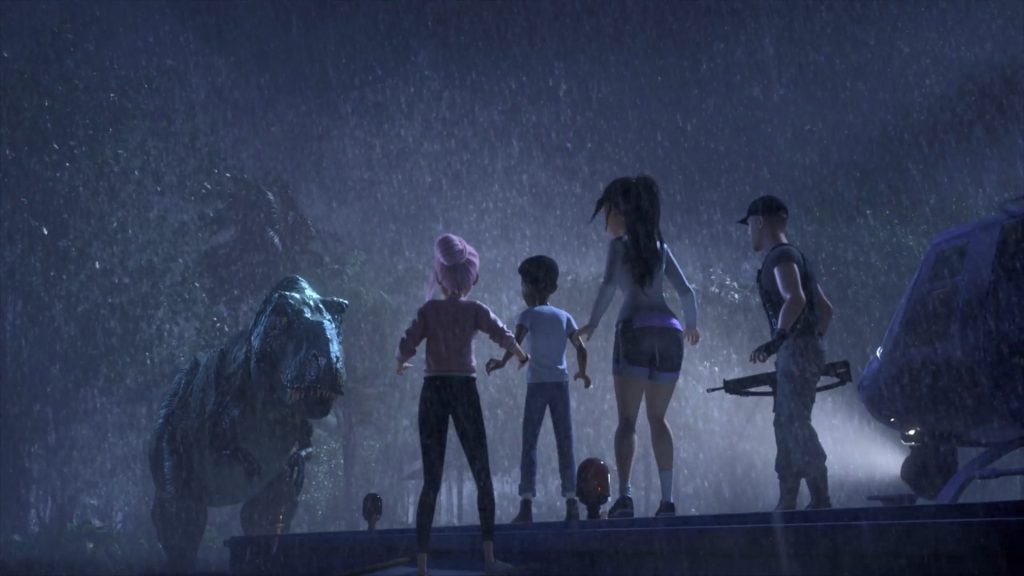 'Camp Cretaceous' reveals that a lot more was going on at the island during the incredible opening sequence of 'Fallen Kingdom'. After the kids are forced back ashore by part of the same team sent by Mills, about half of them are rushed on board a helicopter until our lady T-rex charges in and chomps on an unsuspecting mercenary. The helicopter takes off prematurely due to the attack, leaving behind the other half of the kids to fend for themselves. This sends the helpless kids on a chase through the jungle, until the T-rex is distracted by the same helicopter we see in 'Fallen Kingdom' near the Mosasaur Lagoon. We watch from the perspective of the kids as the event plays out, with their reaction to the Mosasaur chomping on the guy at the last moment mimicking how many had felt when they saw it on theater screens in 2018.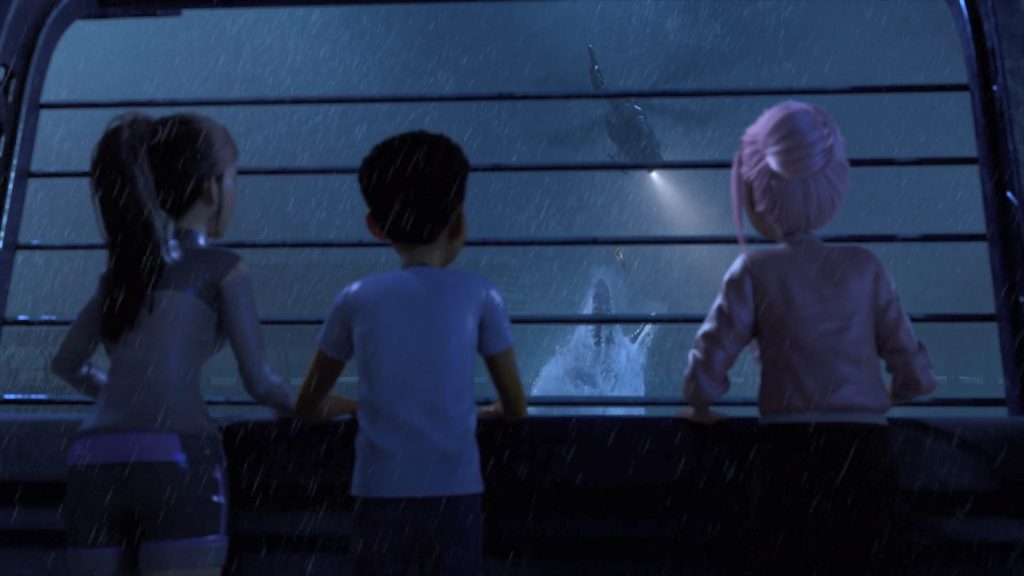 It doesn't stop there. Entertainment Weekly's article continues with additional anecdotes regarding Dr. Wu's return to the island with a group of mercenaries and more. However, the most interesting details are about how this series ties into what lies ahead for 'Dominion', the second upcoming 'Jurassic World' sequel. Trevorrow explains:
"There are connections that we're making for sure […] When you see 'Dominion', it will be clear that it takes place on the same timeline and in the same world as our show."
This admission certainly makes 'Camp Cretaceous' much more of an important show than many may have guessed. While some can argue until the skies are gray that it is only "soft canon", this is still an incredibly entertaining way to tie in new elements of the same story that we would have never gotten otherwise.
Trevorrow continues further, expressing just how mapped out the story for 'Camp Cretaceous' is:
"We do have a beginning, middle, and an end for it […] I certainly wouldn't want anyone to think that we don't have a plan. We do, and there is an ending in sight."
Given that 'Dominion' has already finished filming, and the story for this television series is already set, it would appear that there will certainly be many more connections ahead that will blend the stories of the film and the show into one (hopefully) coherent whole. Everyone here at Jurassic Outpost are certainly looking forward to it.
Are you excited for more 'Camp Cretaceous'? Do you like how the show continues to connect to the films? Let us know in the comments below, and as always, stay tuned to Jurassic Outpost for more!