Jurassic World seems to have quite the presence at New York City's Toy Fair this year, with news and merchandise announcements pouring in left and right.
In addition to the announcement of Mattel's Fallen Kingdom line from earlier, the franchise also has multiple figures on display at the Toy Fair, as seen below. Figures displayed include some of the new Fallen Kingdom action figures, including sculpts of the stygimoloch (or "stiggy", as it's being called on the product packaging) and carnotaurus that fans saw in the trailer.
No information has been released on when these toys will be available, but they certainly look gorgeous, and it seems like there will be a wide variety of products coming to us very soon.
The official Jurassic World social media accounts have also been previewing some of the merchandise, with cameos from Bryce Dallas Howard herself, who attended the fair to promote the new products.
By the looks of it, everything from Lego sets to new Jurassic World-themed fashion has been put on display at the Toy Fair, with several sneak peeks available on the official JW Instagram story.
News on the new young adult novel centered on Claire Dearing has also been released! Bryce Dallas Howard previewed the novel's cover on the official Jurassic World Instagram, and we now know the official title of the novel: Jurassic World: The Evolution of Claire.
#WOW First look at Claire Dearing's young adult novel!!! The thing we are the most excited for by far! #JurassicWorld #JurassicWorldFallenKingdom @BryceDHoward pic.twitter.com/CA4OIcsB8Y

— BryceDallasHowardNet (@BDHnetwork) February 16, 2018
A full synopsis of the novel has also been released along with the cover:
Freshman year in college is full of obstacles one must learn to overcome – messy roommates, dining hall food, and cranky professors are just a few. Never has a student added, "How to properly avoid being eaten by a dinosaur," to her list of freshman year complications, but Claire Dearing isn't just any student.

The year is 2004. The future theme park, Jurassic World, is currently under construction. Nineteen-year-old Claire Dearing, the multi-tasking, self-possessed heroine of Jurassic World and Jurassic World: Fallen Kingdom, has chosen to spend her summer interning with the Masrani Corporation on Isla Nublar following her freshman year in college. The result is a pulse-pounding coming of age story set against the backdrop of Jurassic World advancing towards its opening day.

The story begins with Claire as she starts her internship with laser-focused goals set on bettering the lives of all animals worldwide. While exploring the island, and performing various theme park/dinosaur-related tasks, Claire quickly forms a tight bond with her fellow interns while also making a name for herself amongst the senior members of the Jurassic World staff. It isn't long before romance sparks between her and a fellow student, which leaves Claire conflicted once a larger, and more sinister plot develops, forcing her to question the motives of everyone on the island.

Over the course of a thrilling mystery full of intrigue and suspense, this novel details the origins of Claire's nuanced character in a rich and complex way, allowing the reader to witness the transformative moment when Claire begins constructing walls around herself, and steps forward as the guarded character we meet in the first Jurassic World film.
In addition to books and toys, Jurassic World also released news of upcoming Fallen Kingdom Pop! Funkos. Funko announced the release of three new Fallen Kingdom collectible figures on their Twitter, in addition to showing them at the fair. Owen Grady, Claire Dearing, and Blue will all be available for purchase in May.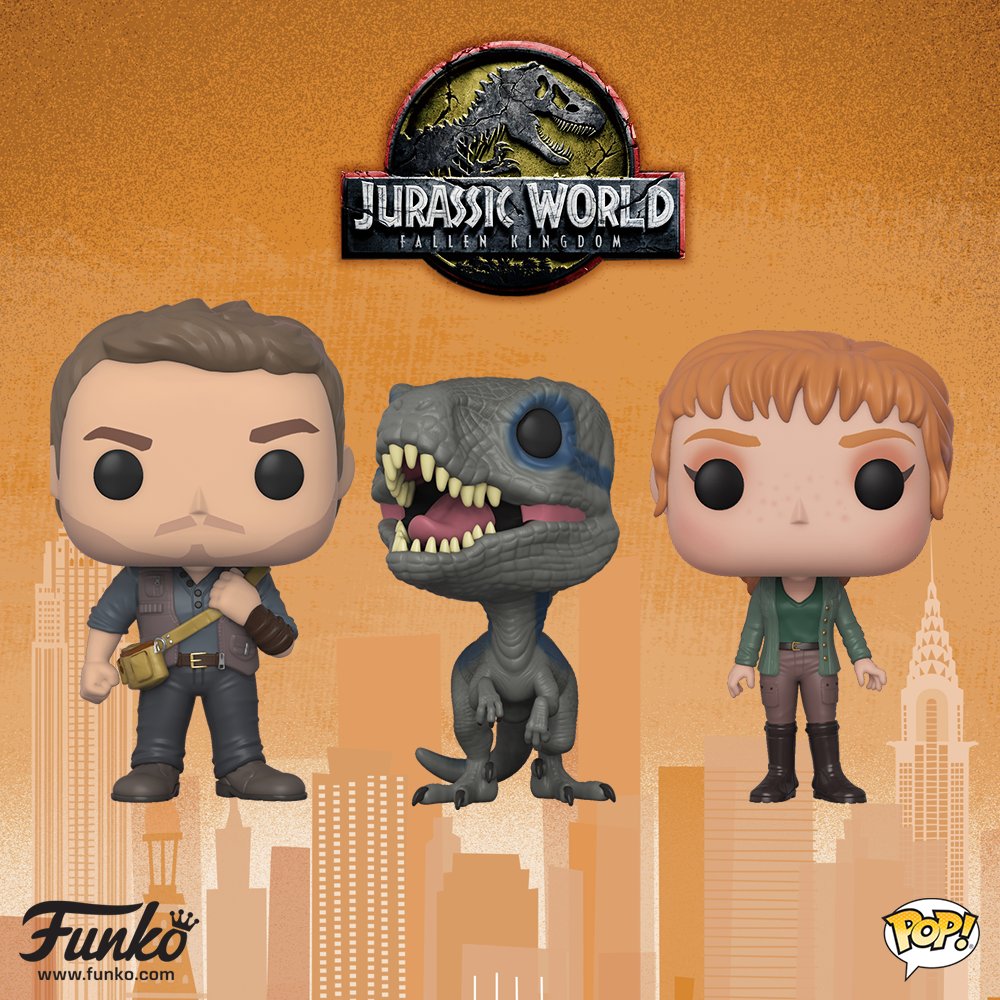 Stay tuned for a detailed first-hand write up of all the new Jurassic World merchandise, featuring HD photos and videos of all the new products!