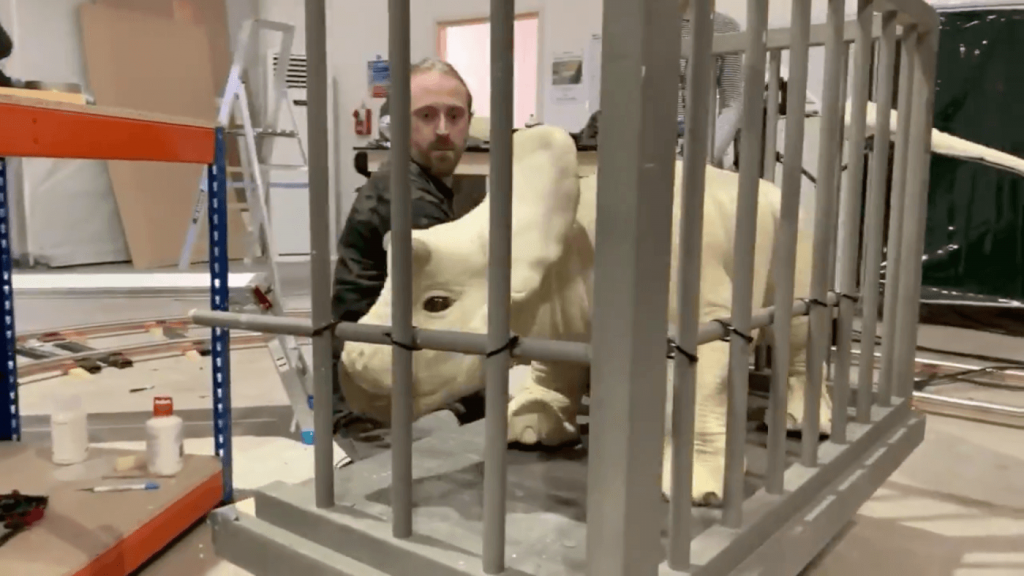 The hype train has officially left the station! Colin Trevorrow has been quite active on Twitter recently, first fueling the fires about the title of Jurassic World 3 and now giving us another first look at an animatronic that is being prepared for use in JW3 production. Hold on to your butts everyone…we have a BABY NASUTOCERATOPS. Or maybe even a Triceratops! Confirmation on the exact animal species has not been given, but check out just how adorable the little juvenile is in Colin's tweet below.
next steps pic.twitter.com/8B62vFtDBY

— Colin Trevorrow (@colintrevorrow) January 31, 2020
It clearly lacks a finishing paint job, but the range of motion on this small machine is incredible. Notice the lifelike way it closes its eyes as it shakes and rattles its head. This first look shows a great deal of promise in both the quality of the animatronics being produced and the story we will be delivered. Because, come on, who is going to say NO to seeing a baby dinosaur (and a practical one at that!)? Eagle-eyed viewers might also notice some sort of tail in the background. To our eyes, it looks a little too skinny to be a velociraptor, so your guess is as good as ours. Could this be the return of the fan favorite dilophosaur?
So far, we know the animatronics for JW3 are being made by John Nolan and his studio, the very same people who made the puppets for Netflix's The Dark Crystal series. If you watched that show, you know the studio produces some high quality animatronics, and the streak appears to be continuing here.
What are your thoughts on the animatronic? What kind of color scheme do you expect it to have? Do you have any theories on the tail in the background? Let us know in the comments below!