Spoiler warning: If you've not seen Season 3 of Camp Cretaceous, this article goes into detail about numerous story elements. So if you haven't seen it yet, go watch it. Seriously, it's the best season yet.

Now that we've gotten that out of the way, we have some exciting new reveals from Matel's Jurassic World toy line that will be hitting stores this Summer! The third Season of Camp Cretaceous made its debut on Friday, following the story of six teenage campers stranded on Isla Nublar after the demise of the park. As they struggle to survive and find a way to escape the dino-infested island, they encounter numerous species of dinosaurs during thrilling sequences.

With the third season of the Jurassic Netflix series, Mattel has brought even more dinosaurs from the show to life. Take a look at the all-new toys, and then learn more about the terrifying hybrid Scorpios Rex from showrunner Scott Kreamer below!
JURASSIC WORLD OCEAN PROTECTOR MOSASAURUS™
SRP: $34.99 | 4Y+
Be a part of the thrilling action and adventure with Jurassic World Ocean Protector Mosasaurus, the colossal swimming dinosaur which makes a big splash as a fan favorite in the blockbuster Jurassic World franchise.
This Mosasaurus action figure is inspired by the movie and comes in a massive size that will thrill fans at 8.5 inches (21.6 cm) high and 17 inches (43.2 cm) wide.
Realistic sculpting, moveable joints and articulation help this colossal creature come to life, including a wide-opening jaw.
The figure is made from 1 pound (454 g) of ocean-bound plastic; plastic that is sourced within 31 miles (50 km) of waterways in areas lacking formal waste collection systems.
The third season of Camp Cretaceous takes part roughly six-months after the fall of Jurassic World, which means the Mosasaurus is hungrier than ever, and will soon escape into the ocean (as seen during the opening of Fallen Kingdom – which also takes place about 6 months after Jurassic World). This of course leads to some must-see moments with the prehistoric marine reptile, making the aquatic terror a must-have toy for fans of the show and collectors alike.

However, this huge Mosasaur toy is more than just a series tie-in: it's part of a new eco-friendly initiative Mattel has been launching on multiple fronts. The Mosasaurus toy is created from 1-pound of "Ocean-Bound" plastic, truly living up to its "Ocean Protector" title.

We're excited to see Mattel finding news ways to reduce their ecological footprint and become more 'green', and hope to see more items boast similar programs in the future.
JURASSIC WORLD: CAMP CRETACEOUS SLASH 'N BATTLE SCORPIOS REX
SRP: $24.99 | 4Y+
Get ready for more thrills and adventure with Jurassic World: Camp Cretaceous! The all-new hybrid dinosaur revealed in season 3 (which premiered globally on May 21 on Netflix), Scorpios Rex, is extremely fast, dangerous and unpredictable—and unleashes terror with its poisonous quills.
Kids can relive all the action from the popular animated series with this larger-sized Slash 'N Battle Scorpios Rex action figure featuring a dynamic claw slashing feature, a chomp and roar, plus a mighty tail whip attack.
To start the claw slashing action, push the button for a full-on arm extending slash and grab attack. Push the other button to activate a big chomp and roar, and pull the Scorpios Rex's tail back to activate the spring-loaded motion for a surprise tail whip attack, too.
After months of speculation, the mysterious "E750" has been revealed: the Scorpios Rex. This hybrid dinosaur might be the scariest creature to appear in the larger Jurassic-universe, and is truly an abomination in the best possible ways. This was one of Dr. Wu's earliest attempts at creating a hybrid, before the Indominus Rex and Indoraptor – it was deemed a failure and ordered to be destroyed by Simon Masrani. However, Dr. Wu decided to cryo-freeze the dangerous dino, which unfortunately thawed out in Season 2, pitting it against the campers in Season 3.
To learn more about the 'S. rex' we talked to showrunner Scott Kreamer to shed some light on this exciting new addition to Jurassic World lore:
"Predating the Indominus Rex and Indoraptor, the Scorpios Rex (or "E-750 project") was Dr. Wu's first foray into creating a hybrid dinosaur. As in many first attempts at creation, mistakes were made. We started hypothesizing in the writers' room that the Indominus Rex couldn't have possibly been Wu's first shot at making a hybrid, which got us to thinking about what came before, and why was it unsuccessful."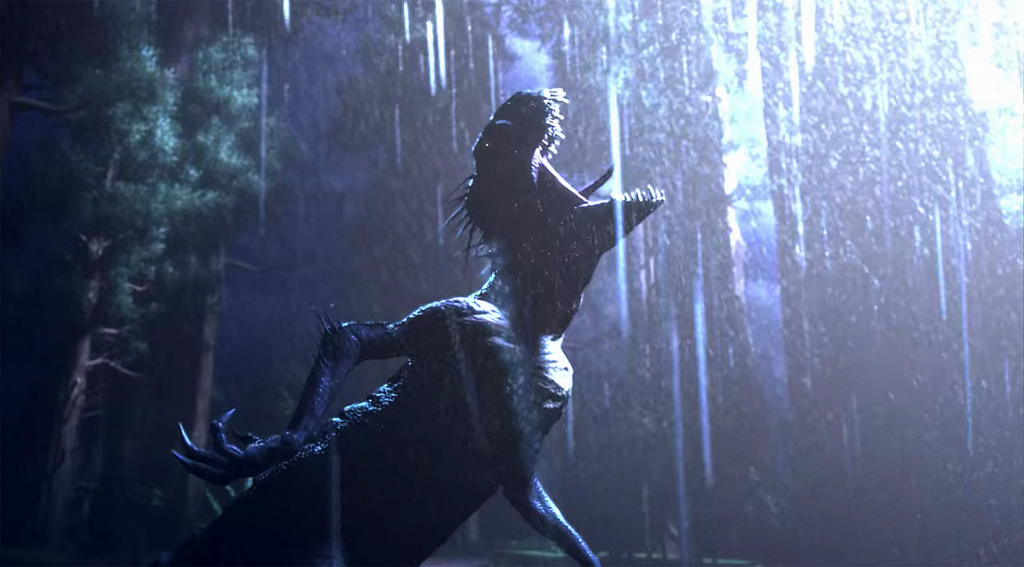 Scott went on to explain how the Scorpios not only filled a role within the backstory of hybrid dinosaurs, but also presented an opportunity to push the story of the campers forward in exciting new ways:
"At this point in the story, the campers have learned to survive amongst the dinosaurs on Isla Nublar. Not to the point of complacency, but still, they know the lay of the land. We wanted to shake things up and have them face something new and overwhelming, something that not even Darius's dino knowledge, Sammy's big animal expertise, nor their experiences on the island could possibly prepare them for."
If you've seen the new season, you know how true that is. The Scorpios Rex is a bizarrely terrifying animal which feels unnatural and unpredictable. It's not only a new challenge for the campers to face, it's a new experience for the viewers, pushing into territory that the films had not yet ventured.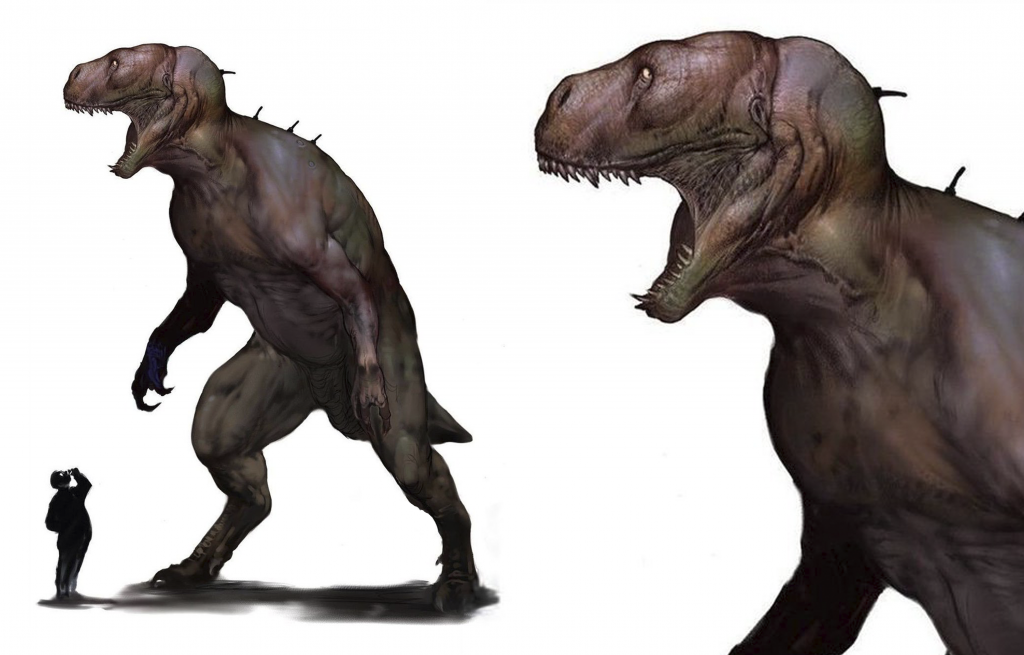 The Scorpios truly is the franchises first monster, perhaps reminding some fans of the scrapped attempts at dino-human hybrids which Jurassic Park 4 once considered. In fact, in some moments the Scorpios almost feels reminiscent of that now infamous art by Carlos Huante. To dig deeper into the DNA and design philosophy behind the proto-indominus, Scott went on to say the following:
"Since the Scorpios was the first step in creating the Indominus and Indoraptor, we definitely hoped fans would notice the family resemblance of the trio. Sort of like when you see those drawings detailing the evolution of man, we wanted to be able to visually see the evolution from the chaotic failed medical experiment that is the Scorpios, all the way to the sleek killer that is the Indoraptor.


We have taken great pains in the series to portray the dinosaurs as animals, not monsters. In the case of the Scorpios Rex, we wanted a monster. Aaron Hammersley and I had some initial thoughts, and then our design team took it and ran, playing a lot with proportions: the overly long arms, the thinner than usual torso, the poisonous quills. In addition, we tasked our animation team with making the Scorpios's movements feel off, almost zombie-like, as if it wasn't totally in control of its body and limbs. Top that off with some top-notch (and horrifying) sound design and amazing effects & lighting, and we had ourselves a monster.


Given that the Scorpios was Dr. Wu's first shot at creating a hybrid dinosaur, we figured he'd throw the kitchen sink at it, genetically-speaking. Along with his go-to tree frog DNA and Scorpion fish DNA, the Scorpios also shares genetic make-up with (amongst others) T rex, velociraptor and carnotaurus."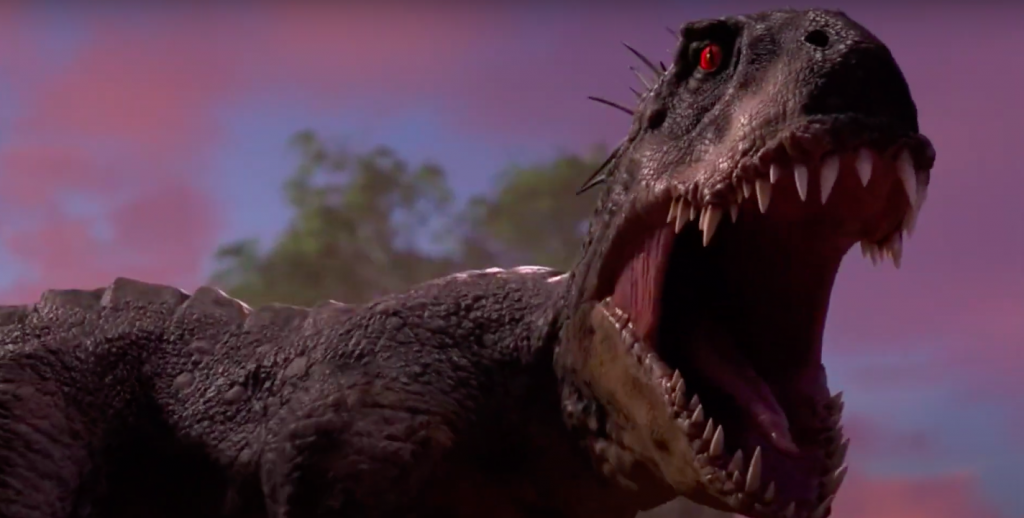 The Scorpios Rex may not be beautiful, but it is certainly stunning to look at, and is a deadly addition to Jurassic World. As someone who prefers to keep dinosaurs as animals, and the Jurassic films as dinosaur movies, I'm surprised to admit how much I enjoyed the Scorpios in season 3. From the design to its erratic behavior, it just clicked for me – and it felt just grounded enough, especially when juxtaposed against the other dinosaurs which seemed to look and act more like real animals than ever before in the modern-era of the franchise.
I wouldn't want to see hybrids go any further into monster territory, but I feel the Scorpios found the perfect balance and really created a unique presence on screen. With that in mind, I can't wait to get my hands on the latest toy from Mattel, which is due to hit shelves soon.

Are you a fan of the Scorpios Rex, and will you pick up its toy counterpart? Let us know in the comments below, and as always, stay tuned to Jurassic Outpost for more!